Home Staging: Portrait Of A Home Transformation
Reading Time:
4
minutes

Home staging is a vital part of selling your home. We talked to home stager Amy L. George of Impact Interiors about her process and steps to success.
***
Just as it's important to add some flair to the presentation of a fine meal you're serving to people you're really trying to impress, it's the same deal when you're looking to sell a home. Creating a space that is full of personality, human warmth, and visual appeal is a way to do this. But, when selling your home, it's the personality of the buyer which is often the best route to take when it comes to a successful sale. So, how do you know where to start?
Well, for one, you hire a home stager. Home stagers are like the Jedi knights of home selling; they deal in the energy and flow that binds your space together, and choose decor, texture, furniture, accessories, and any other element that will enhance it the most in order to make it the most appealing to prospective buyers. But, when it comes to how they work, what exactly is the process?
Talking with Amy L. George about home staging
Well, recently we at BuildDirect Blog: Life At Home got a chance to talk via email to Austin Texas home staging expert Amy L. George, founder of Impact Interiors. She talks about her approach to the home staging game, and sheds some light on some of the important aspects of presentation, energy, and how they contribute to a successful home sale.
In particular, she talks about a specific project, working with a developer Mike Paclik of MPAC Development, and with BuidDirect as a supplier for a property in Austin that is now set to sell.
_______
BD: Amy, you worked with a developer on this recent project in south Austin. What's your process, and what are some of your common goals between you, generally speaking?
Amy:  I've worked with the developer, Mike Paclik(*), on several jobs and although every designer has their own design perspective, our work relationship has grown organically.
Our projects are centered around showcasing the architecture of the home and, when staging a home to sell, focus is geared toward the area demographic and who the potential buyer is.
BD: So, the home staging process is very buyer-centric, then. What is the approach beyond that?
When staging, we cater to who the actual buyer is and how we predict they are going to live in the home.  Our goal is to "tell a story" through photos and online presence. Staging helps to create that emotional connection.
BD: At what point in the development and selling stages do you get involved?
Amy: Mike will typically contact me towards the end of the project when the finishing touches are being completed.  We spend time discussing the property's highlights and added features so that they can be enhanced through staging.
BD: How do you know where to start?
Amy: The design plan begins with focusing on the key-rooms; which are typically the living, dining, kitchen and general family areas since it's where the family will be spending most of their time.
During the initial staging process, I often find myself closing my eyes to feel the energy of the property and I really focus on how that family will function within that space. What "key furniture" is needed to make those spaces work?  What elements will be needed to help create a cohesive flow from space to space? Another essential component is the area demographic and the household characteristics. This particular project was staged as a family home for baby-boomers and/or first time home buyers.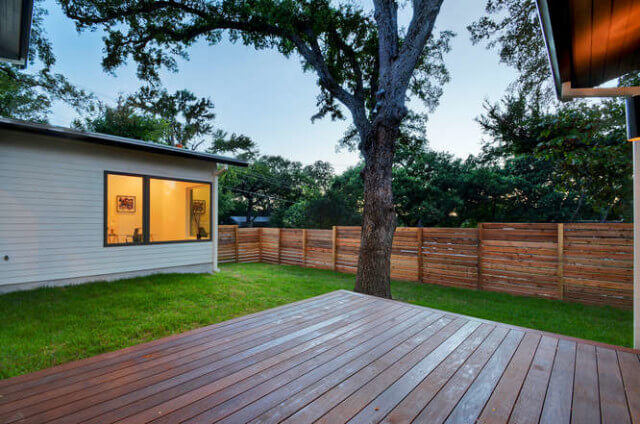 BD: On this particular project in south Austin, did Mike have any input in the staging process? How long did the whole process of staging take to complete from end to end?
Amy: The only request Mike had for me was to add 2 teal chairs to the front porch.  He was very specific about the color because it needed to compete with the other homes on the block.
As for how long the project took to complete, after the initial walk-thru has been completed we require a 5 business day lead to schedule and reserve the appropriate furnishings for the home. The actual installation takes place from 9am – 5pm so the property is photo-ready by the end of the day on installation day.
BD: What's your favourite part of what you do?
Amy: My favorite part of the job is seeing it all come together.  For me it's like an artist that starts with a blank canvas. It begins with an idea which then magically comes to fruition. Seeing it come to life is definitely the most rewarding part! And when you can look around and feel like you want to move in (even when it's not particularly your style) then you know it's mission accomplished!
_______
Thank you, Amy!
If you'd like to take a virtual tour of the south Austin property referenced in this article and to get a 360-degree perspective on Amy's work, you can do that right here!
To find out more about Amy and Impact Interiors, you can read about the background of the design team here.
Otherwise, have you ever used a home stager? What were some of your experiences?
Tell us all about it in the comments section!
(*) Full disclosure: Mike is a regular BuildDirect customer
---
---