How To Clean Reclaimed Wood Surfaces For Re-Use
Wondering how to clean wood pallets for a new use in your home? Here is a six step guide to doing it right.
***
Pallets and other "previously enjoyed" wood surfaces can make for some unique home decor. But it's important to thoroughly spot check and sanitize any found wood before you work with it. In order to clean them up to make them fit for your interiors, follow these 6 steps:
How to clean wood pallets:
Step 1: Find a place outdoors where you can clean
There are good reasons why you'll want to sanitize reclaimed wood. Don't bring reclaimed wood into your home until you've performed all these tasks. You have no idea what's been living inside it, and you also can't be sure that the wood is safe to pick up if you're not wearing gloves.
Step 2: Ensure there aren't any loose nails or sharp edges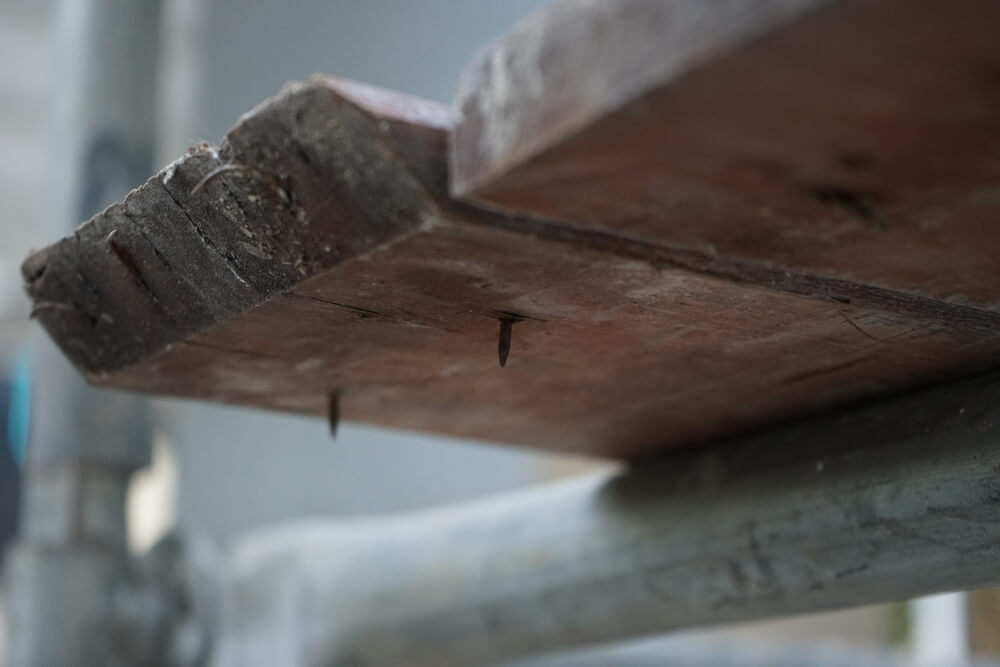 You'll want to eyeball each piece to make certain that nails are not sticking out anywhere. If they are, you'll need to take your hammer and remove them. A surprise nail means a tetanus shot, and you don't want that. Also keep an eye out for tacks even though they aren't as big of a risk. You don't need to remove all of them unless they cover the entire piece of wood. In that case, pick up a tack puller to make the job quick and easy.
Step 3: Hose it down
Once the eyeball test is done, you'll want to grab a garden hose and wash off the surface of each piece. Just because you can't see any bugs doesn't mean they're not there. You don't want to track them into your home and start an accidental infestation. So, wash the wood until you are confident that any insects that may have been in the wood are gone.
Step 4: Gather your materials
You'll need some supplies for the next step. Grab a bucket, a sander, a scrub brush, dishwashing detergent, latex gloves, a couple of sawhorses, and an old toothbrush. Before you do anything else, change into some clothes you won't mind losing if they get ruined during the process.
Step 5: Sand it down
Place each piece of wood between the sawhorses to get started. You'll want to rub the surface smooth unless you specifically want a rougher look for the wood. Note that a rougher surface makes the wood less safe to touch. Only choose this style if you plan to host your reclaimed wood somewhere that your family and guests cannot touch. Otherwise, be very thorough and sand until it is smooth enough to touch with out getting splinters.
Step 6: Lather, rinse, repeat
The actual cleaning process is straightforward. Mix five parts of water with one part of dishwasher detergent to create a cleaning solution. Dip the brushes in the solution and rub down the entire surface.
Pay particular attention to grooves and notches in the wood because you'll need to clean those areas more aggressively. Once you're finished, leave your wood in the sun to dry. To keep the reclaimed wood in your home clean afterward, use a steam cleaner. It'll stimulate the wood while sanitizing the interior.
Why do people use reclaimed wood?
Most people are becoming more aware of environmental concerns, and many are increasingly more open to the idea of changing their behavior to reduce deforestation. You can use the above steps to when it comes to learning how to prepare reclaimed wood for flooring, too. When you clean reclaimed wood floors, the same principles apply. If you're considering reclaimed wood for future projects, make sure you follow the above cleaning steps carefully to ensure your new and improved wood decor piece is safe and sanitary.
***
Do you have any secret tips for cleaning reclaimed wood for decor projects? Let us know in the comments section!
---
---