How To Create A Shabby Chic Sunroom
Reading Time:
2
minutes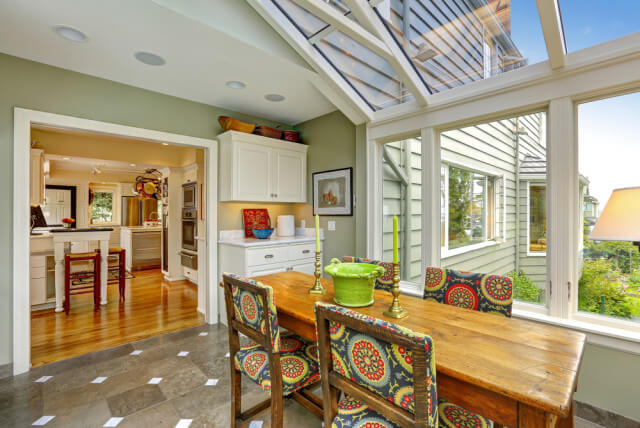 In late fall, and in many regions, sunshine is a pretty precious commodity. During this time of year, spending time in the east-facing rooms in our homes to make the most of daylight becomes pretty popular as well, especially when there's a sunroom or a morning room to spend time in.
Matched with that basic requirement for more sunshine in the darker late-fall and winter months (particularly for those of us who live further north!), is a design direction that is all about comfort, and a sense of history. For that, a lot of people turn to shabby chic, a style that relies on a kind of faded-yet-comfortable effect that communicates a love for simple pleasures.
So, how do you create a shabby chic sunroom, anyway? What are some of the main characteristics of the style? What are some of the key projects that can help you get there? Well, take a look at this infographic that delves right into the question of how to create a shabby chic sunroom.
Take a look.
The shabby chic style can work well, just because it matches a lot of the activities you'll be engaging in while you're in the space. It's a casual style that celebrates simplicity. When you're talking about enjoying the sunshine while also enjoying the warmth of your interiors, simplicity and simple pleasures means a lot. It is unfussy and uncomplicated, too.
Quiet, peaceful spaces
Sunrooms are often used as quiet spaces, or at least spaces that are removed from a lot of the action that your living rooms or kitchens will see. This is a place to read, have a cup of coffee, or to have a face-to-face conversation. It's a place to unplug, and recharge. How non-intuitive it is in our technological era it is to say unplugging is the opposite of recharging! But, in some cases I really think it is.  So, surrounding yourself with objects, textures, and colors that are stylish, but unassuming, and perhaps from a simpler time before touch screens and dongles is going to be important.
And no matter what season, a room that lets in the light, encourages peacefulness and restfulness, and provides a place to share those benefits with friends and family can become one of the most valuable spaces in your home.
What do you think?
Do you have a sunroom that needs a facelift? Are you looking to create one from scratch? What are some of your ideas?
Does the shabby chic style resonate with you? Why or why not?
What colors, textures, styles bring you the most sense of comfort?
Tell me all about it in the comments section!
Cheers!
Rob.
---
---