How to Decorate Your Living Room in the Early Winter
Reading Time:
4
minutes

Early winter is an ideal time for decorating your living room. This icy season encourages us to spend more time indoors, away from the harsh elements outdoors. We love hibernating in our living rooms, no matter whether our favorite activities are curling up with good books, binge-watching addictive TV shows, or playing board games with family and friends. Decorating early in the season means you'll have more to enjoy your handiwork. Incorporate the following design elements into your winter living room makeover.
How to Incorporate the Winter Season into your Living Room Design
Navy Blue
The latest edition of style bible "TrendBook: Forecasting The Future of Design" named navy blue one of the hottest colors for winter 2018. This dramatic hue is for homeowners who love the appeal of dark, moody hues, but don't want a shade as easily damaged or as extreme as black. While navy is on trend, it also has a timeless appeal that makes it an ideal base for walls or an accent hue for cushions and curtains.
Many dark colors can feel gloomy, but navy is relaxing, with a mysterious allure. It will remind you of ocean waves and stormy days you love spending indoors. The color looks beautiful against warm tones and feels classic paired with crisp whites. If you want to be truly bold, discover the appeal of a navy-on-navy palette.
Pretty in Pink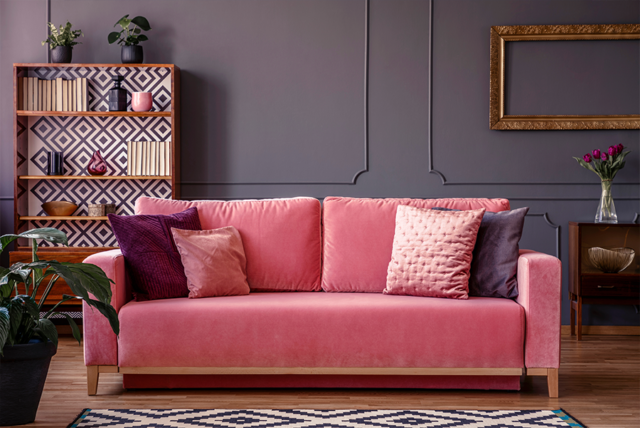 Don't be afraid to get a little girly this winter. House Beautiful calls decorating with pink one of the hottest home and interior designer trends of the season. The online home blog says that any pink will do, so you should find a shade that appeals to you and suits your decor. From dusty rose pink to sugar-sweet bubblegum pink, these tones are an excellent way to make your living room feel warmer when it's cold outside.
Pinks are also surprisingly versatile colors, complementing metallic hues, popular grays, and those on-trend dark neutrals such as navy blue. Soft pinks are timeless, especially when used with a Victorian pink palette, while hot pinks have a vibrant, contemporary feel.
Nomad
Bring the art and influence of the cultures of the world into your living room with the nomad trend. This decorating theme is ideal for well-traveled home decorators since it's all about showcasing global design trends such as ikat, Indian block prints, and paisley. If you've bought a beautiful bowl, striking wall art, or a handcrafted cushion overseas, give it a place in your nomad-inspired living room.
While a nomad-style living room will have more meaning if you've collected your decorative elements abroad, don't dismiss this trend if you aren't as well traveled. Homewares stores, especially those specializing in fair-trade products from overseas, will help you find the items you need to pull off this theme. Look for clay and woven textile pieces in warm, inviting colors. They may inspire you to take off when the weather is warmer.
Winter Centerpiece
Centerpieces aren't for dining tables only. A winter centerpiece for your living room is a charming way to celebrate the season. Take an urn, vase, bowl, or another large container and fill it with items that remind you of the season. Some sprigs of winter-blooming flowers, branches of greenery, pinecones, and shed deer antlers are all wonderful ideas. Put your centerpiece on your mantle, your coffee table, or another prominent place to admire all season long.
Warm Blankets and Knits
Thick blankets and layers of fabric make your living room seem warmer and more inviting. A layered selection of blankets and throw rugs draped over the back of a sofa or stacked into a basket looks alluring. It also puts these items at hand for the chilliest of winter nights.
As an added bonus, blankets and throw rugs are a useful way to hide any nasty stains your furniture has developed over the years. Choose neutral or complementary hues for a harmonious look or use brighter blankets for a pop of color.
Knitted fabrics aren't for winter clothes only. These cozy cold-weather materials have a warm, tactile appeal, and they're great for incorporating into your wintry living room makeover. Knitted throw rugs, pillowcases, and wall hangings are readily available from homewares stores. But why stop there?
If you're skilled at crafts, you'll find a variety of great knitting projects online such as knitted poufs and knitted nesting baskets. Creating all your knitted home decor items is a great way to while away the hours on those dreary December days.
Velvet Furniture and Metallics
A certain ostentation surrounds it, but if you're bold enough, furniture featuring what Ideal Home called the fabric of the year can be a great addition to your living room. Velvet oozes opulence; it begs to be stroked and admired.
Add a velvet sofa or armchair to your living room, and guests won't be able to resist sitting down. They're all likely to linger longer on these inviting living room fixtures. Bold colors such as orange, purple, and emerald green are right on trend, but if you're not feeling so daring you could always choose velvet furniture in more muted hues.
Metallic fixtures have become the hottest items in kitchens, as more people move away from classic white goods toward sleeker, chicer stainless-steel appliances. All the characteristics you love about stainless steel can be brought into your living room through metallic furniture and accessories. Real metal products such as candelabras, vases, and light fixtures are obvious choices. But you can also enjoy the magic of metallic with soft furnishings. Gold, silver, and copper-toned cushion covers and drapes can look so elegant in your living room.
Games Station
Cold winter weather means it's time to play games indoors with your family members or friends. Create a games station so that you have a dedicated spot to play. You'll need a table large enough for your favorite game boards, enough chairs for all your players, and space for storing a few board games, a deck of cards, and some jigsaw puzzles.
Decorating your living room for winter doesn't take a degree in interior design or any significant experience. Trust your instincts and add tried-and-true elements to create a living room you can be proud of.
Resources:
---
---