How to Decorate Your Rustic Cabin This Winter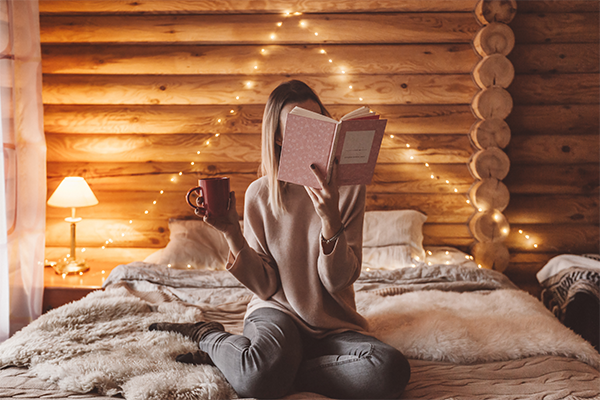 Dec. 11 was #InternationalMountainDay, which means we had a whole day dedicated to one of nature's most amazing features. Mountains offer a peaceful retreat from the hectic pace of daily life, along with countless opportunities to explore the great outdoors. If you're lucky enough to have a mountain cabin, you probably want every minute there to be as relaxing and restorative as possible. Here are some of the best ways to decorate your rustic cabin this winter, transforming it into the warm and cozy retreat of your dreams.
Spruce Up the Porch
When decorating your cabin, it helps to start outside. Make your mountain home even more inviting by sprucing up the front porch with a few fun features. After all, cabins are usually a bit smaller than traditional homes, so you want to maximize your outdoor space to make it just as usable as the interior.
Create an inviting place to kick back by placing comfortable furniture on your porch or deck. Padded couches, chairs, and benches are ideal for adding a cozy touch. If you want to maintain a log-cabin vibe, consider using traditional Adirondack chairs for additional outdoor seating.
Make your porch a pleasant spot to perch regardless of the season. For warmer months, you may want a retractable shade that hangs over the sitting area. Consider installing a pass-through window that makes the inside and outside feel more connected. When temperatures drop, you can use a portable outdoor heater or a fire pit to get nice and toasty despite the chilly atmosphere.
Use Warm, Light Colors
If your cabin feels a bit cramped, you'll definitely want to decorate with lighter colors. These shades help to reflect light, which creates the illusion of more space. If your cabin has an abundance of wood everywhere you turn, you can consider whitewashing walls or ceilings to brighten up the room. To retain the traditional mountain cabin vibe, leave the beams untouched so you still see wooden elements among the white surfaces.
Since many cabins feature wood accents, opt for warmer tones when choosing the décor. This design choice helps to bring out the wood's natural beauty and creates a more inviting and cozy space in which you can relax.
Add an Elegant Reading Nook
Create a cozy feature in your cabin by installing a reading nook. Choose a window with a great view and design a small-but-inviting space where you can relax with a good book. A classic window bench piled with plush throw pillows is an easy option for many homeowners. If you can't create a built-in, consider placing a hanging egg chair or a comfy loveseat near the window, alongside a convenient side table.
Natural Pine
While whitewashed wood works as a stylish cabin upgrade, you can also add lots of rustic charm to your space by decorating with natural pine. Its light color helps to brighten up the space, especially if you use it to replace darker wood floors, walls, and ceilings. Simply treat it with a sealant and it's sure to hold up well for years to come.
If you don't want to use this type of wood for larger surfaces in the home, consider including some natural pine accents instead. For example, you could use kitchen counter stools made with pine or shop for a beautiful pine wood coffee table. Light-colored pine can even be incorporated in smaller ways, such as in wooden photo frames, wood blinds, or a wooden mantel over the fireplace. Don't be afraid to get creative when it comes to finding ways to incorporate this rustic wood into your cabin's décor.
Hand-Scraped Hardwood With Variation
For an authentic cabin feel, consider using hand-scraped hardwood for your floors. This type of wood has an artisan feel that is certain to make your cabin feel incredibly welcoming and homey. It creates a warm, traditional atmosphere and sets the tone for a rustic mountain getaway.
One of the things homeowners love most about hand-scraped hardwood is that it adds so much character to a house. It has an old-world look that brings lots of texture and visual interest into the space. The planks feature quite a bit of variation in tone and pattern, but it still looks cohesive since the designs are created by skilled, trained craftsmen. As an added bonus, hand-scraped hardwood floors are also very durable and easy to care for, making them a great fit for an outdoorsy family.
Funky Lighting and Fixtures
Lighting plays a big role in how cozy and inviting your cabin feels. Go with warm lightbulbs that bring out the beautiful shades in your wood but won't make the room feel too modern or sterile.
When choosing fixtures, feel free to be a bit creative. Perhaps you'll choose a chandelier made from moose antlers to maintain an outdoorsy theme. You can get a modern, industrial feel by choosing metal fixtures, or opt for a variety of lamps, lanterns, and candles for an old-school look. For a streamlined look, have recessed lighting installed between the wooden beams in the ceiling.
A Larger Living Room for Entertaining
Make your rustic cabin into an inviting place to entertain by maximizing the space in your living room. Multiple seating areas are great for larger groups; some guests may want a leisurely chat by the fireplace, while others gather around a table to play a board game or nosh on snacks. Create small clusters of furniture that foster lots of intimate conversation as well as space for activities.
If you plan to entertain often, opt for living-room furniture with a smaller footprint. Using smaller side tables, coffee tables, chairs, and sofas allows guests to move through the space more easily. You can also opt for more overhead lighting, rather than lamps that might take up more floor space.
How will you decorate your mountain cabin? On #InternationalMountainDay, take some time to come up with fun upgrades and fresh new features for your cabin home.
Resources:
https://cabinlife.com/articles/article/cozy-cabin-rustic-feel
https://www.trulogsiding.com/log-cabin-interior-design/
https://www.builddirect.com/blog/5-hardwood-flooring-options-to-match-the-style-of-rooms/
https://www.builddirect.com/blog/the-art-of-living-room-layout/
---
---