Reading Time:
4
minutes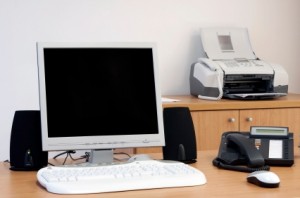 Today's' guest post is from Lloyd Burrell. Lloyd trained and worked as an auditor in the City of London. He spent much of his career going from company to company and office desk to office desk. Lloyd now puts all this experience to good use, he is the publisher of OfficeDeskReviews.com where he talks about all things office desk; office reception desks, executive desks, computer desks etc.
He enjoys blogging on the office theme generally including office set-up, home office, office decoration and office lifestyle issues.
***
In this constantly changing world where the daily commute is increasingly expensive, time consuming, and harrowing, more and more of us are choosing to work at home. This is possible due to the increased dependability and speed of communication with high speed internet, cell phones, faxes, etc.
Even if we don't actually work "from" home, most of us do (to some extent) work "at" home. Both of these situations require some area set aside to actually perform the work we need to do. For families with children who must have a place to study, the work area will need additional consideration. For the purposes of this article, let us consider some tips for a home office which will work well for the whole family.
1. Space
The first consideration will always have to be the space your home has available for use as an office. Where there is an extra room not currently being used, that is of course ideal if it has (or can easily be wired for) phone and internet lines. If there is not an extra room, consider an area of the living room, den or bedroom which would accommodate your needs. Remember though, where children and teenagers will be using the computers, this should be in an area which is open to parental/adult supervision.
2. Utilities
There will need to be sufficient electrical power to handle both current and future needs like:
Ÿ Computer or computers (a must)
Ÿ Fax machines (may not be necessary)
Ÿ Printers (a must)
Ÿ Updated lighting (highly recommended)
Ÿ A shredder (highly recommended)
Ÿ Ceiling fan/fan/air conditioner/heater (probably not needed if home has central heat/air)
Ÿ Telephone lines
While water is not required for a home office, it would be great if there were an adjoining ½ bath or washroom and toilet. This will help eliminate much stopping and starting for children studying and help them to stay on task.
3. Storage
This will need to be determined on a case by case basis. If you are actually a professional working from home or running a home based business, you will most likely need several filing cabinets and perhaps supply storage. Otherwise, an office desk drawer or two will probably suffice. A bookcase is always useful in any office.
4. Work Area
Again, the proposed use and the user(s) will determine the type and size of work area needed. At a minimum, an office desk of some sort will be needed. Most likely a computer work station will be desired more than the traditional oak office desk. I find this to be the best solution for my needs as I like the pull-out shelf for my keyboard as well as all the nooks and crannies available for my manuals, disks, and paper supplies. Children will need space to spread their open books. A task chair (or typist's chair) is highly recommended for anyone doing a lot of computer work. Proper lighting above the computer is very important to cut down on eye strain.
5. Decoration
It is important that your home office be relaxing and as pleasant an area as possible. What is relaxing for some may not suit you at all, so here is where your own personality takes center stage. Your own colors, textures and furnishings should help you create a place where you (and/or the whole family) can relax and let your creative juices flow. Installing the right flooring is important. Hard wood floors are nice to admire but wooden laminate flooring is generally easier to keep clean and cheaper to install. Pictures, awards/degrees or wall mirror on walls painted in your favorite color can help create a pleasant ambience. A window with a pleasant view near your work station can be a good way to relieve eye strain, help relieve stress and refocus your thoughts.
6. Comfort
Your productivity will be greatly enhanced in an office geared to your specific needs. In addition to being well organized, pleasant, relaxing and well equipped, it must be laid out in such a way that you can get your work done without disturbing others or being disturbed by others. If it is a place where the family gathers, it should include some soft cushioned chairs or a sofa to encourage interaction. If it is a home business operation, it will be better to discourage lounging.
These six suggestions are not rules written in stone; everyone has some unique ideas of their own which will work better for them. My only intention here is to point out some areas to consider in the planning of your personal home office. A little pre-planning can save a lot of future headaches.
Every home needs a place read, pay bills, take care of correspondence etc. But more and more, those needs expand to require more space and equipment. As previously stated, many homes will do quite well with a corner of the kitchen or lounge and this is fine if it works for their needs. But as needs change, a larger more private space might be the answer. For a home based business, the development of the right work environment can be quite challenging.
Whatever your needs, I hope these suggestions will be thought provoking enough to help you plan and create a home office which works for you and your family.
***
Thanks, Lloyd!
Cheers,
Rob.
---
---