7 Ideas For Transforming Your Yard This Spring and Summer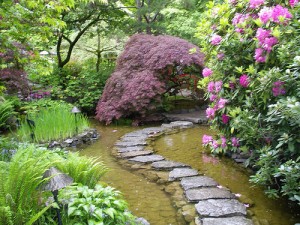 Spring is here, and Summer is a-coming!
At this point, the birds are singing and you're beginning to really appreciate those clear and breezy days outside.  Maybe you appreciate them enough to turn your eye to your backyard, and to think about unlocking some of its decorative potential.  Or maybe it's even your front yard that gives off that spark of promise for seasonal renewal.
Either way, once again I've scoured the interwebs to find a few ideas that you might consider to breathe some life into your surrounding property.
Take a look at 7 ideas for transforming your yard this season!
1. Lawn Airation and re-seeding
Everything needs to breathe, even your lawn.   Lawn airation is a process whereby your lawn is "cored", which extracts pills of your lawn in order to allow oxygen to get to the grass roots, as well as breaking up compacted soil that keeps the lawn's root system from growing.  And it allows watering to be more effective, too.  This promotes a healthier lawn all around.  You can rent an airator from your local DIY retailer.
And while you're there, you can pick up some grass seed and top soil, too so that you can re-seed your lawn after it's been raked (to remove thatch) and airated.  Once your lawn has been allowed to breathe for a few days and the surface after it's been cleared of any surface materials, evenly apply a layer of top soil to your lawn.  Then, evenly apply grass seed.  Try to stay off of it for a few days, and maybe put some tape up so that your letter-carrier/paperboy/pizza-dude knows not to tread on young grass.
2. Lay A Path and Patio
Laying down a walking path and a patio is a great way of establishing or even restoring some semblance of order in your yard.  A path leading to a patio is not only a practical feature.  It's also a visual one, too, lending continuity to your property.
Consider using natural stone pavers to help get you the effect you want. Brick, and crushed gravel are also popular choices for paths.  Then, take a look at these how to install a patio videos to help you create the staging area for Summer that you've been dreaming about.
3. Install A Water Feature
I don't know about you, but I find the sound and even the presence of  water to be comforting. And water features in your yard can inject that level of tranquility that you may be looking for.  Of the many kinds of residential water features you might find out there, there is probably one that suits your space.   Even if you live in a condo, there are water features that are contained in urns sitting on your balcony  that might be just the thing.
4. Install A Deck
One way of creating a staging area for clement Spring and Summertime weather, and even extending the usable square footage of your home, is to build a deck.  Shop around the Internet for deck plans, or for companies that create them.  Choose your deck plans (a single level? multi-level? you decide…), and make sure that they meet local building codes.  Think about exposure issues to maximize the enjoyment of your deck – more sun, or less, wind shelter, privacy, etc.
And then, it's a matter of choosing your materials; wood decks, composite decking, and vinyl deck materials are all solid choices.  Get matching railings, too, and maybe take a look at new doors leading into kitchens or living rooms to integrate your new deck as an extension of your whole property.
5. Install An Awning
Installing an awning can really cut down on glare and on excess heat in the summertime.  Both will lead to greater comfort, and reducing the burden of cooling your home when it comes to long-term energy savings, also a good reason to consider an awning in front or backyards, depending on your exposure.  Consider a retractable awning, to control light exposure at different times of day, and in different seasons, too.
6. Prune and Plant Trees and Shrubs
Make sure that your trees and shrubs flourish and prune them to encourage new growth.  Depending on your knowledge of the plants you've got, you might want to contact a professional gardening expert to advise on the best times to prune your trees and shrubs, and other tips that will gain you the best results and for the benefit of healthy greenery in your yard.
Another choice is to plant new trees and shrubs appropriate to your climate, and your ability to maintain them.  Once again, reading gardening blogs by gardening gurus, or get a referral from someone who has a garden you admire.
7. Install a garden 'structure'
When you've got blank spaces that call for that certain something, consider a few ideas that might serve as a focal point to draw the eye, and add some personality too.  Here are a few ideas for garden structures and features:
a pergola
a birdbath
sculpture
a gazebo
a themed garden
Your yard holds all kinds of potential for beauty, and for that feeling that you don't have to go very far to enjoy the Great Outdoors.  Sometimes it just takes one simple idea to get you started down the particular 'garden path' to bring out the best in your property.  And these have been 7 of them.  Add your ideas, or tell your stories about how you transformed your yard.
Cheers!
Rob.
---
---