Improve Bath Time With These 4 Relaxing Tips
Reading Time:
3
minutes
I once lived on a campus residence where there were, gasp, no bathtubs! I had a tiny square shower, just enough for one, and it made me very, very sad, especially when winter came knocking.
You see, to my eternal ecological shame, I love taking baths. In the winter, I can take one every day.
It's not only that I tend to suffer from restless leg syndrome, or that it's my favourite way to warm up on cold days. It's also that I get some well-needed me-time to read, relax, play puzzle games on my iPad (no accidents yet!) or simply float in the dark behind the safety of the shower curtain.
If you like baths just as much, or if you want to get more relaxation out of your bath time, follow me for these tips on how to make this precious moment more relaxing and rejuvenating.
1. Add fragrance with essential oils
I'm a full grown 31-year-old woman, and I still love bubble baths.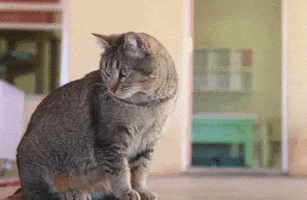 But I've discovered that what I really love about bubble baths is the fragrance. And given the limited number of fragrances available at my pharmacy, I've quickly switched to a more sustainable and customizable solution: the essential oil.
The heat of your bath water activates the fragrance (kind of like what a diffuser would do), and you can get all the oil's benefits to your skin as well. And it's often cheaper than bubble bath anyway, because you only need a few drops to get the effect.
Here are some good choices for essential oils, depending on your mood or needs:
Lemon to soothe arthritis pain
Chamomile to help heal bruises
Tea tree if you're nursing a cold
Ylang ylang to calm tense nerves
Jasmine to help with menstrual cramps
Sandalwood for dry skin
Grapefruit for oily skin
Bergamot for sweaty feet
Check out the Complete Guide to Essential Oils for more!
The beauty of essential oils is that you can mix and match the scents, too, so you can build your favourite mix and use it every time you take a bath.
2. Get a bath caddy
We don't all have baths with wide sides to hold candles, soaps, books, glasses of wine, and all the other stuff we keep around the bathroom. But getting a bath caddy can help for those who have little space.
I mean, where is he going to put his pipe and newspaper when he wants to wash his hair?
I personally like to read or play on my iPad and drink some wine on Friday nights. To avoid any electronic or alcoholic disaster (yes, I cry over spilled wine!), I find a bath caddy essential.
Bath caddies are also great for holding a book up at the perfect angle to read the latest bestseller or your favourite magazine.
3. Dim the lights
One thing I discovered makes my bath more relaxing is dimming the lights. My iPad is backlit so I don't need extra light to read it. Maybe it's the glare of my computer screen all day long or maybe I need new glasses, but I find the softer light relaxes me.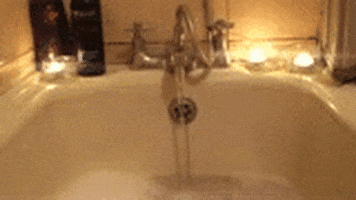 Dimming the lights also prepares your brain for better, more restful sleep.
4. Make it special
No matter your habits–wether it's a daily or a weekly bath–the best way to make it relaxing is to make it special. With family, work and social obligations galore, we often forget to take time for ourselves. Bath time is an easy way to set a few minutes aside to read or relax quietly.
Close the door and put a "do not disturb" sign. It's YOUR time.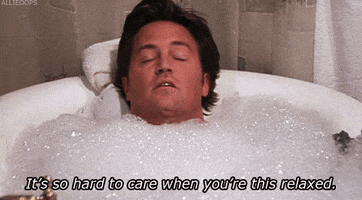 How do you relax in your space?
How do you make bath time more relaxing? What's your fragrance of choice? Is this where you think, read, or simply forget everything? Share your bath moments with us!
---
---