Inspiring Countertops Make Your Kitchen Shine
Countertops are a necessity for the kitchen, but nobody ever said they had to be boring. Kitchen countertops can be functional as well as lovely, hardy and strong as well as inspiring. Though it can be easy to choose from the dizzying array of stone or linoleum options out there, these choices can take your kitchen from "nice" to "awesome."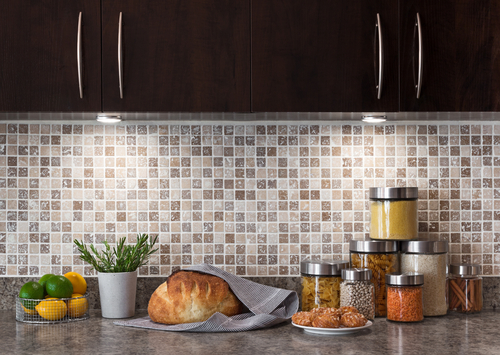 Selected types of modern countertops
Glass 
When these burst on the scene, they shattered the notion that glass had to be…well, boring. Glass is interesting not only for the beauty it can impart to your kitchen, but for the fact that it can be made of recycled glass, including things that have meaning to you, such as wine bottles from your wedding or other little treats that can be melted down into your countertop. Want something even more innovative? Go for a clear version.
Leather 
You might be wondering who in the world would chop their veggies on a leather coat, and who would take a knife to a nice leather sofa? These countertops are quite different from that soft, silky leather that you are so accustomed to in home design. In fact, it's not actually leather. It's pressed paper, or granite, or laminate that looks just like leather. Imagine the conversations that will start around that very interesting kitchen island!
Copper 
A countertop lovingly wrapped in copper can be the one thing you get that kitchen that already has everything. These hand-forged beauties are known just as much for their anti-bacterial qualities as they are for the beauty. Over time they develop a rich patina that can truly show off the use of your kitchen in a way that is charming rather than tired.
Paper 
Paper? There among all that water from the sink and juices from the fruits and all the other things that inevitably get on it? You bet. Paper that has been carefully pressed into countertops has become all the rage. It has a sleek look that fits with most kitchen design ideas, it's made with up to 100 percent recycled material and they are stain resistant. Best of all, they definitely get the conversation going during those dinner parties.
Soapstone 
In a world where granite is king, it's nice to see a softer, gentler stone making inroads into kitchens everywhere. Soapstone has a much more touchable look than granite. It has high levels of mineral talc, which make it a bit softer, but it also contains some quartz, which gives it the hardness necessary to work in a kitchen setting. The color darkens with age, which can be a wonderful way to watch your kitchen change through the years.
Reclaimed Wood 
If you are looking for that old farmhouse look, why not use a countertop material that was actually once part of a farmhouse? Reclaimed wood can be great for the environment and provide you with a beautiful countertop that has gone through generations of use before you came along. What's more, the wood can be carefully milled to provide you with a smooth, simple piece that promises to give your visitors a history lesson with every meal.
Zinc 
You might be wondering: What? Isn't zinc an essential nutrient? That's why zinc countertops are a great conversation starter! Zinc makes a sleek addition to the modern kitchen. Over time hairline cracks develop in the countertop — you can either buff them out or let them shine.
Alkemi 
This new kid in town offers a unique look. The countertop is made of recycled aluminum that has been shaved or chopped and then baked with a resin. The result catches the light in a way nothing else does, sending rainbows of color throughout your kitchen. This oddly beautiful countertop is eco-friendly and the perfect way to make your kitchen a unique work of art where you will be thrilled to cook.
The Traditionalists: Granite, Quartz, and Marble
These new-fangled countertops aren't necessarily the cat's meow for those who want something more traditional. To that end, these three options — granite, marble and quartz — can provide the durability you want along with the beauty you deserve.
The rich colors of granite have made it a kitchen favorite for many years. The astounding spectrum of colors can mean everything from deep greys and blacks to something very light and airy. Marble offers the same color spectrum as well as a nice patina over the years. Quartz needs no sealing or polishing, and imparts a look of cool beauty to any kitchen.
But there are many more options coming down the pike, as more green alternatives are making their way into kitchen everywhere. What will the next big thing be in kitchen countertops? Though no one can say for sure, it's a sure bet that some of them will be just as unique as you are.
---
---