The myth that elegance and a luxurious atmosphere means shelling out big bucks can be easily dispelled when you inject a little creativity into your approach to interior design.  A big part of this is taking a look at what you've already got on hand, and re-imagining what those elements can do to help you get the effects you're after.
But, what are some out-of-the-box shortcuts that can help you get there? Writer and interior design enthusiast Joanna Crain from designshuffle.com is here to help get you started …
***
While a luxurious lifestyle is very appealing, especially when it comes to our homes, it is not practical for everyone. What if you want the look and feel of a high end interior but your budget won't allow for it? There are ways to decorate or redecorate your home with beautiful results and all within budget. Achieving this and creating a home you love takes a bit of ingenuity, some tricks of the interior design trade and a few interior design ideas.
Less is More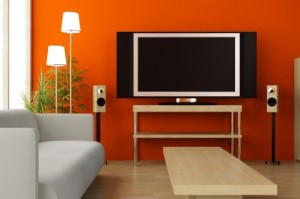 No matter what style you choose to decorate in, minimalism can be applied to your interior design efforts. You can have all the luxury you desire and not make it look over occupied with furniture or fittings that are unnecessary. By keeping your furnishings streamlined, you can afford to spend more on quality pieces you love. Instead of spreading your money out over many pieces of inferior quality, you'll invest in ones which will be in your home for years to come.
Consignment

Many times high end resale shops carry terrific bargains on quality furniture that have no signs of wear. From upholstered chairs and sofas to case goods such as end tables, armoires and sideboards, you'll usually find a variety of styles, colors and textures. If you don't find what you like the first visit, let the owner know what you are looking for and leave your number, also check back often for new items.
In the Details

When it comes to adding luxurious touches to your décor, small details can make a big impact. For instance, if you already have your furniture, choosing an expensive fabric for throws and pillows with embroidery or beading will cost way less than if you had bought an expensive sofa. However, if you haven't chosen your sofa consider buying one in a lovely texture that you can add a leading fabric pattern to from a high end designer. Another way to add luxury is through a hand knotted rug. While this detail can be an investment, it adds a quality and expensive feel to your room and will last a lifetime.
Think Function

Consider each room's function before shopping. What furnishings will you use the most? For example, if you spend a lot of time in the living room, then you'll want to spend more of your budget in this room to make sure the seating is as plush and durable as possible. Choose a high end sofa and chairs with a hardwood frame for longevity with down cushions for the most luxurious seating. These living room design ideas can be applied to any room of the home from the kitchen to the bedroom—spend the most on items you use the most.
Creating a luxurious space can be practical for anyone willing to do a little compromising and expend a little effort to make it happen. Soon you'll be enjoying the beautifully appointed home of your dreams.
***
Thanks, Joanna!
Joanna Crain is a writer for Design Shuffle, where you can find top tier interior design ideas from around the world – from New York Interior Designers, to Los Angeles Interior Designers, and more.
---
---