Reading Time:
3
minutes
Last week I shared a few transitional décor tips, drawing inspiration from the expert on transformative design, Charles Darwin—naturally.
But what about those who aren't drawn into the inertia of ever-changing, forward-looking transitional spaces? What if you prefer a décor vibe that immerses you in your present environment, while gently inundating you with a nostalgic comfort of days gone by? Well, this week I'll be soliciting the help of Karl Marx to hammer out the details of pre-industrial patina design, and sickle off the cold and alienating aspects of modern decor.
If you, like Marx, share a connection to bygone centuries and find tranquility in antiquity then perhaps the best laid plans for your study are those of a more bucolic fare. Saddle up, pard'ner. It's about to get rustic up in this domoy-izzy (pssst: that's Russian for hizzie).
Not just a little house on the prairie
When considering country-inspired décor, one may be tempted to envision a dusty cabin that's been haphazardly erected with crudely cut utility grade lumber, and accessorized with sepia-toned Kenny Rogers posters along with framed relics of Nana's cross-stich phase: a bumpkin palace if you will.
Nyet the case!
Those with more rural tastes need not be pigeonholed into creating such desolate and kitschy spaces. On the contrary in fact, doing rustic right can render a warm and even cultured effect.
The range of possible color schemes for a rustic space can be more diverse than one might think. Though exposed beams and rough cut cedar shakes dominate the imagery associated with pastoral decoration, the color pallet of rustic design need not be resigned to brown; so don't be afraid to put the red in Red Army while combating drab décor.
Warming up your walls
When choosing wall color for this type of decorating style, it's important to keep it earthy. Think of cinnamon, terracotta, mustard, olive, and cornflower as your rustic rainbow.
That being said, there's nothing wrong with going au naturale. A quintessential addition to any rustic space, wall paneling is an easy way to instill an idyllic country tone to any area of your house or home away from home. Naturally stained paneling is a great way to swaddle a room with country comfort, and assert a connection between you and your home that isn't sullied by a chintzy, mass-produced aesthetic (bonus Marx).
Conveniently appeasing both the former and latter approaches to wall decoration, BuildDirect offers you cart blanche for rustic design with Arcadia Unfinished Wall Panels. The warmth and subtle graining pattern of pine makes for a perfect contribution to an aspiring rustic space that can instantly transform any area into a rural retreat.
Tables that are stable as, well, tables
The trick to choosing furnishings for this type of space is, in a word, sturdiness: substantial looking furniture that can make an equally strong visual impact on a room. Something that looks like it can support your old bones after a long day in the field as well as the weight of emotional burdens bestowed upon the working class.
Quarter sawn log table tops, exposed birch benches, and cast aluminum chairs and drawer pulls are a great way to add an artisanal and cohesive look to any space without compromising the humble element of rustic design.
Robust and resilient fabrics
When choosing textiles and soft surfaces to adorn your rugged abode, I would suggest using the same aforementioned principles applied to furniture: your fabrics should be as hard-working as the proletariat themselves. Burlap throw pillows can cozy up benches, and denim can add a soft touch to any den or bedroom; all while withstanding the dusty countryside without fading in quality.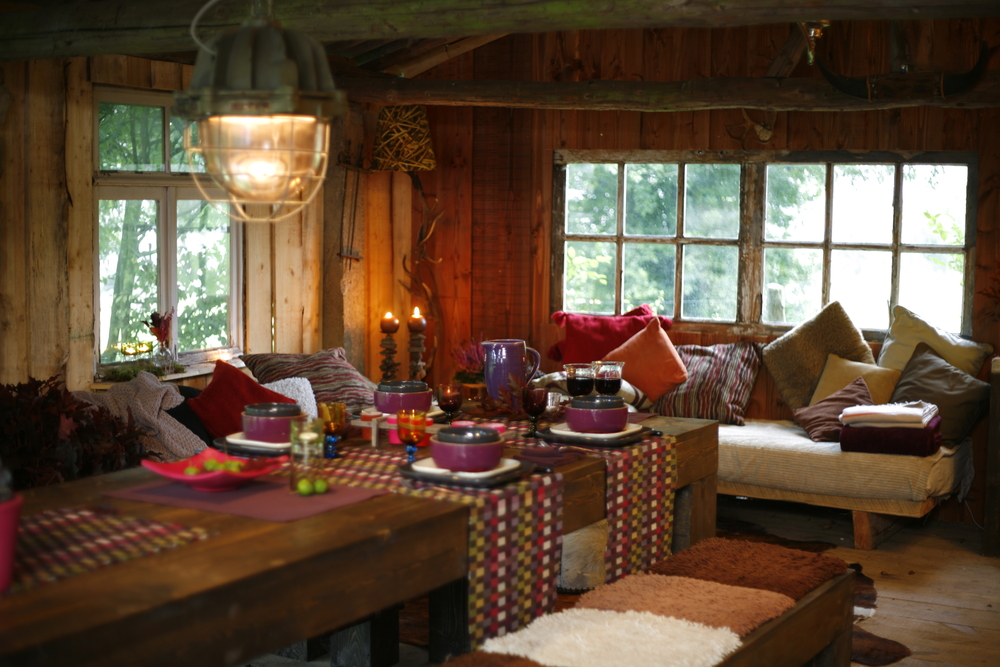 Another great sturdy fabric option is wool. These elegant and high performance Yanchi Area Rugs from BuildDirect are a great way to add cushion underfoot, over top of your barn planks. The deep burgundies and nature-inspired prints of these rugs won't disrupt your color scheme, or upset the pastoral landscape of your rustic space. Plus, they're hand tufted and free of that (oppressive) manufactured quality –which would be totally cool with Karl.
Connecting with (and in) your space
Whether you want to distance yourself from despondence in this digital age, or merely find comfort in coziness, rustic design is all about creating an intimate interior. Warm and earthy color offset by rugged and handcrafted furnishings make for a quaint and hospitable space that strengthens your connection with a room and the people in it.
---
---