Keep It Cool: Fridges, Freezers, and Wine and Beer Coolers
Reading Time:
4
minutes
Iceboxes and cooling appliances have come a long way from the days of literally placing ice in a box to keep products cold. Refrigerators and freezers are now designed for space and energy efficiency, and specialty appliances exist for temperamental drinks, such as wines and beers. Choosing the best cooling appliance is essential, but the choice itself depends on several details, including how much space you have, what you need to refrigerate or freeze, and what kind of appliance you need. You can easily take a fridge for granted until you're in the market for a new one, so let us help you in your search for a cooling appliance.
Picking the Perfect Fridge
Dozens of brands and styles exist, but not all refrigerators are created equal. Even if you need a fridge at the low end of your budget, be sure to compare different models, sizes, and prices. Ask yourself how much space you have, how much food and drink you generally store in the fridge and the freezer, and which accessories and extras are important to you. For example, you might dream of a shiny stainless steel fridge with double doors, but perhaps that selection isn't a practical or cost-effective choice. Know what is available first so that you can make an informed choice.
Top-Mount Refrigerators
Top-mount refrigerators are the most traditional fridges. They're the appliances we're used to seeing in kitchens. For some time, these models were the only choices available. The fridge is unevenly divided between the fridge and the freezer portion, with the freezer at the top of the unit. These models typically have plenty of space in the fridge cavity, as well as the ability to move around the shelves inside. The freezer area is smaller, but the space is adequate to hold an average amount of food.
Bottom-Mount Refrigerators
As the name suggests, bottom-mount refrigerators have different configurations from top-mount fridges. The refrigerator part is on top, and the freezer is on the bottom. With this style, the freezer section is often a bit bigger, leaving more room for frozen meats, bread, ice cream, vegetables, and similar products that need to remain frozen. Another feature of this type of refrigerator is that you typically pull out the freezer like a drawer instead of opening the freezer using a traditional door.
Apartment-Size Refrigerators
Having a smaller space doesn't mean you have to give up properly refrigerated food. Some apartments are too small for regular-sized refrigerators. The trending tiny house movement also creates a need for smaller, more compact appliances. Whereas traditional refrigerators usually provide 12 cubic feet of space or more, fridges for apartments usually provide 10 cubic feet or less.
Mini and Compact Fridges
Compact refrigerators are even smaller, usually offering between 3 to 4 cubic feet of space. They're ideal for dorm rooms, game rooms, basements, and man caves. Some people also install a mini fridge in a bedroom, den, or family room to store drinks inside it.

Finding a Freezer That Fits Your Needs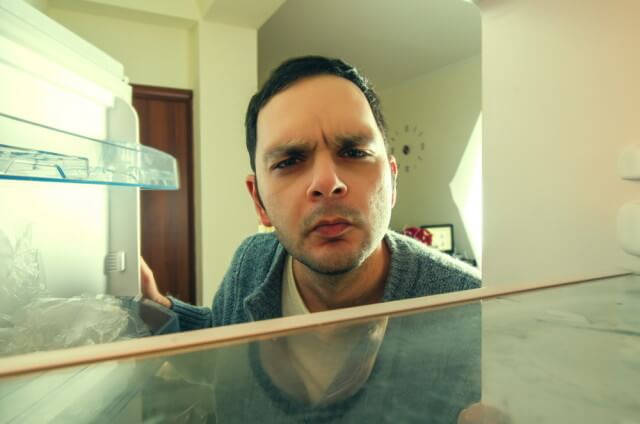 Sometimes the freezer connected to the fridge simply isn't enough. Standalone freezers are ideal for storing fresh game, a stockpile of frozen foods, or a supply of frozen meat. You can stock up on ice cream and Popsicles in the summer, store food for a catering business, or keep a well-stocked larder throughout the winter. Freezers are generally large, however, so make sure that you have the space for them. A basement is a fine place, but a mudroom, sunporch, or a covered back porch can work as well.
Chest Freezers
Chest freezers are large and oblong — they are, after all, shaped like chests. They're deep as well, leaving ample room for a variety of frozen foods and drinks. These freezers are typically utilitarian; their job is to deep-freeze your perishables. However, these freezers are also versatile in that you can control the temperature. Because most chest freezers have caster wheels, the units are easy to move as well.
Upright Freezers
Upright freezers look almost like miniature refrigerators. In fact, they're the same average size — around 3.2 cubic feet. These units understandably can't hold as much as a freezer chest can, but owing to their size, you can easily find a place for them in the home. If you need a supplemental freezer because the freezer attached to your fridge isn't big enough, an upright freezer is an excellent solution.
Discover the Best Bar and Wine Fridge
Fridges for beers and wines have been around for a while, but with the increasing popularity of home brewing and homemade winemaking, they're seeing a surge in the market. Wine fridges come in different sizes, but they can keep other beverages cool as well. When choosing the best cooling appliance, think about your collection of wines, considering its size and your intention to keep collecting beers and wines. Don't buy something huge if a small fridge will suffice.
Wine Coolers
The variety of wine coolers — fridges, not drinks — is staggering. Indoor and outdoor coolers are ideal for frequent entertainers or anyone who has a lovely outdoor or patio bar. Some are single-zone coolers; others are dual-zone units, which can allow you to keep a mix of wines and other drinks in one cooler. High-tech wine cellars are must-haves for wine connoisseurs, whereas touch-screen wine coolers are ideal for tech-loving wine enthusiasts.
Beverage Coolers
Unlike the sleek, glass-fronted wine coolers with all their features, beverage coolers are less glamorous, but they are just as practical. The units are typically cylindrical, with casters, handles, and plenty of room for your favorite cans. Although appliances such as these work especially for cans of wine and beer, you won't find a rule stating that you can't keep your favorite soft drinks in there, too. Although they won't need a controlled temperature to taste their best, the ability to set the temperature will definitely benefit your other beverages.
After deciding what best cooling appliance, and you have picked out a fridge, freezer, or wine cooler that fulfills your needs, you still have to consider color and design. Fortunately, choosing from among finishes such as white, black, and stainless steel is the easy part. Always keep the practical aspects at the front of your mind — and don't forget to measure your space before you finally buy the fridge or freezer of your dreams.
---
---