Kitchen Organization: Ode to Baskets, Shelves and Bins
I'm not a natural organizer. I'm more of the "organized chaos" type, who knows how to find herself in a mess but ends up unbearably lost when things are neatly put away.
So I was a little baffled when I came home from a semi-vacation dog sitting my mother's three Shetlands and found the kitchen had been re-organized, somewhat, through a variety of baskets, shelves and bins. Although I was confused at first, it ended up being a good thing for my cooking… and my sanity.
Too many spices? In baskets they go!
Here's a confession: I'm pretty lazy when it comes to putting things away. Most of the time my laundry basket is filled with the clean clothes from the previous laundry, which means that the dirty clothes go on the floor until I've worn all the clean clothes.
During our June move, I threw all of our spices in a box (there was enough to fill a small-sized box). This box had been on the floor of the kitchen, keeping the spices safe, since then. Sure, it was always kind of a challenge finding the right spice for the food, but in the end my most favourite flavourings ended up floating on top of the mess. Most of my spices are in (somewhat) resealable bags.
When I came back home, the first thing I noticed was the missing box of spices. Where had they gone? After opening a couple of doors, I found them sorted on a shelf: the bagged spices in little bins to hold them upright, and the bottles neatly placed along them.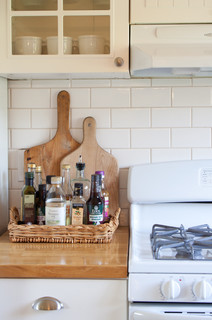 This simple thing–a small wire basket–made all the difference in my spice management. No need to go through a blob of bagged spices that run the risk of opening and spilling at any time. I can now look through my spices like one would old-school library cards (remember that?).
Little baskets, while they don't necessarily save space, give a neat and tidy appearance to your kitchen. It just keeps the things that go together, together, and makes you feel a lot more organized.
Plates amassing
Our kitchen went through growing pains. From using whatever our first landlord had in his kitchen, to getting our own and then adding a second set when I moved back to Victoria, we have more plates, bowls and glasses that two people know what to do with. Putting them back on the shelves is always a noisy affair, since they were all stacked awkwardly together.
Another surprise I found when I got back was that my partner had bought those little in-shelve shelves (like little wire tables) to help with the plate and bowl stacking. Now, I wouldn't have to move a stack of 5 saucers to place one plate, or 4 bowls to put a bigger bowl under them.
Those shelves are amazing. They don't make much of a difference space-wise, but the shelves look much cleaner and everything is easier to access. Putting away clean dishes is also much, much quieter.
I am now a fan of in-shelf shelving, if only because I'm really short and lifting a stack of plates to slip another one in between can be a somewhat dangerous adventure.
Bins and other organizing bits
But I think my worst mess in the kitchen is the cutting boards. We have several cutting boards, of different shapes and sizes, as well as one handy collapsible colander.
When I got back home, these items were placed in something that looks like a file holder, only meant for cutting boards. They all stand upright, but taking one out doesn't make all the other ones collapse. I think this was the best purchase of all that kitchen organization craziness. Even our collapsible colander fit in there, instead of awkwardly being put on top of the saucepans in a completely different part of the kitchen.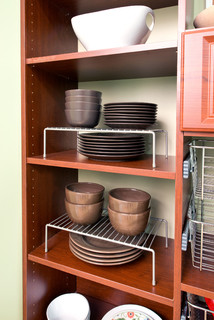 This kitchen reorganization didn't move much around–it just helped make everything more easily accessible and usable. I can't say it's saving me hours on my cooking (I have a small kitchen), but it does save me some brain space because I know I won't have to look for paprika for 5 minutes in my spice box.
Sometimes, the smallest things make all the difference in kitchen organization. Although not a very organized person myself, I can see the benefits of having things neatly stacked and put away.
How about you? Are you a messy kitchen owner or did you optimize your kitchen with neat organization tricks? Share you ideas and favourite tips with us in the comments!
---
---