Landscaping: Planning A Winter Landscape Out Your Window
Reading Time:
3
minutes
Winter is the time to analyze your landscape from inside to make the views out every window interesting.
***
When you look out your windows right now in the middle of winter, what type of landscape do you see? Are there interesting tree branches catching the light? Is the intricacy of the fencing wearing a layer of snow? Or is your yard a vast expanse of white?
Landscape design needs to provide year-round interest, not just showy and fragrant flowers in summer. Now that it is the middle of winter, analyze the views out your windows, and visualize what you'd rather see. Plants, hardscaping, and outbuildings will add a little pizazz to the hardest months of the year.
Line, form, texture, color — especially in winter
Because a winter yard is more stark than at other times of the year, pay special attention to line, form, texture, and color. There should be visual interest after trees and shrubs drop their leaves in fall. Dark branches against a snowy background should have concrete definition to be interesting.
Trees and shrubs will cast long shadows on snow or bare ground in winter, too. Fences, arbors, and trellises catch the light in different ways throughout the season. A snowfall further defines them.
Don't be afraid to use color! Subtle and bright colors alike change as the sun moves across the sky, even on cloudy days. Some evergreens and sedums turn to purple or bronze in the cold weather. Place these where you can see and enjoy them.
Well-placed outdoor lighting will allow you to look at your yard after dark. The sun shines from above during the day, but light from below at night will show off a different side of the landscape.
Window views from around the house
Kitchens tend to be gathering spots, and we spend a lot of time there cooking, eating, socializing, and doing homework.
If you have a window over the kitchen sink, be sure it looks out on something interesting. Liven up the tasks of washing dishes and scrubbing vegetables! A honeysuckle or currant bush will brighten the landscape, and birds will entertain you as they dine on their berries.
Do you hang around the dining table after a meal? Is there anything to look at outside? A colorful painted fence along the property line will add cheer to a winter landscape. Use several colors with a theme, or use up paint leftover from other projects.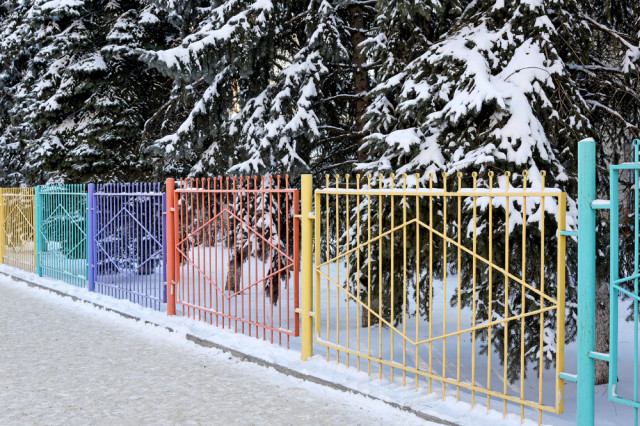 If your living room extends to the outdoors, consider building a brick patio and surround it with evergreen shrubs. Add a birdbath or a sculpture for contrast, and be sure you can see the entire scene from inside.
Morning view: what do you look at first?
An inspiring and motivating start to the day can be right outside your bedroom window. Think about what you look at first thing in the morning. If it's bland, build a stone wall, or a terraced garden with evergreen shrubs and groupings of variously shaped perennials.
Is there a window in the bathroom? If it's high in the wall, consider taller deciduous trees with delicate branches. Use evergreens or a vine for privacy combined with winter interest.
If you have views, frame them with trees, shrubs and perennials that will add to the scene, not detract from it.
Planning
Now is the time to make a plan for spring and summer landscaping projects. Look out the windows, and take notes about what you might want and where. Don't forget your entryway, too! A pleasing entrance with interesting color, line, and texture will brighten up your winter every time you come home.
Make a plan and a budget. Decide what to work on yourself, and what to hire out to a landscape design company. Then figure out how to pay for it. Even doing a little bit this year will cheer you up next winter about this time.
---
---