Let's Take This Outside: Outdoor Living with Conversation Sets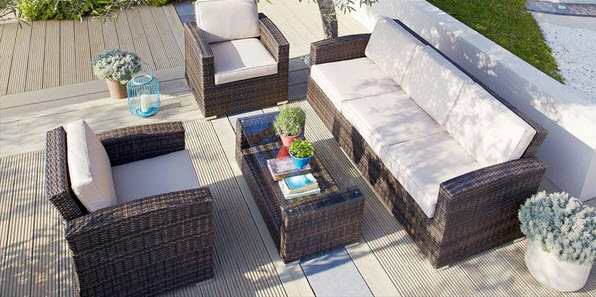 Although our eyes yearn for that lost hour of sleep the Monday after our clocks sprang forward, they dance across the horizon at the first peek of post 7:00pm twilight we receive in exchange. That promise of longer days and warmer evenings is an unofficial inauguration of all things outdoors. More than that, though, it marks the end of our after dinner hibernation.
We begin to spend our evenings under the orange glow of a late sunset playing board games, rather than under the drowsy blue hum of TV light playing the bored game (where you pour yourself a healthy glass of red wine and see how many reruns of Designing Women you can get through before you either fall asleep or finish the bottle).
Spring into Summer
But what if your yard isn't yet equipped for outdoor living? How do you transform the vastness of your empty yard's untapped social potential? Bridging this gap between the comfort of indoors and the freedom of outdoors can be as simple as investing in a conversation set.
Get Comfortable
As the name implies, conversation sets are outdoor seating arrangements that set the stage for a range of alfresco entertaining.Play a cozy hand of cards with a friend from a luxurious, roomy chair over a quaint table; get your summer sprawl on and starfish across a daybed to minimize that uncomfortable sweaty skin on skin contact on a hot day; or tuck into a sofa sectional with a book for an afternoon of uninterrupted basking with everything you need within reach, perched on an accessible table top.
Stay Comfortable
Not only does this style of patio furniture allow you to unwind and stay cool in the splendor of summer, but innovative manufacturing and resilient materials keep your sets looking and performing great as one season evolves into another.
Choose from robust wicker, metal, wood, or resin shells for your furniture that have been specially treated to resist inclement weather, mold, fungus, and even fading incurred from UV exposure. Promising performance in every layer, even the core of these sets are built to last. These lightweight and rust-proof aluminum frames are easily moved, stored, and maintained as tastes and seasons shift.
And of course, the piece de resistance of any living area indoor or out: the cushions. Just as hard-wearing and eye-catching as the subtle and chic frames that hold them, the cushions that pad conversation sets offer both style and substance.
Boasting unbelievable performance outdoors, these cushions are made from resilient fabrics that can reverse spills with a simple wipe upon impact, and be easily rejuvenated with a dollop of detergent and a quick on site rub with a damp cloth in the face of tougher stains.
Conversation Starters
As March fades into April, then rapidly to May, we slowly reacquaint ourselves with the invigorating nature of…well…nature. We start to spread our newspapers across boundless tabletops, unburdened by curled corners that struggle against fruit bowls, stacks of fliers, and clipped coupons; we bring our friends over and our brunches outside, without being waitlisted for a seat on a patio; and our after work beers begin to migrate home and tops are popped without a battle for elbow room at a bar.
We connect with the outdoors, and somehow find intimate moments with others in the immensity of open air. What better way to do so, than in comfort and style.
Now that you're all set up outside, go ahead: start talking.
---
---