Light, Airy Interior Design To Chase Away Winter Blues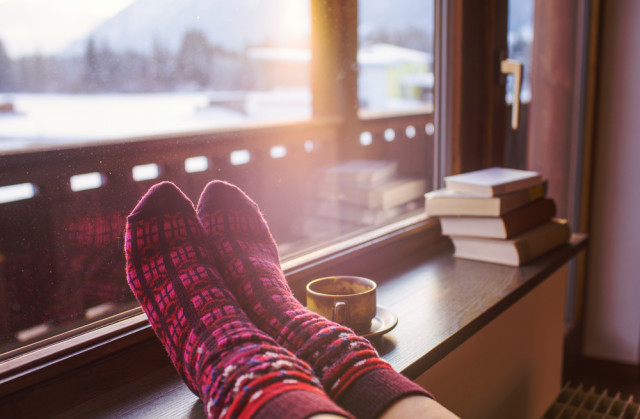 Are you tired of living in dark rooms during the winter? These changes can help make your autumn and winter much more comfortable, brighter, and lighter and chase away those winter blues.
***
During the summertime, it's easy to keep the house open, airy and full of sunshine. But as the fall and winter roll around, things get a bit tougher. Not only does the light change and become more mellow and diffuse with cooler seasons, the colder weather leads to a different set of needs for the home — such as heavier curtains, quilts and blankets, and other cozy amenities that keep us comfortable.
But in the midst of all this, the light that once streamed through the windows can get lost. In fact, the loss of so much light during the winter has been proven as a culprit in Seasonal Affective Disorder, or SAD, a type of depression that comes on or gets worse when the seasons change.
So how can you lighten up your rooms now, in the hopes of having a much airier fall and winter and chase away those blues?
Start with the right paint
Of course, it's common knowledge that a light-colored paint will seem to open up the room a bit and make it appear larger. But did you know that you don't have to paint the entire room? In fact, just a few sections are best. Start with the ceiling, and paint it a pure, clean white.
No eggshell or cream here! Just the real, solid white that will draw the eye up and make the walls look taller. And yes, it will also make the room seem much lighter.
Then move to the trim around the room. If you have woodwork, now is the time to think about painting it. A coat of very light-colored paint, including shades of white, will instantly brighten up a room. If you want to go even further, look down to the floor. A bare wood floor that has been painted a lighter color can transform the entire space.
Look to the light
In order to have the best lighting possible, pay attention to your lampshades and fixture shape. Dark, heavy lampshades need to go — replace them with lighter colors that will allow more of that coveted light to shine through. If you're feeling really brave, a semi-transparent shade and a unique lightbulb can create a conversation piece.
When it comes to the light fixtures on the ceiling and walls, look to something that will reflect the illumination, such as a small chandelier with crystals. You can also opt for fun pieces, like schoolhouse pendant lights, which will provide visual interest while spreading a great deal of light across any space.
Open up the windows — real and fake!
It can be very tempting to use heavy drapes and curtains over the windows during the fall and winter. Not only do these window treatments provide nice insulation, they also keep out the prying eyes. This is especially true if you have plenty of deciduous trees around your home, and the falling leaves allow strangers to peek in if they so choose.
But rather than opt for the heavy drapes, turn to something heavy enough to provide privacy but sheer enough to let the sun shine through. Get rid of anything but the simple rod and curtain. This will open up the window space and draw the eye in addition to letting in a ton of fresh light.
But why stop there? Remember that reflected light makes a room look bigger. To make the most of the light from the windows, place mirrors at strategic places, so that the light will be multiplied throughout the room.
This can take some trial and error and might require moving a few things around, but consider it a fun challenge to keep you occupied on those days when the house seems too dreary to stand.
Make one big change
If you look around the room and suddenly realize that your furniture is dark and overbearing, that's probably a touch of winter blues talking. Rather than just deal with the fact that your furniture makes the room look darker, make a commitment to do one thing differently.
Choose one piece of furniture that you can easily part with, such as that overstuffed loveseat or that opulent side table, and work on finding a piece that is much lighter, airier and more suitable for the winter months. It's a big change, but it's just one change — and beside making your room look better, the search can give you a goal and lift your spirits!
Your strategy for airy interior design
What are some ideas you've put into practice to chase away the winter blues, post-summer? Let us know in the comments section of this post.
---
---