Modern Office Sheds for Today's Work-at-Home World
The new world order has more people working for themselves, or at least working from home, than ever before.
I know, because I'm one of them. When the Olympics hit Vancouver in 2010, anyone working downtown was encouraged by the government to consider telecommuting. My office never looked back, and it's been great for work-life balance.
The trouble is, it's hard to enjoy your space if your day job's staring you in the face from the living room, or it's an open door you pass in the hall every time you leave the room.
For many, the idea of finding new space in-home for an at-home office is a ludicrous proposition. What imaginary space is this you speak of, one might ask.
Enter the bold new world of the Office Shed.
Thinking about an office shed
Whether you buy a funky pre-fabricated "office shed" or you get your friends together for the modern twist on the old "barn-raising," it's a value-adding project that'll increase your home's resale price while saving your sanity and improving your working life.
Most of the fancy office-capable sheds I've been looking up tend to start in the $6,000 ballpark and work their way up to extraordinarily high prices, depending how gadget-y and high-end the space is, for 100 square-feet plus. For some, these investments pay off as it can be possible to write-off making a new workspace in-home.
One of the perks of relocating your office to a small shed is, with a smaller footprint, you can have more windows around you. If you're a creative-minded professional working in design, art, or photography, the ability to be bathed in natural light while working can make all the difference in projects and inspiration. It's also a lot less distraction-prone, since it's removed from your house and you won't be tempted to wash dishes or check out what's playing on TV.
Types of office sheds
Office sheds can be done in a variety of tastes, sizes, and spaces, so it's a very personal endeavor that can be highly customized, depending what the space is to start with.
While looking through the interwebs, these are some designs that really caught my eye.
Take an old shed gutted of its cruddy interior, filled with roughed-in bookshelves, and enhanced with a nice new skylight, and suddenly this property owner has a rustic, funky place to work and relax.
On the other end of the scale sits Kanga Rooms Systems. They have a lot of funky prefab offerings, and this is a great example of a modern shed that's perfect for someone creative-minded, like the graphic designer who ordered this custom project.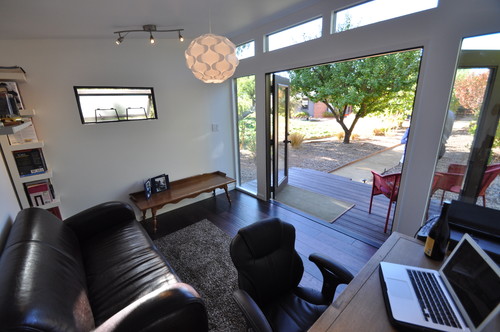 If your budget's on the opposite end of the Kanga scale, you could upgrade a standard prefab garden shed (sometimes as little as $800 retail) to an office shed, but you'll need to remember that you'll need wiring, insulation, ventilation, and natural light. Some sheds will take these upgrades, some won't, and you'd better know which side yours is on before you take a saw to it.
This Lifehacker fellow did just that, starting with a prefab barebones shed and ending with something pretty spiffy for about $6,000 start to finish.
But say you have a cool $14,000 or more sitting around, here's what it looks like when you shell out the big bucks and order a custom-made studio office space. Looks great, but it's definitely a big investment.
If you're of the DIY-mindset and you can follow plans, this is a fantastic homeowner-built space that comes with everything from air-conditioning to a fridge for under $3,000.
Upcycled office sheds and outbuildings
Another fantastic conversion project is that of purchasing old shipping containers and fitting it out for use. With some metal work, nice finishings, and creativity, it's a workspace that will stand up for years to come. For $8,000 in total costs, this homeowner got an 8×20-foot office space. A prefab base model that size would be at least double that, and probably would be a long way off from the swanky wood panelling found here.
And what about an old camper-turned-office? With a lot of work, some investment, and creativity, amazing things can happen with a camper. The best part about that is, if you move to a new property, your labor of love office can come along with you. And this one truly is a labor of love, to me.
Naturally, an architect decided this iconic-but-trashed 1959 Airstream trailer could be a dream office in another labor-of-love restoration project.
I hope I've proven that just about any space that's 6×8 feet or larger and can fit in your backyard is a space waiting to be turned into an office. With time, money, and creativity, there's no reason you can't have the workspace of your dreams. Invest in quality building materials, make sure it's insulated and well ventilated, and you'll have a year-round office to call your own.
---
---