More Living Room Home Decor Trends 2016
Reading Time:
3
minutes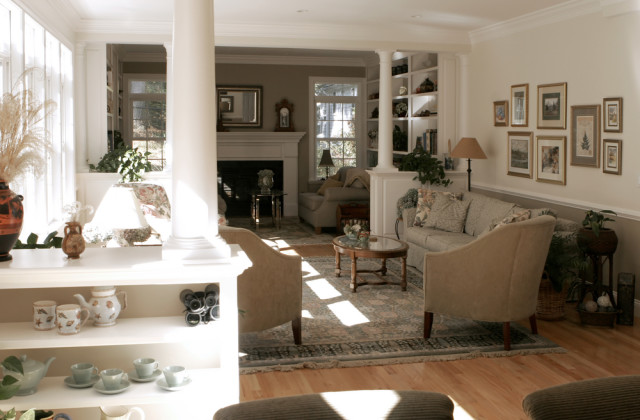 Living room decor is set to take a turn in 2016. Here are some of the home decor trends we're likely to see in living rooms that cover a stylish gamut.
***
Exciting interior design trends are coming with 2016, and some of the most fun designs are happening in the living room. Last week, Anabelle covered some of those upcoming home decor trends in living rooms for the coming year. And here are a few more.
With natural themes as an inspiration, 2016 living spaces will feature items and textures directly from nature. Upcycling and repurposing continues to be a trend, and warm metallic colors are entering the scene. Find out how you can use these trends in your 2016 living room decor.
The outdoors are key
Almost every trend for 2016 living spaces takes its cues from the great outdoors. In 2016, expect to see a lot of accent pieces taken directly from outside, and many styling decisions based on natural textures. Repurposing continues to be a trend, but instead of painting and polishing, repurposed items will have a crafty, artisanal feel to them.
Natural is the new black
From accent walls to accent furniture, the natural look is definitely in for 2016. In addition to the classic look of wooden floors, wood accent walls and furniture pieces will start showing up in abundance in living spaces.
Don't just expect the typical when it comes to these natural accents, either. Unique is in when it comes to natural, which may mean something unexpected like stone shelves or cork floors. Unpolished stones and geodes make lovely display pieces.
Metals make great accents
The warm metals like copper, bronze, and gold are hitting on-trend for 2016. Metals and metallic shades bring back the retro feel of the 50s and 70s, updated for the present century. Anything from lamp shades to flower vases and end tables can add a pop of metal to your living space. Don't forget about metallic fabrics to add texture to your throw pillows or window dressings.
Floral colors brighten spaces
Pastels are coming back to living room color trends, but with a big twist: dark-colored accents to set them off. Pink pastel colors make great accent walls, especially with a dark blue or green piece of furniture to balance out the softness.
Take that pink and use several different shades, darkening into some favorite reds, to create a piecemeal effect of color splashed across your living space. Just remember the rules of using color in your living space so you don't overwhelm the room.
Look to functionality and sustainability
The outdoors theme isn't just for show; living room trends in 2016 are about being sustainable and functional as much as they are about being attractive. That doesn't mean throw out all your old furniture to invest in locally made or upcycled products.
It does mean that you should go for function over form when purchasing new items for your living area. Look for accent items that double as storage space and products by local artisans who use sustainable practices when creating their wares.
Now's the time
Since we're at the top of the year, it's time to put some of our ideas for transformation of spaces into practice. Now is the time to lay down that hardwood floor or put in that cork accent wall you've wanted. It's also a great time to start repurposing projects you've had your eye on for a while.
Whichever direction you take in your living room renovation this year, enjoy your new space!
***
Sources:
http://www.mariakillam.com/trending2016/
http://www.macalawright.com/2015/06/6-interior-design-trends-consumers-want-in-2016/
http://interiorzine.com/2015/09/02/interior-design-trends-2016/
***
What living room decor trends are you thinking of going with this year? Are they similar to the above, or do you have some better ideas to share? Let us know all about it in the comments section of this post.
---
---