Morning Rooms, Breakfast Nooks, Outdoor Dining, & Pancake Day!
Not too many years ago (actually four years!) here at BuildDirect, the Executive Team made us all pancakes. Aside from seeing our President & CEO Jeff Booth in a funny hat armed with a spatula, the best part about it was cooking and eating in the open air together as a community, and then having that experience connected with what happens in our offices. That's how a space is best enjoyed – when it connects with our humanity, and when it encourages us to share our experiences with those we love and respect. And on top of that, pancakes always make things better, right?
Maybe you don't have quite as many people in your household as we did in our offices four years ago (we've tripled in size since then – that's a lot of pancakes!). But, when you're planning an outdoor dining space, outdoor morning room, or breakfast nook, the principles of comfort, connection, and comestibles (tasty things to eat, that is!) remain to be vital, no matter what your context happens to be. So, let's take a look at some of the details of that.
Comfort
You can't really enjoy an outdoor setting if you aren't comfortable. One of the things that has improved in leaps and bounds over the years to address this important area is the evolution of outdoor furniture. Thinking about seating, and the kinds of seating you're looking for has become much easier with the notion of comfort in mind.
Fabrics are engineered to be more water-resistant and UV resistant, but also pleasant to the touch. The frames for outdoor furnishings are designed to support seating over longer periods, too. So, they're more comfortable as a result than they were when plastic, flimsy patio furniture was the norm during your childhood. This is not to mention that modern outdoor furniture is made  to be  more resistant to the elements, and to last longer. This adds a level of comfort of another kind.
The way we perceive our outdoor spaces in relation to what we've got going indoors has shifted in our modern era, largely thanks to how modern products are designed to be fully-functional, and less of an imitation of what happens in traditional dining and living areas. That's because the way we interact with our spaces today has shifted since we were kids.  Nowadays, we want to connect our indoor life with our outdoor life in a physical way, choosing furniture and planning "rooms" outside in the same way we do inside. Therefore, because of our expectations of how outdoor furniture should look, feel, and perform, the industry has responded accordingly.
Connection
In this new era and new century, the key idea that has emerged is that our morning room, our breakfast nook, or really any common living and dining space can be anywhere, including outside. Overall, the idea of the "outdoor room" is a way that homeowners have been able to connect with their whole property. We've done that by creating transitional spaces, and by blurring the lines between what happens indoors, and what happens outside.
This idea of connecting spaces is now about our activities and interactions we have with family and friends while in them, rather than simple definitions of what "indoor" and "outdoor" represent as spaces without that vital human element. The real difference is how we modify our outdoor spaces in terms of the same rituals that happen inside. And one very important one is eating!
Comestibles!
We eat because we have to, of course. But, there's more to it than that as everyone knows. We eat as a means to boost our enjoyment of life, not just as a way to sustain it. We eat with those closest to us as a way to share our experiences in the moment.
To me, food tastes better outside somehow. Maybe this is because when we are out in the breeze and the gentle sunshine, maybe under an awning, a shade sail, or a pergola while sitting in a chair that is designed to be as comfortable as the one we've got in our indoor dining room, we're more closely connected with the natural world where our food has come from. And here we have another layer of connection once again; our lives at home are connected with our natural environment.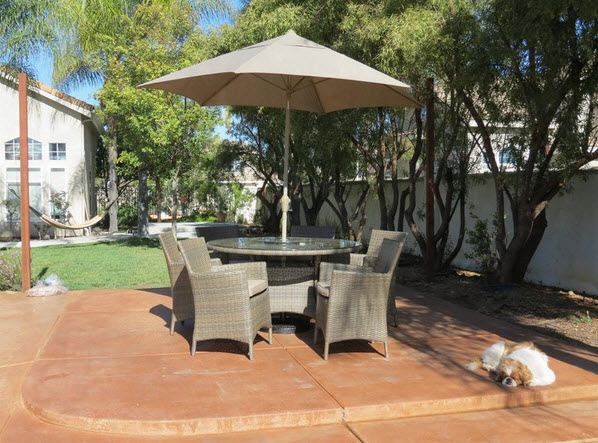 On this Pancake Day, perhaps spent having a meal, a chat, or a quiet moment in a morning room, breakfast nook, or other outdoor dining space, maybe you'll get what I mean. Or, maybe you're way ahead of me.
Your thoughts?
What's your outdoor space like?
What kinds of activities do you engage in while spending time there?
What big plans have you got to connect your outdoor space with your indoor one?
Tell me all about it in the comments section of this post!
Cheers,
Rob.
---
---