If you're a renter, there's a limit to what you would want to do to improve life in your apartment.
For some, painting is worth the hassle, and that's great. If it is, then go for it.
For others, that's a no-go area because management forbids it, or else it's not something they'd entertain anyhow.
Painting ain't the only option for change, though.
If you want to fix up a place, there are a lot of ways to create visual interest or solve problems, but still pack it up to take with you when you move.
Storage Solutions
Whether it's using floating shelves to create dramatic looks in your living space or adding more utilitarian shelving, investing in storage is seldom money you'll be wasting. Installed shelves can often be taken down, and it's about $10 for the filling putty and sanding paper you'll need to camouflage it for your damage deposit payout.
As long as shelving units you buy aren't too large, they shouldn't be a problem when you change homes, and even if they are, most shelving retains some resale value, so you can always Craigslist it and change things up if you decide to go that route.
Drapes, textiles, and linens
Textiles and pillows are things you can change whenever, wherever, so they sort of go without saying. Investing in different pillow coverings lets you play with different looks as your fancies change, but you don't have to ditch old options, especially if you've bought looks that aren't going to look dated.
Drapes, however, are where you can do a lot of dramatic looks when you're in a rental space. Floor-to-ceiling-length drapes are really the way to go, since they look great when they're closed and they'll always be right in your next home.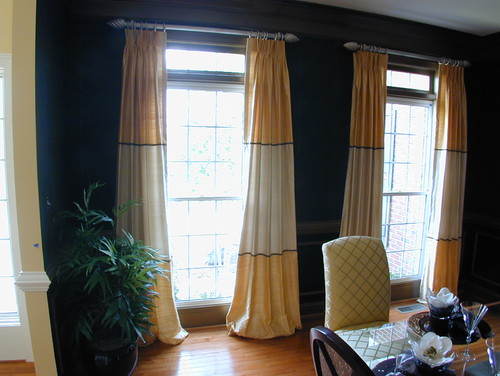 Instead of painting, you can opt to cover a wall with some panel draping in order to bring some color and funk into a room. Again, you're looking at a few holes for installing your curtain-hanging system, and that's a cheap Spackle-and-sanding problem to solve on moving day.
Rugs
With modern technology, there are such wild options out there for rugs and floor coverings of all kinds. Whether you make an old-fashioned painted floor-cloth or you buy a Persian rug, you're looking at a portable design solution that not only can add tons of drama, but it can also help protect your damage deposit AND make it less likely you'll incur noise complaints with neighbours.
You can find some amazing used Persian rugs in thrift stores. It may sound macabre, but in places like where I live and there's an aging population, as they downsize or pass on, there's an incredible selection of things like Persian carpets, art, and crystal one that turn up at thrift shops, and it's definitely a way to bring a different quality of decor to your home while making a good investment in something likely to hold its value or appreciate.
They also double as a great way to hide an awful wall while giving you some soundproofing between you and The World's Noisiest Neighbor.
Anything that detaches
From shower curtains to artwork, knick-knacks to lighting fixtures, room divider screens, and removable hooks, rails, and brackets, there's a whole world of stuff you can attach to the walls and ceiling in your place, and take down when you're on the move.
If it adds beauty, convenience, or function to your home, and it can leave with you, it's worth adding to your world.
If it's flooring, permanent cabinetry, and those sorts of things, you really don't want to go there. Trying to fix some of these things could prove to be more problematic than just trying to hide it with a drape, artwork, or a rug.
Think "camouflage," not "Mr. Fix-It DIY Repair Renter Guy," unless a) you're good at the repairs, and b) you can deduct it from the next month's rent.
Pack It Up and Move It Out
Even if you just choose to hang up some posters and wall-cloths, you're not optionless for short-term or portable improvements.
When your home's definitely changing in the not-too-distant future, you never know what the decor or color scheme may be when that day comes, so your portable solutions for today are best off to be minimalist in color or pattern so it's easier to blend into your next space — unless it's an affordable statement piece you plan to either sell or donate down the line.
Options abound if you're creative and open to improvisation, or you know your way around Pinterest. Dream big, and think "portable"!
---
---