Music and Choosing Colors: What is The Color of Sound?
A paint company is trying to tell us they've solved the "color of sound." In case you've ever wondered what color jazz should be (hint: they're not the blues), apparently there's now a way to figure it out.
I've poked around their website and can tell you, they're not making it easy to find out. Still,  we have an example. Abbey Road by the Beatles is apparently as simple as this Pinterest Pin.
Fab colors and fab sounds?
Well, okay then. If you tell me the Beatles' Abbey Road is well-served by colors like Dangerously Red, Snappy Happy, Hawaiian Breeze, Buttered Popcorn, Graceland Grass, and Purple Popsicle, I'd say you probably were indeed talking about their Heavily Medicated Years, post Maharishi Mehesh Yogi, when they were sailing around in a Yellow Submarine.
And what of Florence and the Machine? For "Lungs in Color," you'll be needing Not Yo Cheese, which looks vaguely reminiscent of that plasticine ooze they serve on game day "nachos". Oddly, it could work on walls. My bathroom was that color once and it was weirdly good with some candles and a filled tub. But would baths have been as nice if I knew it was Not Yo Cheese and not Tangerine Dream?
This is when we learn a truism: a crafty name does not a great color make. And what does sound look like anyhow?
The mystery of color
We've been trying to figure this out for years. From visualizers on MP3 players to laser shows at Planetariums to old-school rock videos on the now-ironically-named MTV, the idea of what a song looks like has been a pretty wild ride in the visuals department.
So, sure, Kelly Moore thinks they've solved the color of sound. That's cute. If they say so, right? What makes them more qualified than you or me to say what a song looks like? Absolutely zip.
It's a gut feeling. That's what color is. You can't explain "red" to a blind person.
Personal associations and color
With all those gut feelings popping off, it's tough to choose. We're all trigger-shy when it comes to grabbing something bold or mixing multiple colors, or throwing some wild patterns into the mix. The marketing of this "color of sound" is pretty shrewd. What if being bold means just bringing it together in the mind with something tangible and emotional for you, like a favorite song?
Some music is so strongly identified with as a cultural experience that they already have a feel and a look to us.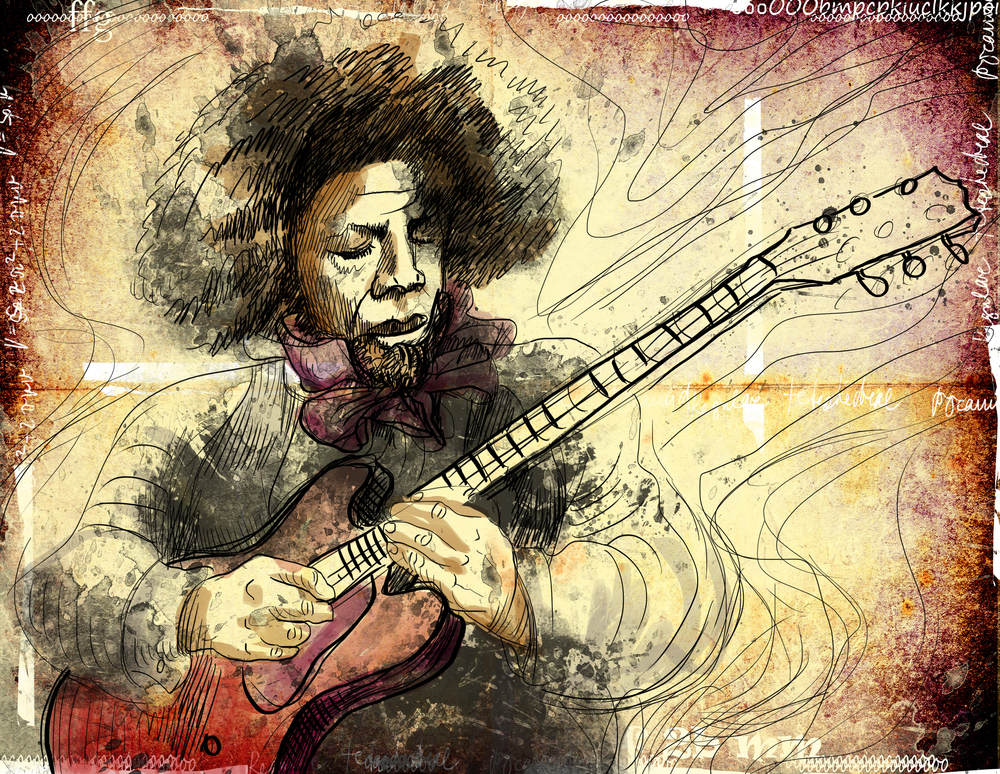 For me, a bluesy jazz saxophone solo conjures of images New York streets and brownstones on a hot summer night. Monochromes, old-school fire escapes, exposed brick, a throwback to the lines and feel from the '50s to the '70s. I think of jazz cellars and street buskers. It's cocktails and lounging spaces.
Some kinds of harmonica call to mind the Deep South and Mississippi River and a Southern style mid-20th-century feel. A mint julep on a veranda at night. Hanging planters, fire flies.
When the Beach Boys or Dick Dale plays, it's hard not to close your eyes and think of '57 Thunderbirds in cherry red, mint-green diners, khaki pants, Hawaiian shirts.
Music as a guide to decor style
Music could be a great way to help you find the mood you're looking for in your new space. Think of a way you want to feel, the kind of music that makes you feel that way, and hey, maybe even stand before the paint-chip counter with some tunes on your MP3 player. See what speaks to you or gets your groove on.
Why not? It's as valid a way to pick out a color — and maybe a more honest and primal way — as any other.
Decorating can move us and set a tone for our whole day. Why not try to marry it with music? We can, however, do without some of the funky color names. We're lookin' at you, Not Yo Cheese.
Your favorite colors and music?
Do you have color and decor style associations with certain kinds of music?
How do musical styles and style eras intersect in your home?
Tell us all about it in the comments section.
---
---