NAHB Housing Trends: Kitchen and Bath
Reading Time:
4
minutes
If you've been eagerly awaiting the 2018 trend forecast from the National Association of Home Builders (NAHB), you'll be thrilled to see the kitchen and bath design elements that this year's report highlights. From sleek spaces to spa-like oasis, get a closer look at the NAHB trends for kitchens and bathrooms in 2018.
Kitchens: Proportional Sizing
For the past several years, kitchen design has skewed toward large, open spaces made to offer plenty of space for extensive gatherings. As spacious as kitchens have become, kitchen islands have become more oversized. In many cases, they've increasingly become larger than life, designed to hold multiple cooking surfaces and extensive storage, along with ample counter space for countless chairs.
In 2018, however, the NAHB anticipates that kitchen sizes will no longer be quite as ambitious. Instead, they're more likely to echo the sizing of the surrounding rooms, including the dining room and the living room. Homes that feature extensive square footage and large rooms may continue to have spacious kitchens, but sprawling kitchens may no longer dwarf the adjacent rooms.
In addition, the NAHB forecasts that kitchen islands will no longer dominate the space. Rather than double islands and oversized counters, 2018 is likely to usher in an era of proportional islands. In some cases, designers may produce smaller standard sizes, which could signal a continued decrease in kitchen island size.
While kitchen islands have long been rectangular, it may no longer be the most common shape in the future. Instead, islands in a wider range of shapes, including customized formats, are likely to become increasingly common.
No matter what shape you gravitate toward, however, the island will continue to be the focal point of most kitchens. Since more islands allow for multiple functions, including wraparound seating, these elements serve as essential components in any kitchen space.
Kitchens: Sleek Countertops
In the kitchen, the island shape and size aren't the only components that the NAHB foresees evolving in 2018. Instead, kitchen countertops are on trend to become more sleek and streamlined than ever. If you opted for a warm-toned granite countertop for your last kitchen remodel, you may consider a counter with a cooler tone and a cleaner look this time around.
According to the NAHB, cool, neutral tones such as gray, white, and charcoal will continue to gain steam in 2018, especially in the kitchen. For example, white quartzite countertops could create clean lines and the illusion of more space, even in a smaller kitchen. If you're concerned about keeping white countertops clean, you may consider white cabinets with a charcoal countertop and an airy, open design throughout.
In 2018, layering neutral tones is always a good idea, especially in the kitchen. Not only do combinations of white and gray keep your kitchen looking sleek and clean, but these pleasantly neutral tones are also more likely to appeal to potential buyers if you're considering selling your home at some point in the future.
If you're planning a kitchen renovation, don't hesitate to add lighting under or over countertops either. The NAHB anticipates that lighting will continue to become more layered in the kitchen, with a blend of recessed lighting around workspaces and decorative fixtures that serve as gorgeous centerpieces.
Bathrooms: Spa-Like Designs
"DreamLine" DreamLine Cornerview 34.5 in. by 34.5 Framed Sliding Shower Enclosure / SKU: 15223047
If you've been considering a bathroom renovation, you may want to convert your old space into a relaxing oasis. In 2018, the NAHB has forecast a transition toward spa-like bathrooms that feature a tempting combination of high ceilings, huge windows, lighter tones, and ample natural light. This year, bathrooms are looking more sophisticated than ever, with some resembling those you'd find in a hotel.
While spacious, airy bathrooms are trending this year, and you can add plenty of luxurious touches even to a smaller space. Make sure you focus on the shower, the bathtub, and the vanity.
Inviting Showers
Installing the right shower in a bathroom can do wonders for opening up the space and creating a more inviting atmosphere. In 2018, look for trends to move toward zero-threshold showers, which allow for seamless movement from the shower to the rest of the bathroom space. Neutral floor and wall tiles can differentiate the shower while creating continuity throughout the bathroom, and frameless glass enclosures can open up the space more.
Don't skimp on the showerheads either. Consider installing multiple showerheads with different functions to make the bathroom a more relaxing place to be.
Contemporary Bathtubs
In newer spa-like bathrooms, the bathtub often serves as the focal point of the room. However, these tubs are far from mere decor. They invite long, luxurious baths and emphasize wellness and self-care.
Pinnacle Bath Signature Bath and Freestanding Tubs / SKU: 15135992
Rather than opting for built-in bathtubs, consider standalone tubs instead. These vessels echo the porcelain aesthetic of older claw-foot tubs while adding their own contemporary aesthetic. Be sure to add lighting and shelving around the tub to ensure that it will be the focus of your new in-home spa.
Stunning Sinks and Vanities
While spacious sink areas and extended vanities aren't showing any signs of going out of style, the form of these elements has certainly evolved. If you're planning a bathroom renovation in 2018, choose a vanity wisely. Rather than a bold model, opt for a wall-hung vanity instead. Not only do these types save a tremendous amount of space, but they also create an open feel and add to the spa-like aesthetic.
Rather than a standard sink, opt for a vessel style instead. These sinks are designed to rest on the surface of the vanity, adding artistic appeal and a visual centerpiece. Clean, modern faucets that echo either the curved or straight lines that you've established elsewhere in the bathroom are the ideal finishing touch for your spa-like bathroom.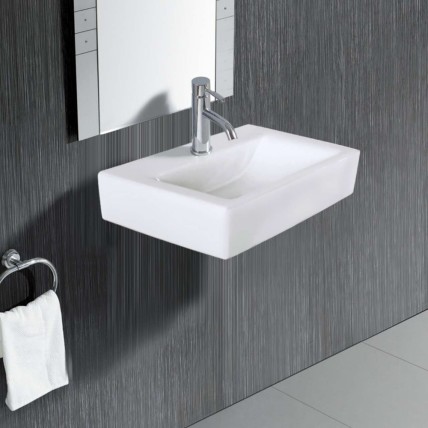 Whether you feel inspired to redo your kitchen completely or make a few small changes in the bathroom, these trends offer plenty of creative ideas to consider. Use the NAHB trend forecast for 2018 as a jumping-off point as you update your home and make your kitchen and bathroom more functional and inviting than ever.
Resources:
https://www.builddirect.com/blog/how-to-choose-a-bathroom-vanity/
https://www.builddirect.com/blog/the-right-kitchen-countertop-what-do-you-use-it-for/
https://www.builddirect.com/learning-center/home-improvement-info/energy-efficiency/eco-friendly-kitchen-renovation/
https://www.builddirect.com/learning-center/kitchen-bath/how-to-renovate-your-bathroom-planning/
---
---