NAHB Housing Trends: Single and Multifamily Home
Reading Time:
4
minutes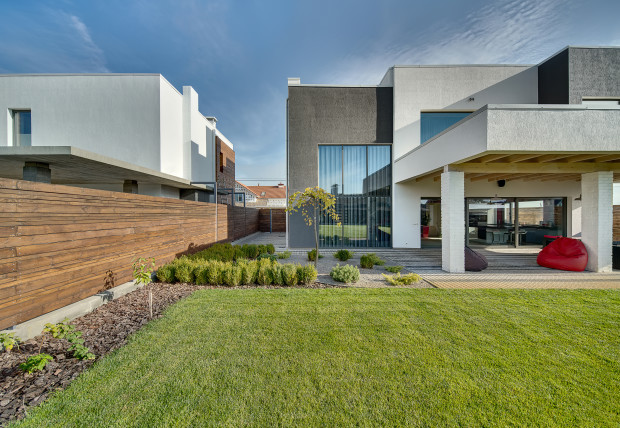 Home design trends for single-family and multifamily homes are showing many intriguing developments for 2018. While traditional exteriors are revealing a new surge in popularity, the purpose and use for these dwellings is evolving. Historic buildings are finding new uses, and new constructions are reshaping the way multifamily dwellings are defined.
Whether you want to upgrade your exterior for a trending look, or you want to explore the latest options for apartment living, we have you covered. Explore the following trends for fresh inspiration you can use throughout the year ahead.
Modern Exteriors
Trending exterior designs for 2018 feature striking modern lines. Flat roofs, large windows, and sleek balconies are among the signature elements of these homes. Natural materials and green design elements reign in these dwellings. Homeowners are gravitating toward buildings that fit seamlessly into their surroundings with stone, wood paneling, and other elements that look and feel as local as the landscaping. Lightly stained timber is preferable to paint, and neutral hues reign. Look for monotone palettes in shades of gray and beige.
Contemporary vs. Traditional Facades
Both contemporary and traditional home facades are finding a place among today's trending styles. Homeowners who are looking for a minimalist approach to their exterior designs can find it in the smooth geometric lines of modern homes. Popular in communities such as Palm Springs, California, this design is perfectly complemented by rock-studded landscaping and towering palm trees.
Those who prefer a more traditional facade will find plenty of options in this area as well. Southern plantation-style homes with two-story columns, wraparound decks begging for planters, and lush gardens are popular. Historic-looking brick facades are a timeless choice with lasting popularity, whether truly historic or featured tastefully in a new construction.
Developed Regional Styles
Regional styles are becoming more pronounced in 2018 home exteriors. If you're searching for trending inspiration for your new home, consider the signature styles of your region and pull elements from them into your new construction. In the Northeast, these elements may be a colonial-style home with a steep roof, paired windows, and a symmetrical rectangular facade. Another style popular in the region is the ranch home. These single-story houses often feature a U or L shape with an attached garage.
Draw on the architectural styles of the Midwest with a farmhouse-style home. Expansive porches and wood siding are signature elements of the style. Tin roofing is popular on this type of home as well. If you're drawn to homes with mixed materials in the exterior design, consider a craftsman style with striking stone, brick, and wood features.
Along the East Coast, you can build a European-style home that fits ideally with the area's historic architecture. Turrets, gables, elaborate fireplaces, and wide shuttered windows abound in these spare-no-expense homes.
On the opposite side of the country, you can build pueblo-style homes that blend seamlessly with the surrounding desert landscape. Mediterranean architecture is popular as well, with features such as tile roofing and iron balustrades drawing attention to these designs. Across the country, you'll find that homeowners are paying more attention to the architectural styles that are more native to the area and creating modern homes that hearken back to the area's earlier days.
Restored and Repurposed Multifamily Homes
The Quarry Mill Natural Quarried Thin Cut Stone Veneer / SKU: 15190765
A popular trend for multifamily homes in 2018 is restoring and repurposing older buildings. Rather than constructing new apartment homes from the ground up, developers are finding innovative ways to bring existing structures back to life. The Chisca on Main in downtown Memphis is an example of how stunning and successful this approach can be.
The Chisca was originally a hotel, opening its doors in 1913. In 1954, a radio station located in the Chisca introduced the music of Elvis Presley to Memphis, forever cementing the building's place in rock 'n' roll history. From the 1970s through the 1990s, the building headquartered the Church of God in Christ, but it stood vacant through the 2000s. The Carlisle Corporation then targeted The Chisca for a $30 million rehabilitation. In 2015, the building opened its doors again, rejuvenated as an apartment complex.
Today, the building features modern apartments with charming features such as hardwood floors, high ceilings, and stunning city views. Eye-catching elements such as exposed brick hearken back to the building's prior lifetime. Giving historic structures like this one a new purpose for modern apartment dwellers is an intriguing trend that's expected to continue.

Innovative Living Environments
Many modern individuals are finding that they no longer live the traditional eight-hour workday lifestyle. Telecommuting is becoming more popular, and a growing number of professionals work from home or from other remote work environments. A key trend to keep your eye on in 2018 is the advent of innovative multifamily living spaces designed for these individuals.
The e-lofts in Alexandria, Virginia, are a prime example of this trend. The building is part apartment and part office space. Renters have the option to use their units for work, home, or both. The e-lofts are zoned both residentially and commercially, offering an innovative living experience. The building boasts that it's the best of all worlds for those who work from home. Lofts feature panoramic views, exposed ceilings, moveable pocket walls, and open floor plans so that renters can configure and use them any way they'd like.
Building amenities include features made for both work and play. You'll find conference rooms, soundproofed practice rooms for music, media presentation rooms, a community kitchen, fitness center, pet spa, and more. These e-lofts are an example of how modern living spaces are evolving to meet the distinct needs of their residents. Expect to see more buildings taking on this type of diverse role through 2018 and beyond.
Watch for these trends to shape the way single-family and multifamily homes come together through 2018. You'll find that you can create a home in nearly any style, from a traditional European-style home to a sleek modern dwelling, giving it a trendy twist for the year ahead. Use these concepts to jumpstart your own innovative one-of-a-kind plans for updating your home.
Resources:
https://www.builddirect.com/blog/decorate-your-deck-or-patio-with-outdoor-planters/
---
---