New Year, New Bathroom: 2019 Trends
Reading Time:
4
minutes
When the new year rolls around, almost everyone considers making some changes, and in addition to improving yourself, you can improve the style of your home in 2019. If it's been a while since you've updated your bathroom, for example, it's probably time to give this all-important space a little attention.
Above all else, bathrooms should be functional, but this doesn't mean that they can't also be attractive. There are several design trends set to explode this year that can give your bathroom a fresh, new look. Here are a few 2019 bathroom design trends that you should keep in mind if you're interested in a home remodeling project.
Exposed Hardware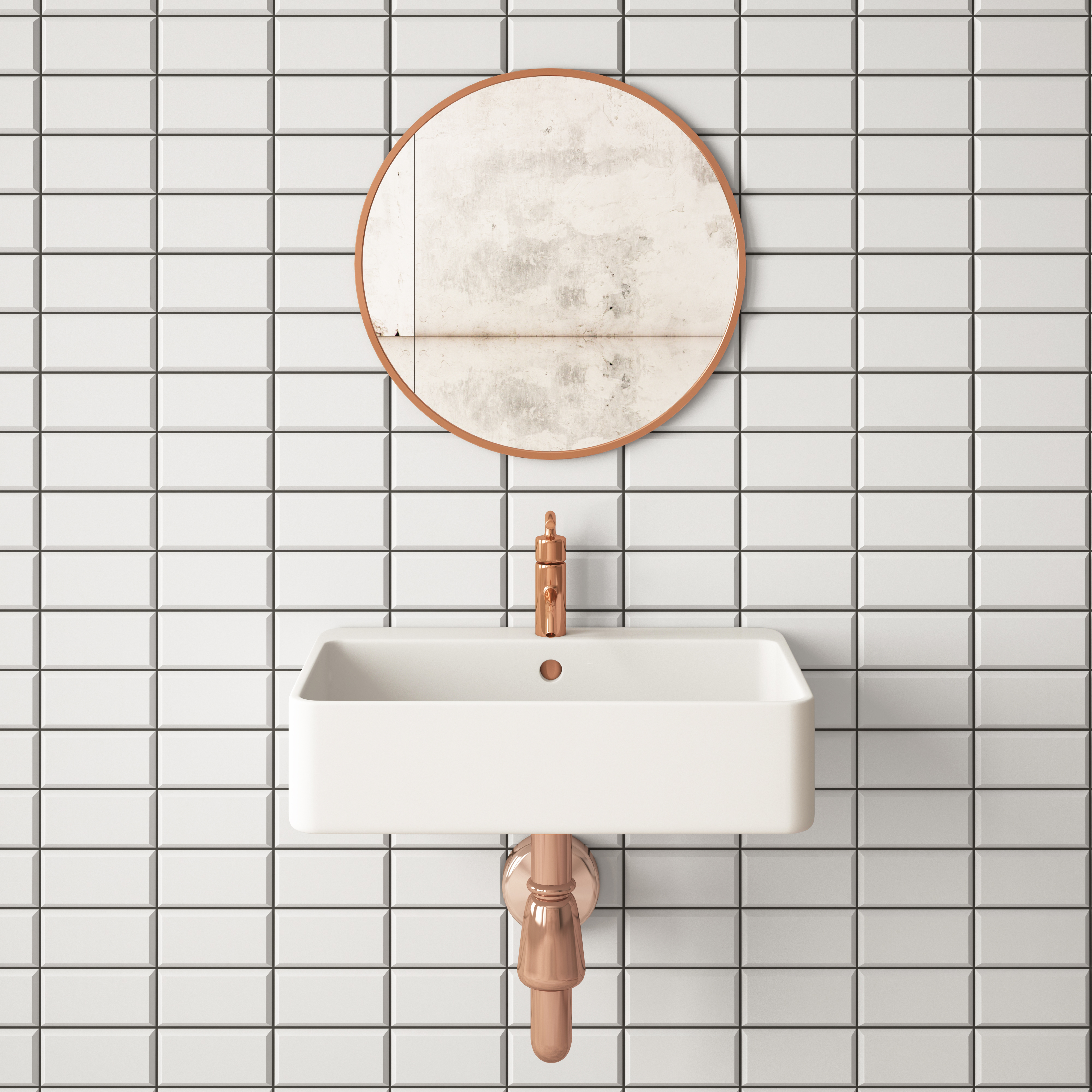 If you're looking for a simple way to give your bathroom a striking look, exposing the hardware is an excellent choice. More and more homeowners are doing away with the under-sink cabinet and leaving the hardware exposed, creating an eye-catching look that you'll love in your bathroom.
Exposing the hardware in your bathroom provides several different benefits. First, it makes it seems like there's a lot more floor space, which can be great if your bathroom is already on the smaller side. Second, it can give your bathroom a throwback look that is increasingly popular.
If you're thinking about exposing the hardware in your bathroom,  consider upgrading the hardware so that you get the most-attractive look possible. Copper or brushed metal hardware will create an eye-catching appearance that you'll appreciate every time you walk into your bathroom.
Statement Wall
Most bathrooms offer a fairly plain design, but it doesn't have to be this way. With the right design tweaks, your bathroom can be one of the boldest, most stunning rooms in your entire home. For instance, if you're looking to transform your bathroom from bland to exciting, you can add a few statement walls.
A statement wall is basically a wall where you've added attention-grabbing wallpaper, tiles or a unique paint scheme. While statement walls won't fit in every room of your home, they can be an excellent choice for your bathroom. Bright floral patterns are a great option for statement walls, and you can also use different patterns on different walls to create a one-of-a-kind look. Statement walls in bathrooms are a 2019 design trend that every homeowner should consider.
Subway Tiles
Subway tile has long been a fixture in bathroom design, and it should stay trendy in 2019. In the past, subway tile would usually just be found on the walls and floors, but in the modern era, you can use this tile on almost every surface in your bathroom to create a clean, appealing appearance.
The great thing about modern subway tile is that it is available in a variety of shapes and sizes, meaning you can mix and match to create an eclectic look. With subway tile, the sky is the limit.
Spa-Like Designs
Utilitarian is probably the best word to describe the design in most bathrooms, which is why these rooms can sometimes feel uncomfortable and uninviting. If you want your time in the bathroom to be relaxing and enjoyable, incorporating a few spa-like designs can be an excellent option.
There are several ways that you can give your bathroom the look and feel of a luxury spa. Obviously, the best option is to install a high-end tub or shower, but this isn't the only way that you can incorporate spa-like designs into your bathroom. Soft lighting, for example, is an easy way to make your bathroom more relaxing and reminiscent of a high-end spa.
You can even do a little experimentation if you want to make your bathroom look like a spa. Research some of the different designs that are commonly used in spas, and then see if there's a way you can incorporate those designs into your bathroom. By making a few small adjustments, you'll be able to transform your bathroom into a beautiful, relaxing, and inviting space.
Statement Mirrors
If you want to give your bathroom an entirely new look, sometimes the smallest adjustments can make the biggest difference. Adding a statement mirror to your bathroom, for example, can give it a refreshed look with a minimal investment.
Most bathroom mirrors are on the plain side, so adding a statement mirror can create a unique, exciting look. You could, for instance, choose a mirror with a picture frame border, which creates a refined appearance. Installing a mirror with a unique shape can also be a great choice. When you're looking for your statement mirror, try to find an option that reflects your personal tastes so that you can enjoy your bathroom to the fullest extent possible.
Mosaic Floors
The floors that you choose for your bathroom can help tie together the overall design of the room. While many homeowners prefer plain white tiling, mosaic floors are an ideal option for anyone who wants their bathroom to be as trendy as possible.
Installing mosaic flooring is a great way to give your bathroom a visually intriguing appearance, especially if you contrast the floors with white walls. You can even mix up the shapes you use for your mosaic flooring, using several different options to create a signature look. Mosaic floors are available in a variety of materials, so you should be able to choose an option that fits your lifestyle and design preferences.
If you're interested in making changes to your home in 2019, your bathroom is perhaps the best place to start. Whether you want to make small style tweaks or you want to give your bathroom a completely new style, there are several excellent design trends that you can choose. From high-quality flooring, to spa features, to statement walls and mirrors, homeowners should be able to find a bathroom design trend that matches their precise tastes. You can even combine several of these options to completely transform your bathroom for the better.

Sources:
https://www.familyhandyman.com/floor/top-flooring-trends-for-2019/view-all/
https://www.elledecor.com/design-decorate/trends/g23694206/bathroom-trends-2019/
https://www.housebeautiful.com/room-decorating/bathrooms/g25053086/bathroom-design-trends-2019/
---
---