New York-Inspired Contemporary Art Deco
New York in the 1920s still fires up our imagination, even after almost a century. Whether it's the latest remake of The Great Gatsby or TV shows like Boardwalk Empire, the art déco style so characteristic of New York in this period still catches our eye when it comes to home décor.
As discussed in a previous article on the BuildDirect blog, art deco style came after WWI and tried to visually express the principles of the "machine age": geometrical shapes for scientific precision, rounded corners to remind you of cogs and wheels, and lots of repetition. Chrome and brass were the decorative metals of choice, along with wrought steel and lots (and we mean LOTS) of mirrors everywhere. Colors ranged from clean pastel colors like peach, pink and turquoise for fabrics and walls to dark wood tones for furniture and accents. Dramatic lighting finished off the typical art deco room.
Because fashion is, in its heart, a constant re-fashioning of old trends using new ideas, it's no surprise that art deco is still widely used as a decoration style today. Most modern art deco trends reflect the insouciant years of the New York Jazz Age and bring you back to a time where fun was easy and luxury accessible. Here are a few great examples of New York-inspired art deco rooms.
The art deco bathroom: clean and luminous
Let's start with that most necessary of rooms: the bathroom. During the 20s, bathrooms began reflecting new principles of cleanliness and hygiene supported by scientists and health officials. Today's art deco bathrooms embody these ideas but also have more contemporary touches.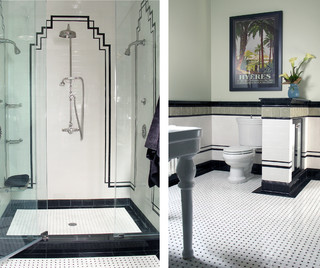 This New York bathroom is very obvious in its art deco choice. The black accents in the shower and along the walls are definitely contemporary, but their shapes adds the art deco flair that makes all the difference. The room still uses white and pale green, two "hygienic" colors, as their main shade. The splash tile along the wall uses typical art deco geometrical repetition.
This bathroom shows another, more subtle way to combine the traditional art deco colors of black, white and seafoam green. Although more contemporary in style, the sconce lamps, the chandelier (seen through the mirror) and the fresh, clean tile give this bathroom a definite New York flair.
Art deco living rooms: perfect for movies
The 20s were also the age of the silent film. This is when cinema began to develop as a form of art (and as a business). Celebrity culture began during that time. No wonder then that most modern art deco living rooms integrate many ideas from the golden age of silent movies.
This gorgeous living room integrates art deco colors like beige and dark wood. A pull-down screen instead of a television set add to the "old world" flair, and the sea shell chair would be just at home in a 20s New York heiress home. Notice the soft angles on the furniture and the sunburst light fixture. Even Marilyn isn't out of place in this room!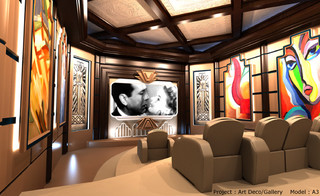 Had Al Capone have access to today's media technology, we're pretty sure his own private movie room could have looked something like this. The art deco style is obvious from the wall art and the patterns around the screen, as well as the soft, rounded steps around the armchairs. What a perfect place to watch classic movies!
Other stunning art deco spaces
Art deco can be used to make any space look like you're living in New York in the 20s. Here are a few more examples of stunning contemporary work on art deco styles.
This DC home really captured the essence of art deco: the subdued, modernist art, the geographical mosaic on the floor, the hexagonal shape and the shell-shaped carving work on the door.
This is just a door to a condo, but it has all the flair of the best art deco style New York produced in the 20s. The repeating pattern that mixes geometrical and natural elements as well as the dark red, orange and brown accented by ivory are just what a famous Broadway or movie star would have wanted for their New York apartments.
How have you used art deco to inspire your home decor? What's your favourite part of this style? Share your thoughts and ideas with us in the comments!
***
BuildDirect loves New York!
---
---