Pantone Color of the Year: Ultra Violet
Reading Time:
4
minutes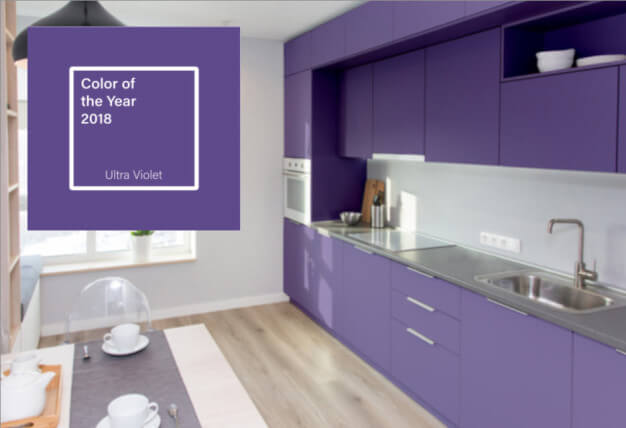 Unless you work in interior design, you might not know there is an annual color of the year. Each year, the Pantone Color Institute forecasts global color trends and informs others about palette recommendations. What color made the list for 2018? And how can you transform your own space by utilizing hue? Keep reading to learn how to utilize this trendy color in almost every room in your house.
History of Pantone Color of the Year
For almost 20 years, the Pantone Color Institute investigates color trends and announces a color it believes will be prominent in the upcoming year (although it did choose two colors in 2016). It looks at a variety of industries, including fashion, entertainment, art, design, travel, and film to see what colors influence them. As a result, its Color of the Year has persuaded product development and purchasing decision making.
Its 2018 color of the year is Ultra Violet. In interiors, Ultra Violet transforms rooms by enticing others to seek refuge from today's overstimulated world. You might see this color used in meditation spaces and other areas to encourage others to gather and connect with one another.
Ultra Violet's Significance
Historically known as the color of royalty, Ultra Violet also signifies the mysteries of the cosmos. Who doesn't want a little dash of royalty in his or her life without having to deal with the paparazzi? In addition, this bluish-based purple hue is also symbolic of originality, infinite possibilities, and visionary thinking that points us toward the future. Now why wouldn't you want a little purple in your residence? Luckily, you have many options, whether it involves your walls, accessories, or appliances.
Ideas for the Dining Room
When thinking about decorating your dining room, you have several options where to throw in the Ultra Violet influence. If you're hosting a family gathering, consider using some bold purple dishes for the table settings. Pair it with solid-color dinnerware for a bold contrast. If you don't have the budget for new tableware, pick up a purple glass vase with purple tulips or lilacs and place it on the dining room table. You could also focus on the lighting, making a chandelier or pendant lamp adorned in purple hues.
Another option is to turn the dining chairs into eye-catching pieces if they're adorned with Ultra Violet hues. If you don't have the budget for new chairs, you can add Ultra Violet slipcovers over existing ones.
Ideas for the Kitchen
An unexpected place you might find Ultra Violet is in the kitchen, which is considered the central gathering place in the home. If you have appliances that are black, white, or silver, take a risk and use this uncommon kitchen color on other surfaces. You can use purple on the walls, the backsplash, or even on the cabinets.
Perhaps your appliances are older and you're in the market for new ones. Did you know that you can buy them in bold colors? Pick up mixers, blenders, or coffee makers adorned in purple.
Ideas for the Living Room
Since Ultra Violet can make a statement in almost any room in your house, consider going bold in your living room. You might not want to use it in your entire living room, but you can paint an accent wall. The living room is an ideal spot to place an accent wall, pairing it with a white ceiling, wooden floor, and colorful orange or coral furniture pieces. The combination of these decorating ideas can make the living room a focal point in your home.
If you want to complement the Ultra Violet with other hues in your living room, look for shades within the same color family. Pinks and blues work best with Ultra Violet, with colors including mauve, lilac, and blush softening the boldness of Ultra Violet.
Maybe you're not ready or willing to paint your walls but still want to add the 2018 Color of the Year to your abode. When used in small doses, Ultra Violet can make the room feel rich and feminine. Add some purple accent pieces, such as throw pillows, knitted blankets, or shag rugs to make the area seem inviting. You could also pick up a stunning piece of art with Ultra Violet hues.
Ideas for the Bedroom
Many interior decorators encourage homeowners to go bold and use darker colors on bedroom walls. Since purple exemplifies drama and romance, spice up your bedroom with Ultra Violet on your walls. You could also paint the ceiling in the Ultra Violet color with lilac on the walls, making the room appear larger. Use leather, velvet, and dark-colored woods to bring out the richness of the room. Finish off the look with crisp white linens and soft lighting.
Bedroom curtains are important to the room's decor. Therefore, if you don't want such a bold statement with purple walls, use Ultra Violet curtains to complement the room's toned-down palette. You can also use this accent color in other places in the room, whether it includes a headboard, bedding, or a bedside lamp.
Ideas for the Bathroom
Ask your friends what color is prominent in their bathroom, and odds are it isn't purple. Just as it's not a common color in kitchens. That's why Ultra Violet might be a great way to step out of conformity and try it out for this space. You can go bold and paint all the walls in this hue.
If you're redoing your bathroom completely, finish off the shower with purple tiles or install a bathroom sink with a purple foil underlay. If you're uncertain about so much color in this space, add some Ultra Violet bathroom rugs and towels.
Although Ultra Violet is a striking choice for Pantone Color of the Year, implementing the bluish-purple hue into your residence in accent pieces can highlight almost any room. But maybe bold is how you like to portray your style, so feel free to paint entire walls in the color. Once you're done adding a splash of color, sit back, relax, and enjoy this visionary and spiritual color.
---
---