"April showers bring May flowers"
That's how the saying goes. But flowers don't need to wait until May to bloom all over your home décor. Here are some typical and original ways to use flower patterns in your interior design.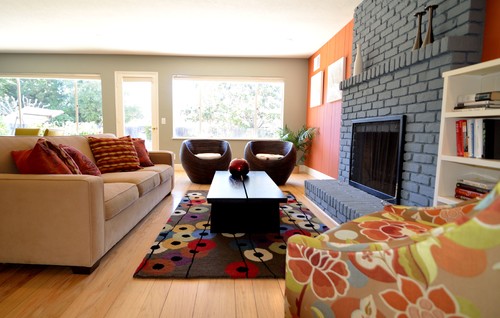 Flower patterns: universal and popular
Almost every culture around the world has developed a textile pattern featuring flowers and plants. They are part of the natural environment and are a source of food, medicine or simply natural beauty. Therefore, it's hard to pinpoint a particular traditional use of the pattern: flowers have been woven, embroidered, knitted and printed for a very long time.
Home décor uses
Just as flowers in fabrics are universal, the use of flower patterns in home décor is old and persistent. From wallpaper to bed linens, on couches and in bathrooms, flowers can be found sprouting anywhere in a home. But how to use flowers at their best?
You have two typical flower patterns: the traditional small flower print, often found in traditional décors, and the big geometrical statement flowers, inspired from colorful prints from the 1960s. Both can be used effectively in any décor, but they have different effects in a room.
Flowers in the bedroom
Flowers in the bedroom can start early. In a child's room, flowers are big and colorful to help develop the child's sense of color and shape. You can let your inner artist out and paint the flowers yourself, or use wall decals for fuss-free decoration.
Big flowers also look great on the bed or on the floor. A flower-shaped carpet makes a great focal point in a teen bedroom. It also gives you a great color palette to work with.
More discreet, traditional flower patterns are perfect for a more mature bedroom, and are neutral enough for the guest bedroom. Try embroidered bed linens instead of printed ones for a handmade, rustic look. Use monochromatic flowers instead of multicolored ones for a more mininal appearance.
Flowers also belong on your windows; try embossed flowers on a damask in an appropriate color, or use a light fabric with mulitcolored flowers for a morning rainbow when the rising sun hits your window.
Flowers in the living room
Bold and colorful flowers on sofas feel young and fresh, perfect for a young woman's first apartment with her roommates. Purples, fuchsias and greens are great color choices for a young and feminine living room.
More discreet patterns of small printed flowers will turn any living room into a rustic cottage. I always imagine small blue cornflowers for a soft, inviting palette. Pair with white walls and blue, yellow and pale green accents for the full country cottage look.
You can also use carpets to add flowers to the living room without having them displayed on your couch or walls. Beautiful Persian carpets feature fascinating flower patterns that will add a touch of mystery and life to any living room.
Try using flower-patterned wallpaper on the upper half of your living room walls, leaving the bottom half white. It'll bring a nice touch to the room without overwhelming it. You can also use flower patterns on the drapes for a discreet feminine touch.
Flowers in the dining room
Flowers really belong in the dining room. This is where they keep diners grounded and give them an appetite. I've always liked damasked tablecloths, or tone-on-tone embroidery. They are discreet yet pleasant.
Flower patterns on wallpapers also do very well in the dining room, especially if you have a kitchen dresser or high bookcases in the room. These pieces of furniture will cut the monotony of a repeated pattern.
Of course, flowers also belong on heirloom dinner plates. There is something exquisitely dignified about eating on plates with delicate flowers painted on. Flowers truly belong in the traditional, formal dining room.
Flowers in the kitchen
The kitchen is a great place to use flower patterns too. Try flower-shaped doorknobs and handles, a simple and rustic tablecloth with a colorful flower print, or flower embroideries on your hand towels. Add fake flowers in a nice glass pot filled with colored rocks on your widow sill.
Fresh, feminine and rustic
Flowers are inherently feminine and add a fresh or rustic feel, depending on the shape, size and color. Big modern flowers are great for a younger, more daring décor, while small flower patterns are perfect for a more discreet, rustic look. No wonder it's the favourite pattern of country cottages everywhere: it invites relaxation and calm and is neutral enough to be appreciated by every guest coming in.
How do you use flowers in your décor? Have you tried big bold 60s-inspired flowers, or do you stick to the small print and discreet touches? Share your ideas in the comments!