Prepare Your House For Winter: A Get-Started Checklist
Now's the time to spit shine your home for wintry merry-making and hearthside bliss. Here's a handy spirit-guide checklist as you prepare your house for winter.
***
Winter's just around the corner, and there's lots of arranging to do before a bearded stranger in a red tracksuit shows up with gifts. (You remember your old friend Kris Kringle, don't you?)
Getting ready for the winter isn't as simple as throwing down a festoon of figgy pudding and calling it a day. There's work to be done. So roll up your sleeves.
Here's how to prepare your house for the upcoming winter months:
1. Check your furnace
Don't wait for the temperature to drop to discover your furnace is on the fritz. (Unless living in an igloo sounds appealing to you.) If you haven't done so already, now's the time to schedule a furnace inspection with a licensed HVAC professional*.
*Not sure which contractor to trust? Check out Steffani's post.
2. Revamp your guest bedroom
After your guests have one too many rum 'n eggnogs, they'll need a comfy place to crash. Has your guest bedroom* seen better days? Tidy up and de-clutter. Add warm blankets and clean sheets. If you need to test the bed's comfiness with a quick nap? All in a day's work.
If you don't have a guest bedroom, you could wrangle a comfy air mattress or a few extra blankets and pillows for couch-sleepers. Unless you want to give up your bed. (In that case…. better make sure that couch is comfy!)
*Peruse Cate's post to get ready for overnight guests.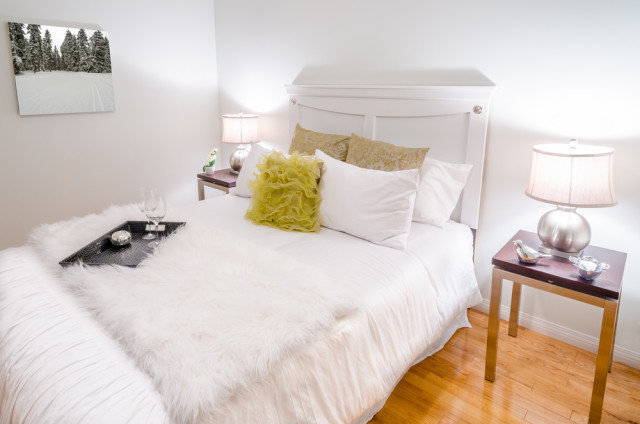 3. De-clutter your kitchen
Baked goods. They're the reason we look forward to (and dread) December all year. Because when else is it socially acceptable to show up in pj's and mainline an entire plate of cookies? (If you're thinking "Every Sunday, silly!" then you're my kind of people.)
During the holidays, you'll do your fair share of baking, broiling, stewing, and frying. And all those pots and pans take up precious counter space. If your kitchen's looking disorderly these days, maybe it's time to reevaluate your priorities.
Could you lose that giant spice rack in favor of magnetized spice jars (the kind you stick on the fridge)? Do you really need* an entire corner dedicated to tea alone? (If you're the Queen of England, my sincerest apologies.)
*Having trouble deciding what to toss? Give this post a read: 8 Things You Don't Need In Your Kitchen.
4. Ready your blanket fortress
Sometimes it gets cold. And sometimes you don't feel like putting on a scratchy sweater, or turning up the heat. Because: moving. (There's a compromise somewhere in there…)
Furnish your living room with extra blankets, and you'll stay toasty when it's cold outside. You could wear a blanket (I'm wrapped in one right now!), drape one across your couch, or fold a few into a wooden basket or an ottoman with built-in storage.
5. Rearrange your front entrance
Company's coming. That means bacon-wrapped shrimp, first and foremost. (Priorities, people.) There will also be more coats, hats, boots, shoes, and gloves to contend with. Is your front entrance ready for all that hustle and bustle?
Tuck your summer coats and shoes into storage, and add heavy duty hooks to support bulky winter coats. (They're surprisingly heavy, especially when wet, and no one needs a coat casualty.) Clear off shelves and make way for extra hats, gloves, and scarves. Lay down a mat to stop wayward snow and dirt in its tracks.
Is your home ready for winter and the holidays?
Is your home ready for the holidays? What's first on your to-do list? Tell us in the comments!
---
---