Restore Old Furniture And Spaces: Color, Pattern & Paint
Reading Time:
2
minutes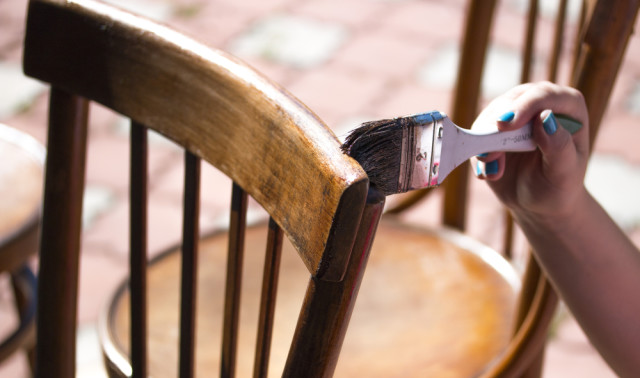 Old furniture and elements in a space are sources of home decor personality. Through colors and patterns, here are some ways to restore and preserve them.
***
It's a shame how much furniture gets tossed because people think it's had its day, but the reality is it can be refreshed with creative painting. From stenciling to innovative paint products, a transformation really is just a paint can away.
Chest of drawers
I was recently in a home with a chest of drawers I loved, because they really complemented the beachy theme of the house, but that was achieved through a rustic, colorful paint treatment. The owner told me it was a drawer unit her father used as a woodworking tool chest and he nearly threw it out after years of hard use, but she had to kit out her AirBNB thought it might make a perfect accent piece, especially since the drawers locked for securely keeping needed items for suite management.
By using color washes with four different shades of blue, a clean coat of white for unit's exterior, and a random color pattern, she created a one-of-a-kind piece that speaks to fun, casual décor.
Old becomes new with a little decor love
In the same home was a great old wooden trunk. Again, something used by her dad for industrial purposes, a throw-away piece at best, and she upped the ante on the rustic factor by painting it with stencils.
She drew from the old shipping labels on the trunk, since that was its first incarnation, and painted the original shipping destination on top, to A. Santos Silva, Lisboa. Today, it's not just funky, but it's also a regional piece of interest to the kind of clients who stay in her AirBNB unit.
Restoring ceiling beams with stencils and paint
Another place I stayed in was an old loft that was given modern life through painted rafters and stencilled walls. Normally, people love to leave wooden ceilings natural, but she gave the planks a whitewash then used gold to wash the beams.
It made the place feel lighter and lovelier. The same gold was used in a stencilled motif that mimicked wallpaper.
Deciding on paint and paint effects
Beyond using pattern and color, you have the choice of kinds of paint to use. This alone can expand the appeal of whatever you're working with. Think about redoing a kitchen table with chalkboard paint on top, or use glow-in-the-dark paint to create dreamy imagery on furniture in your children's room.
Maybe you've got some fancy wood piece you want to lighten up and use Annie Sloan's chalk paint to give it an old-timey feel. You can use distressed paint, anti-rust metal paint, color-wash, decals, and more, all to create a unique appeal to something that needs new life.
Painting is easy
It's funny how many people get intimidated by painting things, but it's really easy to do. If furniture stripping and sanding scares you, look into Annie Sloan Chalk Paint, where you can skip both of those procedures and just paint. If you're scared of painting with oil paints, don't be, just buy some paint remover and prepare really well with tarps and tape.
From spray paint to sponge painting and everything in between, there are a whole world of paint effects just waiting to help you save some poor object that might be prematurely headed for the landfill. Beyond making something look great, you'll make yourself feel like a salvage hero. You can do it!
---
---