Retro-Fit Your Bathroom, Save Water, Save Energy
Reading Time:
3
minutes
Your bathroom is a water-intensive room. Just the toilet uses about 27% of all the water in your home! Consider showers, hand and face washing and laundry (if it's in the bathroom), and the humble little bathroom turns out to be quite the energy hog.
If you are going to remodel your bathroom, think about going green. There are many easy ways to save water and energy.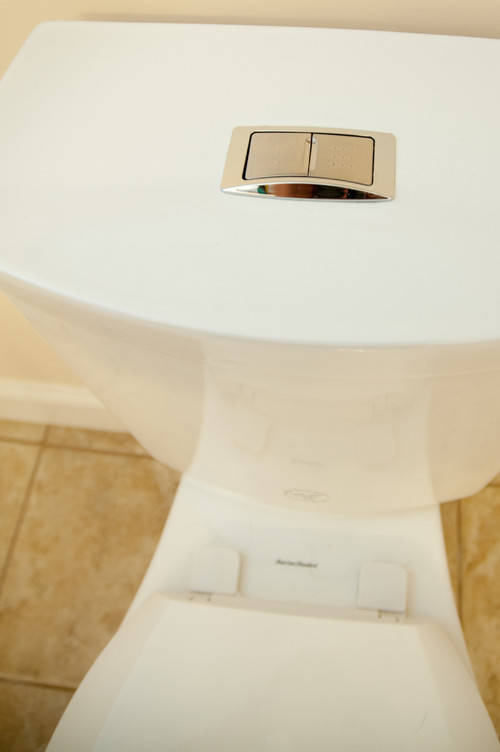 Reduce your consumption via bathroom remodel
Since the toilet uses so much water, start your home improvement there. New toilets are low-flow, using 1.5-2 gallons per flush instead of the old-fashioned 5 gallons. I replaced a perfectly good, older toilet in the kids' bathroom with a new one, simply because it used less water. The old one was upcycled into a planter in the garden. I didn't want to donate it to Habitat for Humanity or sell it, because I didn't want someone else using it and wasting water.
The next best thing you can do to save water is to use a dual-flush system. You can use the lever for a little bit of water or the entire amount for heavier flushing needs. Retrofitting kits are available so you don't have to buy a whole new toilet.
Paying attention to water consumption
If you are feeling energetic and organized, in a bucket, you can save the water that runs while you wait for the shower to get hot, and flush the toilet with it. It doesn't hurt to pay attention to your water use and see exactly how much fresh, clean water goes down the drain. All of it can be saved and used.
In the shower, replace old showerheads with low-flow. These do not have to be ugly little attachments. The general consensus is that water-saving fixtures are ugly and utilitarian. Not so! Go to a home show, hardware store or home improvement store, and look at the showerheads. You can still express yourself while saving resources.
Countertops and vanities
Vanities can be attractive and eco-friendly. Do not buy one with a chipboard or plywood base. The binder glue contains formaldehyde, a known carcinogen. Non-toxic options are strawboard or FSC-certified plywood, which are formaldehyde free and renewable. Bamboo and reclaimed wood are green materials, but upcycling an old dresser, desk or side table is even friendlier to the environment. If you are buying a vanity, consider having one custom made locally to keep money in your community and support a small business.
Countertops need to be easy to clean and not prone to collecting dirt, germs and moisture. For instance, wood is out, because it is so porous. If you can seal it really well, that could make it work. I really like the idea of recycled glass tiles for a vanity countertop. There is a little variegation in the color, which adds texture and visual interest. And it's recycled – one of my favorite things!
Mold, moisture, and non-toxic floors
Bathrooms are moisture traps, and mold and mildew can take over, damaging walls and floors. Proper ventilation is necessary. A fan should exhaust to the outside. Add a skylight or window for ventilation and natural lighting. Good choices for water and mold resistant flooring are linoleum or tile. Linoleum, not vinyl, is made of cork and linseed oil. The binders are non-toxic. Tile is easy to clean. I recycled Saltillo tile leftover from a job my neighbor did.
If your laundry room is in your bathroom, invest in a front-loading washer. They use about 1/3 the water of a top-loader, which saves water and the energy to heat it. Clothes are spun better and faster, too, so they don't need as much drying time.
Re-finish instead of buying new
To be even kinder to the environment, refinish your tub and sink, instead of buying new. Perhaps you could also buy fixtures second hand at a salvage store, yard sale or Habitat for Humanity. When people remodel, they need to recycle the things they are replacing. I once got a clawfoot tub from an apartment remodel. My plumber was not happy his crew had to drag it upstairs! But you can give materials a second life with a little elbow grease and creativity.
Be sure to hire a contractor who understands green building, recycling, water conservation and building codes.
Most of all, have fun remodeling and saving energy!
---
---