Routine Home Maintenance: Get Ready For Summer
Reading Time:
3
minutes
Summertime is home improvement time! If you are like me, you dreamt all winter about the projects you would undertake this summer. Well, the time is nigh to get to work!
Before setting off on a huge project, concentrate on home maintenance. Winters can be hard on a house. I primed my new trim last fall in preparation to paint this month, and our intense winter sun has already peeled it off! Snow and ice can do a lot of damage, too, so check your house and do repairs before tackling a big remodel or new landscaping.
You maintain your car regularly to make it last longer, and you should do the same for your house, which is much more valuable! Protect your investment! Most of these you can do yourself, and some of these small projects might turn into large projects! (I'll talk more about big projects in upcoming weeks.)
Please use eco-friendly products!
Exterior home maintenance
Siding and trim
Examine all your siding and trim for peeling paint, non-galvanized nails rusting through, fascia and trim boards warping or rotting.
Gutters
If you did not clean out leaves in the fall, your gutters are probably plugged up. This will back water up under your roofing creating rot and leaks. You should check and clean your gutters a couple times a year. Once you have them cleaned out, make sure they are secured to the house and that the downspouts are clear. Better yet, run a downspout or two into a water barrel or cistern for irrigating!
Roof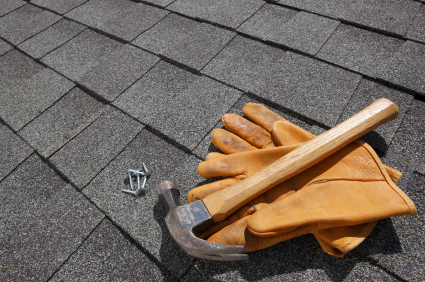 Look for loose or old shingles, and replace what's necessary. If you have a metal roof, check for loose screws, which need to be tightened every few years. Your roof protects everything in your house, so make sure it is in good shape!
Windows and doors
Take down the storm windows and put up your screens. Wash them, and make sure they are square and not torn. This is a good time to wash your windows inside and out. Replace broken panes. Check the condition of the caulking around windows and doors. Clean the runners for windows and your sliding glass door so they slide easily. Lubricate hinges and locks.
Driveway and walkways
Cracks in concrete allow water to seep in and soak the ground below, creating bigger cracks and big headaches. Clean the cracks out, let them dry, and seal them with concrete caulk. Larger cracks will need concrete patch.
Deck
Inspect wood decking for rot, warping boards, sound joints and raised or broken nails. Make repairs, power wash it (if you've got a hardwood wood deck), and stain or paint it. The same goes for wood stairs and fences.
Tools and equipment maintenance
Sharpen your hand tools, and get your lawn mower serviced. Make sure the weed eater is working properly.
Interior home maintenance
In your spring cleaning, I imagine you inspected the inside of your house. If you have yet to start, here are a few ideas.
Walls and trim
Check for old paint or wallpaper. Sometimes a good scrubbing will make a paint job look good, but you may need to do some touch-up. If wallpaper is peeling, remove it and consider painting instead.
Flooring
Inspect your carpets for wear, and decide if it's time to repair or replace them. Steam clean if you aren't replacing them. Thoroughly wash hardwood floors, and reseal.
Ceilings
Remove winter cobwebs and check for painting. If there is leak damage, find the source and fix it!
Air conditioning
Get your system serviced by a professional.
Heating system
Change the furnace filters, and make sure the ductwork is clean and sealed.
Appliances
Defrost your fridge and vacuum the coils on the back. Clean and lubricate the washing machine, and clean the dryer vent. Inspect your hot water heater and flush it out.
Home maintenance plan for the rest of the summer season
Once you have done your routine maintenance, make a list of potential projects for the rest of the season. Break each one down by importance (is it emergency or cosmetic?), materials and costs, helpers, and so on. The one you may want to do most might not fit in the budget, or you may not have enough people around to help with the workload.
If you get organized ahead of time, your projects will move along smoothly, and get done faster. Summer is a short window of opportunity for home improvement projects, so make the best use of that time!
---
---