Looking for a way to lighten up and de-clutter your living space? The design trends coming out of the eternally stylish and creative countries of Northern Europe are a fantastic source of aesthetic inspiration. Known as Scandinavian design, this minimalist interior design approach focuses on clean lines and functionality. Formally dubbed "Scandinavian Design" in the 1950's, it has evolved out of Denmark, Sweden, and Norway's Nordic traditions into a beautiful way to decorate your home, no matter what continent you're on.
Light and bright
In response to the long, cold, and dark winters of Northern Europe, Scandinavian design utilizes light colors to brighten up and expand interiors. All white walls with light wooden floors, simple accent pieces, and pops of brilliant color are the norm. White walls not only make rooms look bigger, they let light sources shine at their fullest potential – much appreciated in areas of Scandinavia that have limited daylight hours in the winter. Living in the rainy Pacific Northwest, I can definitely see the value in this.
Light colored walls also allow your space to evolve with the different seasons, as different accent colors can be easily introduced and switched out. Amongst white walls and light floors, a dash of vibrant color is eye catching and a true signature of Scandinavian design. These two rooms are perfect examples of Scandinavian interiors:
Fit to function
At the heart of Scandinavian design is the notion that the objects in one's domestic environment should be useful and practical. Design shouldn't prevent function, but rather, encourage it. A great example of this principle comes from designer Axel Bjurström, who has designed this innovative magazine table: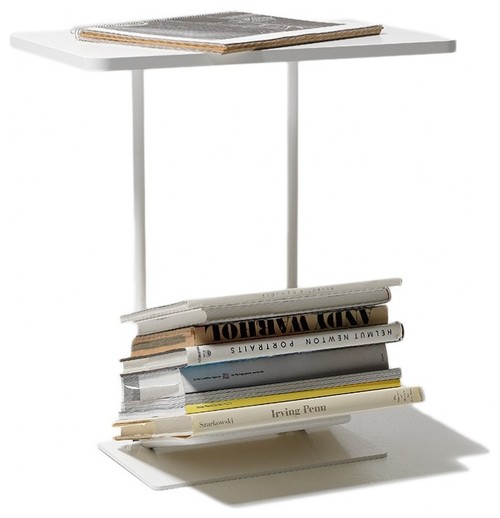 Fit with wheels and an angled rack that holds magazines and books below – which add stability to the table with literal paper weight – this table allows you to easily organize your favorite publications, while keeping them close at hand. This table highlights one of the main tenets of Scandinavian design: organization. Unnecessary clutter is not allowed and knick-knacks are kept to an absolute minimum.
With inspiration from clean and simple Scandinavian design, take a look at your space and if the items in your room aren't adding to its livability, consider adding them to your donation bin.
Everyday beauty
Beyond aesthetics, one of the most appealing qualities of Scandinavian design is its approachability. Said to be "democratic design", it targets the masses with affordable products that are both beautiful and useful. For decades Scandinavian designers have followed the ideology that items should be made to be available for everyone, and design standards should be high, even in everyday life; even back in 1919 an influential Scandinavian design organization called Svensk Form (The Swedish Society of Crafts and Design) had as its slogan "Beautiful Everyday Goods". Now who doesn't want that?
***
Sources
 http://myscandinavianhome.blogspot.it/
http://www.smashingmagazine.com/2011/06/13/the-story-of-scandinavian-design-combining-function-and-aesthetics/
http://style-files.com/2012/12/19/storebror/
http://svenskform.se/en/about-svensk-form/history/#.UWIb1q6vfe4
http://en.wikipedia.org/wiki/Scandinavian_design
---
---