Seven Valentine's Day Decorating Ideas for a Modern Home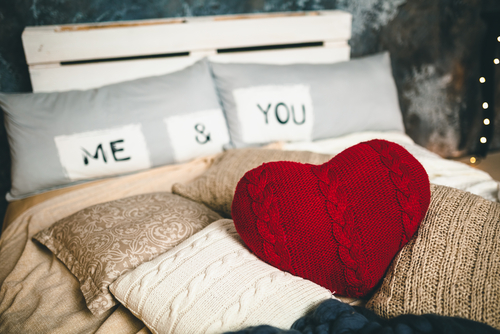 As Valentine's Day approaches each year, it's nice to acknowledge this "Day of Love" with romantic décor features in your home. In a modern home, this can sometimes become difficult because you don't want the decorations to appear inexpensive or out of place with your other furnishings and embellishments. However, with careful choices, you can beautifully decorate your home for Valentine's Day and still maintain a trendy, modern look.
Valentine's Day Decor You'll Fall in Love With
Floral Arrangments
Flowers are a perfect way to represent the romance of Valentine's Day. A large glass or crystal vase placed in the middle of your dining room table or on your coffee table with red or pink flowers will add elegance and coordinate beautifully with most décor. For a sophisticated look that everyone will love, stay with one color and type of flower. You can also place a long, narrow planter box on your mantel if you have a fireplace. Fill it with greenery, and then add small red and white artificial flowers with delicate leaves in a random pattern for a fabulous look.
Include Pink and Red Throw Pillows
Decorator pillows are another excellent way to add Valentine's Day colors to your home. You can use them on your sofa and also on your bed. For your living area, try one red pillow and one white pillow on each end of the sofa. On your bed, use a trio of pillows in either one color or mix the colors for a more diverse look. You can also use a throw pillow in one or more large chairs throughout your home. If you have other Valentine's Day decorations in the room, then use one of the same colors for the pillow. Otherwise, try to find a patterned pillow with red, pink, and white or one that includes some Valentine's Day theme already on it for the best look.
Place an XO or Heart Wreath on Your Door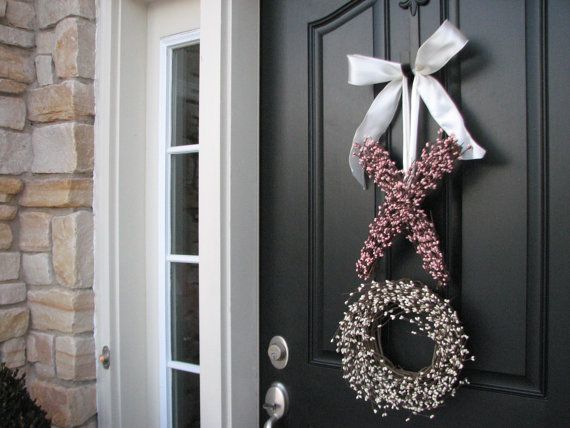 You can also incorporate some of your Valentine's Day decorations on the exterior of your home by placing a wreath on your door. Try a white wreath to represent an "O" and hang it from a lovely pink ribbon. Then you can add an "X" above it made out of branches with red berries. For a larger arrangement, place one "X" above the "O" and one below to produce a vertical, "XOX" design. If you like the idea of a wreath, but you don't want an XO design, then hang a gorgeous heart-shaped wreath in the color of your choice.
Set Out Love Chocolates and Candies
Leading up to Valentine's Day, you'll find a multitude of small candies and chocolate for sale in heart designs that come either plain with romantic sayings on them or wrapped in shiny wrapping. Place a bunch of these inside a glass container and place it in your bathroom or on your kitchen counter to add a touch of Valentine's Day cheer to other areas of your home. You can also set such an arrangement on your bedside table. It will add a small pop of color that will draw the eye and make everyone smile.
Add Valentine's Day Cards to Your Décor
You can include Valentine's Day cards in your décor for a fabulous look. Find three or four that you like and tear off the front panel. Then put each one in a white frame and hang them in a pattern on one wall in your home. The entryway is a lovely spot to put these or along your stairwell. This type of wall art never goes out of style and can be used again and again over the years. You can also attach the front of several Valentine's Day cards to a long ribbon and create a vertical decoration that will look lovely hanging in your kitchen, family room, or even your home office.
String a Heart Garland
A garland made out of multi-colored hearts will look sweet in any young child's room or even a teenager's bedroom. If not overdone, they'll welcome the look. Vary the size of each heart on the string for a more exciting design. If you have window blinds instead of curtains, try hanging the garland across one of the windows in the room, so it gently arcs down from the top of the window. If you have curtains with ties anywhere in the house, replace each tie with a heart garland for a festive look that everyone will love. You can also attach heart garlands to the ceiling and let them flow down to few inches above your bedside lamp, low enough to catch the light but not the heat.
Dress Up Your Chandelier
Similar to a heart garland, to dress up any chandelier in your home, you can hang strings of hearts from the bottom of your chandeliers. These hearts will look especially lovely with a crystal lighting fixture. The light from the chandelier will illuminate the hearts, creating a stunning effect. Use dark red paper for the hearts if you want a more high-end look and opt for a variety of heart colors in a more casual setting. Keep the strings short to medium lengths when hanging them from a chandelier for the best look. Also, shorter designs are less likely to get in the way and end up accidentally torn.
Create a Romantic Table
Add the look of romance to your formal dining room with a lovely red table runner. With a floral arrangement as mentioned earlier and a couple of white candles on each side, you'll create a beautiful setting for your family and guests. When serving a special Valentine's Day meal, where you need to remove the decorations from the table, you should use dark red charger plates underneath your regular plates to bring back the holiday's look and feel. Include a trio of colorfully-wrapped candy hearts next to each plate for a charming dining experience.
Choose one or more of the suggestions mentioned above to incorporate the fun of Valentine's Day into your home, while still keeping your décor looking modern. You'll impress everyone with your decorations, and it will make them want to add some to their own home.
---
---