Snow Days At Home With The Kids: 7 Ideas For Activities

When kids are at home for snow days, your routine is interrupted and activities to fill up the day can seem scarce. So, here are 7 snow day ideas to engage kids while winter weather rages.
***
Snow days are like a boon to kids – no school, YAY!
But, sometimes as a parent  it's tough to keep kids engaged at home when a routine has been disrupted. When the initial rush of no classes wears off for them, boredom can set in. This can make for a tedious time for everyone, including you! With that in mind,  here's a few ideas for activities to do with your children on one of those snowy days at home.
1. Play in the snow
This seems obvious, but allowing your kids to get out in the snow is an activity with many benefits for them and for you, too. First, they get their daily exercise. They also get a chance to build a snowman or a snow fort and use their creativity.
However, the best benefit, especially if you have children who fight, is the bonding experience that happens when kids build things together. Playing outside is a chance for them to engage with one another in a unique context, and to engage their creative brains while getting some fresh air, too.
2. Baking something yummy
Nothing is more wonderful than baking on a cold or snowy day. The smells and warmth of the oven heat up your home like nothing else, making your space itself cozy and inviting. Assign everyone in your family a different role, and then let the creativity begin.
Consider making cookies or pies; not only are they easy (well, pie crusts can be tricky, but messily fun too!), but they're delicious as well. Once the timer goes off and the goodies have cooled, enjoy the fruits (or the chocolates, or whichever) of your labor. Food always tastes better to kids when they've had a hand in creating it. It could be the start of a new passion in your children that they didn't know they had.
3. Make housework fun
Even if it's a snow day, that doesn't mean that a little work can't be done, and by everyone who's home. If you want to give your children a sense of ownership when it comes to housework, create contests that are beneficial to the household. This might include a "cleaning contest" or an "organizing contest." Essentially, you allow the kids tidy the house while injecting the proceedings with a bit of competition. Why shouldn't housework be fun, and involve everyone?
This isn't about deception. It's about giving your kids a new perception about what accomplishment means, while also reminding them that their home really is theirs. Even if it's kind of mundane, one thing about housework that everyone appreciates is the sense that we've made our homes more welcoming to us in a relatively short period of time; a clean bathroom, a tidy kitchen, an uncluttered playroom. All of these have subtle psychological benefits to us. And giving your kids a sense of this, while also making it fun, is a gift to them, not a burden.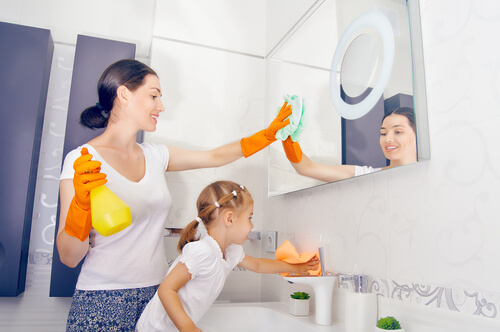 4. Make art!
To give them more options besides the standard electronic media, consider a craft project or an art project. Crafts such as jewelry making, origami, or painting lets them gain access to a creative outlet that is vital to everyone, kids and adults alike. Sometimes, kids get locked in their own heads during a time when they're only just beginning to find the words for all of the things they're thinking about or feeling. Sometimes, they can't communicate as easily through conversation. Art helps them to bridge the gap.
Art projects of all kinds help them to move through that process of self-expression. And since they're at home for a snow day and their routine (and yours!) has been interrupted anyway, it's the perfect chance to embrace the weird, the wonderful, the fantastical in art. Kids want to express themselves. Help them do it, and consider joining in, too!
5. Teach "stealth" English and math
It's a snow day, so school is off. But, learning can continue anyway!  Teaching your children some simple card games such as twenty-one, go fish, crazy-8s, or War are fun activities you all can enjoy while also getting their brains in gear for managing numbers. It's not going to be calculus or algebra. But, card games help a child's brain to stay limber when it comes to simple math, even while they're having fun while doing it.
This goes for language, too. Word games such as Scrabble Junior or Scattergories Junior add to their vocabulary and are a ton of fun for everyone. Remember that point about kids and self-expression? This applies here, too. That's the beauty of expanding a vocabulary. It has all kinds of personal benefits, including a healthy sense of self-confidence at being able to say what we want to say and be understood. That's the overall benefit of life-long learning, whether school is in session or not.
6. Watch a movie they've never seen
Movies and television aren't bad. But, sometimes repetition can be. For a snow day, consider selecting a title that your kids haven't seen before rather than re-watching one of their favorites. Your childhood favorites and/or age-appropriate classic films are the ideal source for this. Your local library can often help here if Netflix lets you down.
Watch the movie with them. Expose them to a new world where they have to pay more attention to characters and their motivations. Answer their questions. Have conversations about how cultures have changed as depicted in the movie of your choice. Talk about how cultures have stayed the same, too. Cinema is an art form, not simply a distraction. Teaching your children that a good story on the screen can be a way to engage the mind and not just switch it off is a way to reclaim the role of TV and movies in their lives, and yours, too.
7. Read aloud together
As an extension of the movie idea, your favorite books are also a great way to engage your children on a snow day. Read aloud together. Assign roles, where they read a certain character and you read another. Take turns reading the pages; they read the ones on the left and you read the ones on the right. Whichever way works!
Even if classic cinema helps a child understand empathy and character, books add the dimension of imagination to an even greater degree. And reading helps that exercise of building a better vocabularly, which as we've talked about, is connected with confidence and self-expression. Creating a culture of reading at home will make your kids happier humans, which is the goal of parenthood. Use your snow day to kick-start it.
Learning and fun while school is off
Snow days mean no school. But, that doesn't mean that your kids' creative impulses, senses of empathy, or heads for numbers need to wait until the weather improves.  You and your children can use the time to exercise body and mind, and get a little work done too, all while thoroughly enjoying the interruption of your weekly rhythm.
But, I'm sure you have ideas of your own that don't appear on this list. What are those ideas? Share them with us, and with other readers in the comments section of this post.
Cheers,
Rob.
---
---