Snuggle Up! Add Warmth & Coziness To Your Home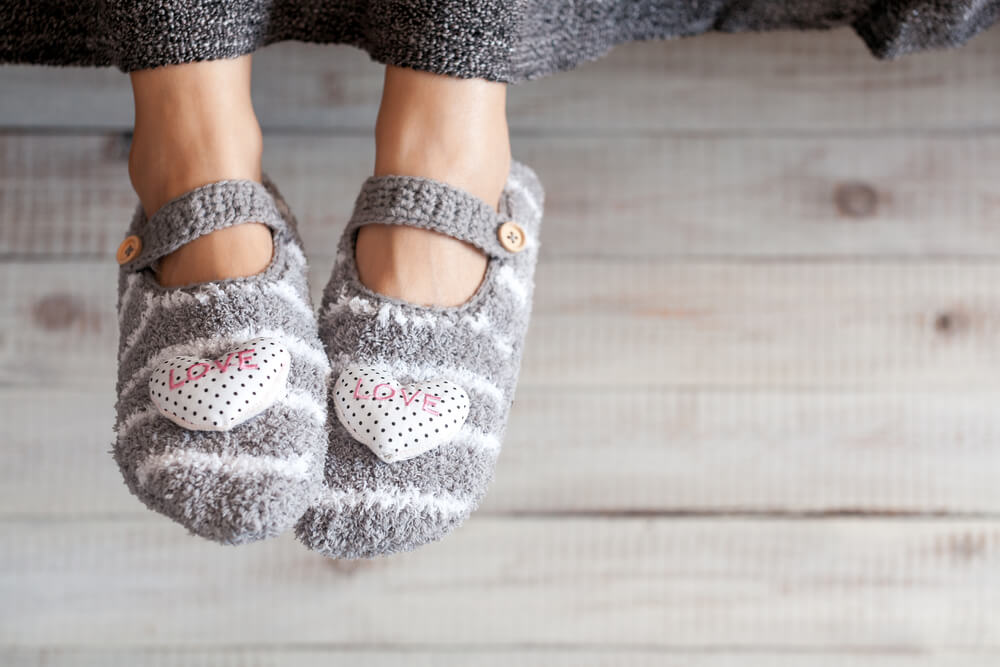 Making your home comfortable in winter means adding room for simple pleasures and personalized design all at once. Take a look at these ideas for cozy spaces from new regular writer Tanya Roberts on her first piece for BuildDirect Blog: Life At Home (welcome, Tanya!).
***
Whether you're buried knee-deep in snow or wringing out drenched socks, the winter can be gloomy at times. Womp, womp. (Cue the tiny violin.) Personally, I love wintertime, especially when there's snow.
Whether it's snowing or raining outside, we could all use a little more warmth in our lives. So cuddle up, folks. Here are a few tips to add warmth and coziness to your home.
Add a roaring fireplace
There's something cathartic about sitting in front of a fireplace. Growing up, my siblings and I would spend the winters sledding the hills of our 100-acre farm. We'd come inside, chilled to the bone after hours of tobogganing, and my mom would make us hot chocolate brimming with marshmallows. We'd peel off our snow-covered gloves and hats, and warm up by the fire. (Ahhh, those were the days.)
If you're craving a little more coziness and style in your life, add a wood-burning or gas fireplace to your home. (Pass the hot chocolate, please!) Fireplaces add warmth to any home, and instantly change the look and feel of a room. To kick it up a notch, you could add brick or stone as an accent around your fireplace.
If a fireplace isn't in the cards—or your budget—you could buy one of those heaters that looks like a real fireplace. If all else fails, there's always the log-burning channel, right?
Wrap yourself in a cozy throw
I don't know about you, but sometimes I prefer staying in when it's dreary and wet out. And a warm, fluffy throw or blanket is the perfect companion for a wine-and-Netflix marathon. (Star Trek, anyone?)
Adding a throw or two—a classic complement to furnishings—is a great way to turn up the heat. My favorite throws are the fuzzy, faux-fur kind. (Cat-approved, of course.) If you're feeling crafty, and have some free time on your hands, you could even make your own hand-knit throw.
Feature personal items and photographs
No one wants to live in a home with no soul, unless cold and sterile is your thing. And warmth is about so much more than temperature. Stripping your walls bare is tempting if you're into minimalism, but are you sucking the warmth right out of your space? To make your home more inviting, add the visual cues—from personal mementos to photographs—that make you, and guests, feel comfortable.
My sister-in-law, an art teacher and photographer, does this really well. Her walls are filled with pictures of family and friends. When you walk into her place, you feel right at home. And every picture has a story to tell.
Let your light shine
When a tropical escape isn't in your budget, what's any self-respecting homeowner to do? In the day, open your curtains and blinds to soak up as much natural light as possible. If that's not enough to warm you up, add more lighting.
You could opt for a string of white or LED lights, a few extra lamps, or more lighting fixtures. In the evening, light a few candles to create that warm, soft glow. To intensify the lighting in my place, I've added LED strip lights to my kitchen and shower. (If you've never had a disco shower, you're seriously missing out.)
Take-home lesson
No matter how chilly or dreary it gets outside, with a few clever design and decorating tweaks, the weather is always sunny in your home.
---
---