Stealth Solar Panels: Options For Solar Power In Residences
Reading Time:
2
minutes
We all know that solar panels help homeowners save money on their power bills and protect the environment, but traditional panels are also eyesores that have led to heated neighborhood disputes. The good news is that you can enjoy all the advantages of solar power without damaging your home's aesthetics with these easily incorporated modern solar panel solutions.
Use solar roof shingles or tiles
Rather than mounting the standard solar panels on your roof, you can make your roof one giant solar generator with integrated solar roof tiles or shingles. These modern photovoltaic cells are designed to look like traditional roof shingles, so they're much more stylish than bolt-on panels.
They were almost prohibitively expensive when they hit the market back in 2005, but they've become much more affordable in recent years. If your roof has seen better days, replacing your existing shingles with solar tiles may be a more cost-effective option, as they're just as protective and weatherproof.
The thin Copper Indium Gallium Selenide solar cells from Dow's Powerhouse line are industry leaders. With a cluster of 350 shingles, homeowners can expect to slash their power bills between 40 and 60 percent. The shingles can also send any excess power back to the grid. CertainTeed are also making a name for themselves, with their monocrystalline Apollo solar shingles. These grid-tied tiles can either replace or lay on top of existing asphalt shingles. CertainTeed says most homeowners enjoy power savings of between 40 to 70 percent after installation.
Choose solar panels that look like windows
Viridian proves solar panels can be mounted on your roof without damaging a home's aesthetic appeal. Its Clearline Solar PV panels work like traditional solar panels, but they look much more like the Velux windows you see on lofts than conventional solar panels. They also sit flush against the roof to complete the effect. This clever visual trick helps the panels seamlessly integrate into a slate or tile roof.
The Clearline panels have an advantage over many solar roof shingles, as they can easily work with an existing roof. However, they're becoming so popular that many builders are also using them on new and replacement roofs.
Erect a solar power pergola
A solar power pergola features a roof made from solar panels rather than conventional roofing materials. The solar panels provide just as much shade and weather protection as a more traditional roof, although they've got the added advantage of generating solar power. They're a great way to make underutilized space more functional, and their design is only limited by the shape of your panels and your imagination.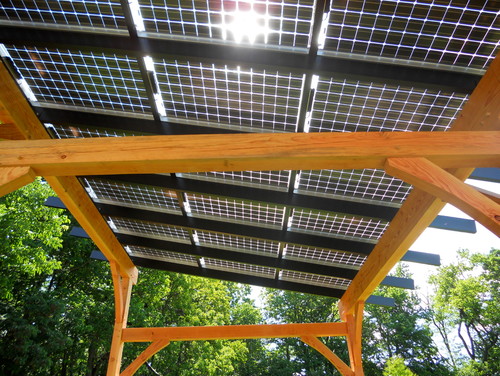 You might install a solar power pergola as an extension of your roof-mounted solar panels to maximize your generating powers. When they're used this way, solar power pergolas are relatively affordable, since they utilize the infrastructure already in place. Alternatively, many homeowners install a standalone solar power pergola to power their outdoor items such as an outdoor electric grill, water feature, or lighting for an al fresco entertaining space.
So, don't dismiss solar panels because of aesthetic concerns. Contemporary solar solutions can be easily incorporated into the good looks of your home.
Your thoughts on solar panels?
Are you seeing solar panels in your neighborhood?
Do you think that the look of traditional solar panels is holding their use back in residential settings?
What are some of your ideas for more stealth solar panels?
Tell us all about it in the comments section.
---
---