Reading Time:
2
minutes
We've talked a little bit about rugs before here on the BuildDirect blog.  But, as of this writing, we've expanded our offering of area rugs at BuildDirect.  As such, I thought it might be a good idea to go into more detail on area rugs, and where they come from.
And what I found out about rugs is that they share a parallel history with mosaic tile and with traditional tapestry making too.  More specifically, rugs are not only a decorative addition to a space, they also have been instrumental in playing another part in the development of civilization; storytelling, and the preservation of cultural histories.
All kinds of textiles including rugs were used as decorative storytelling in the places where they made rug making into an art form; China, India, Mongolia and Siberia, Persia, and Egypt, dating back for thousands of years.  And even in the Western world in Greece, and independently in what is now South America by ancient indigenous cultures in the Amazon Basin and in Mexico, and the Maori peoples in the South Pacific, the making of rugs was an integral part of life.
Because of this storytelling aspect that predated written histories, the art of weaving is an ancient human activity.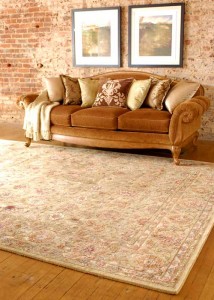 Religious symbols, or  symbols that pertain to mythology or even pictorial representations of significant events, were included in the designs. As much as they were about decoration and practicality, area rugs were objects that symbolized a membership in  a wider culture, and having a shared history with one's neighbors. They represented a cultural inheritance, and a sense of community.  And some of these symbols and cultural signifiers endure today, even if the contexts are lost.
Even though many of the designs today are created through the use of computer applications, some of the higher quality area rugs are still spun by hand in much the same way as they've always been made.
To learn more about recurring images and designs across all kinds of cultures when it comes to the art of weaving, investigate this article about area rugs, cultural history, and storytelling.
And to learn even further about area rugs and the traditions out of which the art has come, check out the weaving article on Wikipedia.
If you'd rather watch some informative video material, check out this one about area rug design, on YouTube.
Cheers!
Rob.
---
---