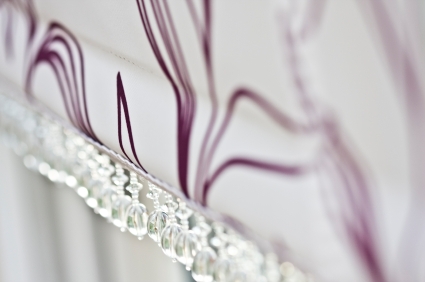 When it comes to affecting transformations in a space, the details are often what tips the balance. And here to talk a bit about one specific detail in the busiest areas of our home is writer Nicola Winters, who shows us the sleek, subtle, and stylish potential of custom designed roller blinds …
***
Choosing the right colour scheme, furniture and accessories to feature in a newly decorated room can be a difficult process. A home, for most people, is a place to be proud of, a place to strive for design perfection.
Finding window treatments that complement your interior décor in the exact way you want is harder than you may first think. Roller blinds, a particular favourite amongst homeowners and interior designers alike, offer a sleek, subtle, and stylish finish to any newly decorated room, although choosing the right one can be hard.
Roller blinds are available in a whole variety of styles, designs and colours; whether it's plain, blackout or patterned roller blinds you are looking for, there are sure to be hundreds of styles to choose from. However your ideal blind may still be difficult to buy off of a shelf. Mainstream designs can take a very practical approach, offering plain and somewhat dull styles that fit any neutral area within the home. But, it is possible to design your very own roller blind. This can be done with appliques, stamps or paints and isn't that difficult to achieve.
Roller blinds as a blank canvas for design
To begin with you will need to purchase a plain blind to act as the blank canvas to your design. It is important to choose the blind in a colour that matches the interior of your home as, in most cases, the background will still be visible. DIY kits for roller blinds can also be purchased, complete with instructions of how to attach your appliques.
Stamps can be purchased from most craft and hard ware stores or simply made from everyday household items, such as wood, potatoes and soap. Simply dip into the coloured paint of your choice and press firmly down onto the blind. Patterns and pictures can instantly be created. Painting should be left to those who are lucky enough to possess an artistic flair.
Roller blinds in living rooms
Living rooms tend to stick to neutral and calming colour schemes and so keeping designs and patterns to a minimum is a desirable approach for a roller blind in the living room.
This type of area within the home is, more often than not, used as a room to relax and rest and so all furniture and decorative features should reflect this. Designing a pattern that is appealing and noticeable without appearing fussy is the best outcome.
Roller blinds in the kitchen
Patterns such as flowers, leaves and stripes are commonly used in kitchens to brighten up a functional area of a home. If painting your roller blinds, drips and spillages can be transformed into stems and vines, adding more detail to the blind. Remember to use a thin paint brush to achieve this look.
Bedrooms
A modern decorative accessory that is increasingly seen in homes is the use of single words or phrases. Peace, Love and Home are all being made into porcelain ornaments that are displayed on shelving units and bedside tables. So why not design a roller blind with a word or phrase stencilled onto the bottom of it? This is a modern, yet personal approach to bedroom décor. Choose a lyric or personal motto that means something to you.
When creating a blind for a child's room, on the other hand, getting them involved in the process can generate impressing designs. Hand printing, finger painting and doodling are all ways of creating a fun and unique roller blind for your child's room.
Bathroom roller blinds
Blues, whites and greens are typically used in bathrooms to create a clean and fresh atmosphere. Spirals, splashes and dolphins are common appearances in this room and so applying these to the blind is advisable if maintaining consistency.
These types of designs are not hard to create and will be the perfect addition to your bathroom.
***
Thanks, Nicola!
Nicola Winters is a UK blogger who enjoys writing about home improvement, decorating, and art.
Cheers,
Rob.
---
---