Reading Time:
4
minutes
When we think of remodeling a space, sometimes we think of the big changes, and the more expensive changes, before we think of the small stuff. And yet, very often, it is the subtleties that have the potential to give our spaces that extra lift, and without the expense.
But, what sorts of minor changes can we make to our spaces that will help us get to where we want to be? Guest writer Riki Markowitz is here to explore some of the options, one room at a time.
***
After living in the same home or apartment for a few years, that five-year-old sofa and framed, aging photo of the family can get tiring. Well, here are some small, quick, and inexpensive tweaks to make each room in your home pop.
Living Room
Avoid Fads
One important tip to keep in mind when you're tweaking your living room is that you may want to avoid fads. The 2012 Pantone color of the year was tangerine tango, which is great if bright orange is a color you can live with on a daily basis, but not so great if bold colors darken your space or overwhelm your senses.
De-clutter
Are your bookshelves lined with a snow globe collection or bone China featuring the United Kingdom's royal family? By replacing a hodge-podge of collectibles with just two or three pieces of similar design and color, such as candlesticks or unique vases, you instantly clean up cluttered shelving.
Organizing your books and DVDs by color will also make a huge difference. The same goes for stacking coffee table books and magazines rather than fanning them out. All of these adjustments will give your room a less crowded appearance.
Color
There are two approaches to adding color to a room. On the one hand, you can paint an accent wall rather than the entire room. Painting one wall gives you the option to showcase that bold color of the year but in a way that won't be overkill.
In recent years, wallpaper has made a strong comeback. No longer is the choice between stripes, gothic toile or tacky foil papers. Today, many wallpapers are designed by talented artists.
Paint Tip: If you decide to freshen up your walls with paint, avoid high-gloss and semi-gloss. You may be tempted to go with these shiny textures if there are young ones around, but they also produce an uncomely glare. Designers tend to relegate glossy finishes to hospitals and offices. For home, eggshell and satin are soft, and absorb light.
Accents
If painting and wallpaper are out of your budget, there are less expensive ways to tweak your color palette. Cover part of your sofa with a bold, textured or patterned blanket and replace those tired throw pillows.
I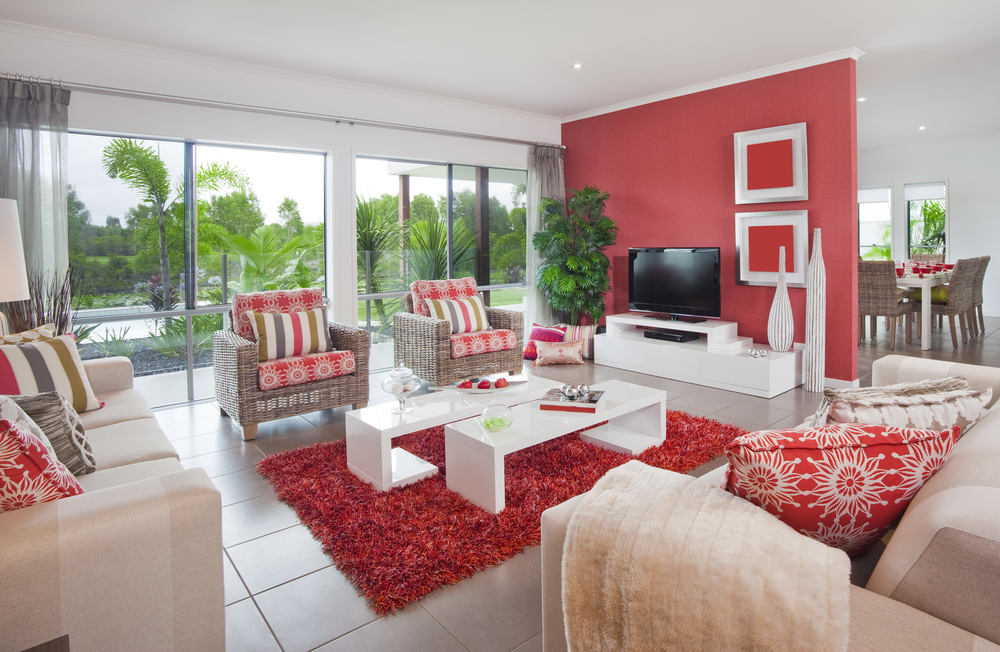 Accent tip: Don't be afraid to mix textures and design styles. But if your sofa cover is a single, bold color, select pillows with prints or stripes that have traces of that color. If your throw is striped, flowery or patterned, pillows that are a solid color will give your couch a more grounded look.
Bedroom
Keep it for Sleep
People who use the bedroom just for sleep tend to sleep better and feel better; by the same token, using bold colors and dynamic designs in the bedroom can be a jolt to your senses and make it more difficult to fall asleep. Taking work materials, your computer, and television out of the bedroom are ways to invoke feelings of relaxation and calm in the bedroom.
Accents
Use wall-mounted lighting next to the bed if your bedroom is too small for nightstands. A hanging chandelier is a great way to manipulate lighting to create a calming environment. Choose a fixture with a dimmer, or hire an electrician to install a dimmer to your existing light fixture. Apartment Therapy has step-by-step instructions for installing a dimmer switch on your own if you're handy with a screwdriver and know your way around a circuit breaker box.
Already have perfectly fine lamps? Breathe some new life and color into your room by replacing the lampshades. You can buy bold shades, shades with fun patterns and unique shapes at most online and brick and mortar retail stores with a home department.
Bedroom tip: Showcasing flowers in the bedroom is a great way to create a luxurious feeling, and the blooms will emit a calming scent. Make bedroom flowers work for you by matching or contrasting the petals to the room's predominant color.
"If your room is mostly whites and pale hues, a single petite yellow hydrangea with its billowy pom-pom flowers will create an airy, light feel," suggests Jane Vance from Flower Muse, an eco-friendly flower company. "For bedrooms with more blues and lavenders, Picasso mini calla lilies will look classy, sharp and clean."
Kitchen
Kitchen Hardware
Replacing cabinet and drawer knobs is one of the easiest kitchen makeover tips around. Hardware accessories are sold in most home stores for anywhere from $2.99 to $30 or more for hardware with added accents like quartz or glass.
Reface your cabinets
Tired of looking at those faded, cracked cabinets? Replacing them could cost in the hundreds, if not more. But with a few supplies, like paint, primer, sandpaper and sponges, you could have new looking cabinets in three days for less than $200. This Old House has instructions for fully re-facing your ancient cabinets. Select a strong color to offset muted walls and floors. Or go with a pale hue if your backsplash and wallpaper already attract a lot of attention.
***
Thanks, Riki!
Riki Markowitz is a writer based in Austin, Texas. She renovated her Brooklyn, NY apartment with a can of paint, a toothbrush, soapy water and a Brillo pad. All images via Shutterstock
---
---