Surprisingly Inexpensive Ways to Cut Your Winter Energy Costs
Reading Time:
3
minutes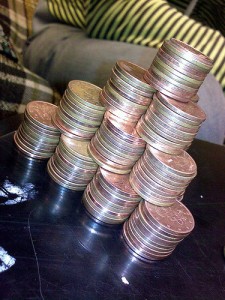 Winter is almost upon us once again.  And just in time, here's a post from designer homeowning expert Alyssa Davis, who when not advising homeowners on how to save money, spends part of her time designing wall art at metal-wall-art.com.  Alyssa goes over a few basic tips on controlling costs when it comes to your energy bills over the winter season …
***
At this time of year, my thoughts always turn to the changing of the seasons and the cold weather that is in store not too far around the corner.  And as much as I love cooler weather and look forward to the crunch of leaves underfoot, I do not love the accompanying costs of keeping my home warm and toasty. That's why I am always on the lookout for ways to cut my winter energy costs.
Not all methods of lowering your energy costs during the cold winter months ahead require that you spend a ton of cash just to save cash. The methods that we will discuss cost very little, and some of them are free. For example, allowing natural sunlight to penetrate the home during the day can cut your costs of keeping the home warm – as can changing the filter in your furnace on a regular basis. Many people overlook these commonsense tips but they can add up to significant savings when the mercury drops. Read on to learn more…
Keep Warm with Insulation
Insulation is one of the best ways to save on your heating bill. Before winter gets here, perform an inspection of your home, looking for areas that may benefit from a bit more insulation. Insulation batts can be placed on the attic floor to prevent the escape of heat through the ceiling. Weather stripping added to your windows and under the doors will help keep the heat in while keeping the cold out. You can also insulate glass windows by using inexpensive plastic film kits. Look for small cracks and holes around your home, such as the areas where telephone wires, dryer vents and drains enter your home. Blocking the flow of air with caulking, weather stripping or insulation can prevent the loss of heat through these areas during the cold winter months.
Pay Attention to Your Thermostat
I have noticed that as a general rule, I keep my thermostat set at a particular temperature setting more out of habit than as a matter of personal comfort. You might find that you don't even notice the difference if you lower your thermostat a by a few degrees. However, you'll probably notice the difference in your heating bill. Lowering your thermostat by just two degrees can often save over 24 kilowatt hours of energy each month.
You can also save energy by setting your thermostat lower while you sleep, and while nobody is home during the day. Purchasing a programmable thermostat is an inexpensive way of making these adjustments automatically. Simply do what I do, and set it so that the temperature is increased about a half hour before anyone gets up in the morning or arrives home at night.
Utilize the Sun
If you're like me, you probably welcome the sight of sunshine during the dreary winter months. Fortunately, letting the sunshine into your home can also help control your winter heating bills. By opening the curtains during the daytime on sunny days, you'll actually be helping to heat your home with free solar energy. After the sun goes down, close your insulated draperies and keep the heat from escaping through the glass at night.
***
Thanks, Alyssa!
Alyssa Davis of Metal-Wall-Art.com specializes in creating stylish interiors with beautiful metal art and bicycle metal wall decor.
Cheers,
Rob.
---
---