Who are the best architects in Miami? Here are 15 candidates. Vote for your favorite and tell us who we missed in the comments section. 
***
Design Miami brings the world's most influential designers to the city for a global forum on architecture, art, and fashion. Held twice a year, the event coincides with Art Basel international art fairs. Clearly, Miami is no stranger to the influx of new ideas in architecture and design. In addition, the Miami Art Deco District offers a historic perspective on architecture, so designers and architects here have a balance of both past and present inspiration.
Who are the top architects in Miami? Listed here, in no particular order, are the finest architects of the city. They have each made a name for themselves through hard work, talent, and a lifelong commitment to learning and listening. Vote for your favorite in the poll below, and if you feel we left anyone off the list, let us know in the comments section.
Zbigniew W. Jarosz The Polish native, who goes by Zeb, was raised in a family of merchant marine captains and a century old tradition of architects and builders. Initially interested in sailing the seas, his father encouraged him to attend architectural school, where he excelled and discovered his true calling. Zeb graduated from Krakow University of Technology with a Master of Architecture and Engineering degree. In addition to founding two companies, Z.W. Jarosz Architect and Jarosz Development, Corp., Zeb is a U.S. Coast Guard licensed captain, proving that you really can have it all.
Robert M. Swedroe Robert graduated from Carnegie Institute of Technology and Yale University, earning his Bachelor of Architecture and Master of Architecture degrees from the respective schools. He founded his self-titled architect and planning group in 1974. Since its creation, the firm, under Mr. Swedroe's direction, has been leading the way in creativity and innovation, largely in the area of multi-family residences such as the Bar Harbour Tower, which boasts an unobstructed "through-view" design. From schools and offices to country clubs and luxury homes, the floor plans created by this prolific designer are inspired by a desire to improve the quality of life.
Sandra Diaz-Velasco  Hand-sketching initial plans as she communicates with new clients is part of the creative flow Sandra channels into her firm, EOLO A&I Design, Inc. Her leadership and vision are in part the result of her early position as designer for the nationally allocated Colombian firm, Coomeva. Frequently serving as a correspondent for local media design exhibitions, Sandra has earned a respected status among designers of high-end residences. Previously, she was project designer for Taylor & Taylor and Dean Lewis Architecture, both esteemed Miami firms. She received her Professional Degree in Architecture from University de Valle in Colombia in 1995, and is now LEED AP B&D certified and licensed for Architecture and Design in Florida.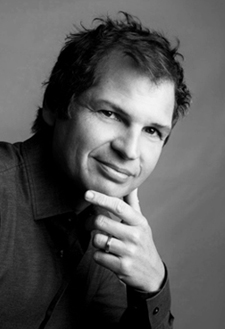 Max Strang The founding principal of [STRANG] was most recently awarded the Silver Medal for Design, the highest honor, by the American Institute of Architects Miami chapter. Max's firm has also won AIA Miami's Firm of the Year prize, and has been named one of Residential Architects "15 Young Firms to Watch." His work has received international acclaim, with features in The New York Times, Wall Street Journal, and Objekt International. A registered architect in both Florida and Colorado, Max received his architecture degrees from Columbia University and the University of Florida.
Kobi Karp This founder of Kobi Karp Architecture and Interior Design, Inc. has contributed to the rebirth of historical landmarks such as the Miami Beach Art Deco District and to new residential and hospitality features of all scales. This wide range of project experience has attracted international attention to his expertise, and has helped expand his own offices to the Middle East. Kobi was trained at the Minnesota Institute of Technology, where he received degrees in architecture and environmental design. His extensive portfolio has received much acclaim among his fellow AIA and ASID members, and earned him recognition from the Latin Builders Association and the Design Centers of the Americas.
Jaya Kader Graduating a high-honors student from Brandeis University before earning her Master of Architecture at Harvard University, Jaya initially caught the attention of Robert A.M. Stern, Moshe Safdie, and Graham Gund. The renowned architects partnered with her on designs spanning Latin America and the United States. As founding principal of KZ Architecture, Jaya has maintained a simple approach focused on a commitment to sustainable materials and client collaboration. The Costa Rican native's integrated indoor/outdoor plans are the source of praise from AIA and Wall Street Journal, and led to Houzz design awards in 2014 and 2015.
Rene Gonzalez Rene's designs not only integrate with the natural environment, but seek to grace the landscape, blending elements of the indoors and outdoors harmoniously. This contemporary architect, who seamlessly fits in among sensational designers referred to in published texts, proposes concepts and philosophies that are both exotic and instantly resonating.  Rene has earned numerous accolades, including 12 awards from the Miami AIA and Interior Design Magazine's Best of the Year Award.  He earned his Master of Architecture from the University of California at Los Angeles and his Bachelor of Design from the University of Florida.
Chad Oppenheim Celebrating award recognition since year one, Oppenheim Architecture continues to set trends in sustainability, environmental consciousness, and humanitarian interests. As the creator and principal lead designer, Chad is highly sought after due to his green architecture approach and minimally intrusive philosophy which elicits a "site's inherent power through sensitivity towards man and nature." Chad was recently elevated to the College of Fellows of the American Institute of Architects. He received his Bachelor of Architecture from Cornell University, and has expanded his firm to include an office in Switzerland.
Ricardo Álvarez-Díaz With offices in both San Juan and Miami, architect and author Álvarez-Díaz is an indisputable success both stateside and on the island. The firm he founded along with his wife, interior designer Cristina Villalón, was recently named one of the top 50 leading retail design firms in the U.S. by Visual Merchandising and Store Design. Álvarez-Díaz received his Professional Bachelor of Architecture degree from the University of Notre Dame in Indiana and began his career working for the renowned firm of Robert A.M. Stern Architects. A former section editor for the Institute of Classical Architecture annual magazine The Classicist, his work and articles have been featured in numerous books and leading industry publications.
Sebastian Eilert A German native, this community-minded architect has taken his sense of style, function, and sustainable materials appropriation to great heights in the Miami area.  His firm has been recognized by the AIA for historic preservation and sustainable design. Sebastian, who is LEED accredited and certified for architecture and interior design in Florida, holds a Bachelor of Architecture from the University of Miami School of Architecture.  Beyond his professional responsibilities, Sebastian is a founding member of the US Green Building Council and chairman of the AIA Miami Chapter Committee on the Environment.
Stuart Debowsky Keenly aware that the successful working of each space requires a balance between stylistic vision and the latest in design disciplines, Stuart founded the Debowsky Group with a resolve to be client-centered. A LEED Accredited Professional, Stuart has a keen eye for utilizing interior spaces efficiently while also managing budget matters and project timing. His collaborations are streamlined, yet tailored, and result in powerfully evocative living, working, and shopping spaces. Stuart received his B.Arch from the University of Miami and Master of Science in construction management from Florida International University.
Susana Merenfeld de Weisleder Susana's philosophy embraces the emotional aspect of design, seeking to create a unique and new universe for her clients: one where they feel different in their homes and enjoy coming home. She received her professional architecture degree from the Technion, Israel Institute of Technology, where she graduated cum laude in 1979. Susana went on to earn her Master's Degree from Stanford University, California, in Infrastructure Planning and Management. With 25 years of practice in Venezuela, Costa Rica, Panama, and the United States, she has been honored with many national and international architectural awards, including Best of Houzz 2016 for client satisfaction.
Omar Morales This Cuban born and Miami native founded and has led FORMGROUP architecture + planning for over ten years. A University of Miami graduate, he spent his formative years working under Bruce Graham, architect of the Hancock and Sears Towers in Chicago. His early exposure to the "old-school" principals of design–personal attention and a strong belief that architecture has the ability to change lives–influences his work today and continues to make him a leader in the local design community. A licensed general contractor and avid drummer, Omar brings a wide range of skills to the practice of architecture.
Stephanie Halfen A native of Venezuela, Stephanie received her architecture degree from Universidad Simon Bolivar where she graduated summa cum laude, and her interior design degree from Parsons School of Design in New York where she also graduated with highest honors. She started her professional career while still in college, turning her first residential commission into her graduating thesis project. Stephanie established her career in Caracas, becoming an Associate Professor in the Architecture and Design Department at Universidad Simon Bolivar. After relocating to Miami, she founded sdh studio, a young, innovative practice that focuses on creating inspiring spaces.
Jose Ramos The principle of One D+B Architecture, Jose established the firm with the demanding philosophy of providing each client with efficient, expedient and quality services while addressing in detail their individual requirements. This level of commitment is required of every staff member, and this standard has led to Best of Houzz awards in service for the past two consecutive years. The firm incorporates principles of sustainability in every project, and began doing so even before sustainability was widely recognized as a fundamental responsibility of architecture. Jose has 33 years of architectural experience, and is a graduate of The City College of New York.
---
---