The 15 Best Contractors in Jacksonville FL
Reading Time:
5
minutes
Named one of the "24 Best Places to Live in the South" and one of "The 50 best places to live in America", Jacksonville boasts a mild climate, high quality of life, and low tax burden. With such high accolades, it's no surprise that this rapidly growing metropolitan area is a popular location for corporate expansions and relocations. This is great news for the design industry, and for Jacksonville contractors, in particular. If you're looking to build a new home or business, or remodel an existing one, you surely want to find a skilled contractor who advocates building the best quality projects.
We reviewed portfolios, customer ratings, and industry recognition to curate a list of the most qualified contractors in the city. Listed here, in no particular order, are the 15 best contractors in Jacksonville. Take a look for yourself, and don't forget to vote for your favorite in the poll below! If you feel we've left anyone off the list, let us know in the comments section.
Scott Ulm A licensed General Contractor since 1987, Scott started out in the construction industry while working his way through college. After graduating from the University of Florida School of Building Construction, he worked for Hubbard Construction and learned how to coordinate large commercial construction projects. However, Scott felt his true passion was in new home construction for residential customers and building long-term relationships with clients. In 1992, he founded his own business, Heritage Homes of Jacksonville, with the belief that customer care and quality should always come first.
Wayne S. McCall With 30 years of experience, Wayne presently serves as the CEO of Elkins Construction, continuing to build the reputation of a firm with a legacy of craftsmanship and a client-focused approach. He has an extensive resume of multi-million dollar commercial construction projects to his credit, and serves as senior project executive on several ongoing projects. In addition to his duties as CEO of a successful business, Wayne is involved in his local church and in numerous charitable organizations throughout the region. He holds a Bachelor of Science in building construction from the University of Florida and is a Certified General Contractor in the state of Florida.
Katrina Hosea Katrina and her husband Chuck founded BeeTree Homes in 2003, and Katrina serves as the design/build firm's president. In addition to holding a general contractor's license, she has also made a name for herself in the interior design realm. Katrina is an active member of many organizations in the design industry, and has been a committee board member and chairman president for RMC. Katrina and the talented team of BeeTree Homes has been recently honored with Gold Awards in three remodeling categories from the First Coast Remodelers Association.
Matt Carlton As the founder of Carlton Construction, Matt is committed to quality and client satisfaction. He gained his expertise with the Dana B. Kenyon Company, serving as an assistant estimator for commercial projects and project manager for estate homes. In 2014, Matt was appointed by Governor Rick Scott to the Clay County Development Authority for a four year term. He graduated with a BS in building construction from the M.E. Rinker School of Building Construction at the University of Florida.
Nick Sandifer After graduating with a Bachelor of Business Administration in real estate from Florida State University, Nick gained hands-on experience in the construction end of the business. While working for Centex Homes and Benchmark Luxury Custom Homes early on his career, he learned about job-site management, scheduling, and safety. He branched out on his own in 2006, and won a silver award in the 2007 Parade of Homes and a gold award in the 2009 Parade of Homes. Nick was recently recognized with awards in two categories by the Northeast Builders Association Remodelers Council.
Edward White Both a registered professional engineer and a certified general contractor, Ed has served as President of Auld & White Constructors since 1987. He earned his BS in civil engineering from the Georgia Institute of Technology, and also completed a three-year Harvard Business Program exclusively for business owners. Ed is a founding member of the Alliance Group, and serves on the executive committee of Associated Builders & Contractors. He is actively involved with a number of organizations, including the University of North Florida Dean's Leadership Council.
Greg Matovina Greg has been the founder and president of Matovina & Company since 1991. A native of Indiana, he grew up working in his father's homebuilding business. Greg graduated magna cum laude with a degree in accounting from the University of Miami, and worked as an auditor and tax accountant before being scouted by a home-builder client. In addition to his work, Greg has chaired the Northeast Florida Builders Association, directed Habitat for Humanity projects, and now serves as treasurer of Ability Housing of Northeast Florida.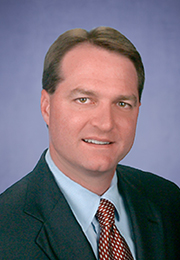 Ronald H. Foster, Jr. 25 years ago, Ron began his career on a construction job site. Since then, he has built his career at Stellar from the ground up, and since 2002, has served as chief executive officer and president. In this role, Ron has the responsibility to position Stellar as a worldwide leader in delivering superior professional architecture, engineering and construction services to diverse industries. Ron earned a Bachelor of Building Construction degree at the University of Florida and an MBA from Jacksonville University.
Ken and Carol Whyrick Ken and Carol are the owners of Whyrick Builders, the 2008 First Place winners in the Remodelers Awards in the category of remodeled outbuildings. Ken was named one of the coveted "Big 50" of Remodeling in 1988. In 1994, he was one of the first remodelers in the country to earn the coveted Certified Graduate Remodeler designation. Whyrick Builders is an active member of the Northeast Florida Builders Association and Remodelers Council, where Carol is currently serving on the Board of Directors.
Richard Browdy Richard Browdy joined Browdy & Browdy in 1977, and currently serves as the firm's president. He is a life director of the National Association of Home Builders and is the residential contractor appointed by the governor to the Florida Building Commission. In 1998, Richard was awarded the Silver Medallion by the National Conference of Community & Justice as the Humanitarian of the Year. He was named Builder of the Year in 2001 by the Northeast Florida Builder's Association.
John A. Long Since launching J.A. Long, Inc. in 1972 and building the company's first home in Green Cove Springs, John has built an excellent reputation for creativity and quality. The firm was recently the co-builder on an "ABC Extreme Makeover: Home Edition" project in Middleburg. A native of eastern Pennsylvania, John attended Muhlenberg College and received a Bachelor of Liberal Arts Degree before joining the U.S. Navy to serve as a naval aviator. After leaving the service, he worked as an installer for a national retailer in the home building industry and discovered his passion for home building.
Rick Morales III As president of Morales Group, Rick is responsible for the day-to-day operation of Morales Construction Company. He has more than 30 years of experience in all phases of construction, and is both a certified building contractor and licensed real estate broker. Rick was appointed by Governors Jeb Bush and Rick Scott to the State of Florida Judicial Qualifications Commission, and is the current chairman. He graduated from Wofford College with a bachelor's degree in finance.
Scott Carnes Scott has been the owner of Construction Management Plus, Inc. since 2002, overseeing all aspects of his full service design/build company. He learned the business from the ground up, starting out as a carpenter and broadening his areas of expertise to include all stages of construction. The firm's work has been featured in Building Edge Magazine's Northeast Florida edition. In 2011, they contributed concrete, framing, and trim support to the successful build for ABC's Extreme Home Makeover in Middleburg.
Shawn Starr The owner and president of Starr Custom Homes has been a state-certified builder/contractor since 2007. Prior to becoming a contractor, Shawn designed a custom home and had it built for his family, which inspired his passion for building custom homes for clients. He has been recognized as the Top Custom Home Builder for four consecutive years by the Jacksonville Business Journal, and all three of his custom homes received recognition in the 2011 First Coast Remodelers Awards. Shawn earned his Master of Business Administration at Jacksonville University.
Lee Arsenault Lee ran Arsenault Builders, Inc. for nine years and now heads two related building companies, New Leaf Construction and New Leaf Homes. Lee has over 25 years of experience in the Jacksonville construction industry, and in that time has earned a reputation for honesty and integrity, as well as high quality, cost-effective construction. His motivation is to provide for his family by working hard, always doing the right thing, and treating all people with respect and kindness. Lee gives back to the community by allocating resources to Habitat for Humanity.
---
---