Interior Design: Seattle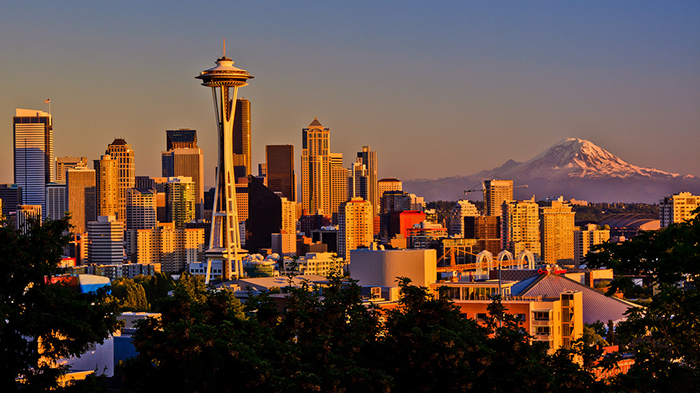 If you're looking for a city that is flush with the green of trees and grass, with an ocean view to boot, Seattle is the perfect city. Beyond that, the citizens have always been trend-setters and forward-thinkers. This applies to interior design as well. From Benayora Hall to the acoustically perfect CenturyLink Field, architecture and design have always been a marvel of inspiration for the Emerald City.
In no particular order, here are 15 of the best. Is your favorite designer listed here? Vote for them in the poll below!
Beverly Bradshaw
Combining an artist's understanding of color and materials with a designer's skill and expertise, Bradshaw is sophisticated, yet down to earth. Her clients rave about her flexibility and creativity in working on a project, and her experienced eye makes her one of the more reliable designers in the city. She has been featured in many publications, including Seattle Homes & Lifestyle magazine.
Tammara Stroud
Because each project is its own fingerprint, Stroud prefers to view an empty room the same way an artist would view a blank canvas. And just as the colors must do in a painting, all elements of design must work together and blend to create something that inspires the eye and the soul. Her dedication to the craft is part of what her clients love about her, and subsequently is why she's won back-to-back Houzz awards in customer satisfaction.
Pilar Calleja
Born in Madrid, Calleja uses the inspiration drawn from her hometown to create splendid and harmonious designs. Her experience and success in staging homes led to her career in design, as homeowners and builders alike all began to take notice of her excellent work in that area. Her clientele is steadily increasing in the Puget Sound area, and all who have worked with her have nothing but high praise.
Claire Campbell
Known for its fresh and stylish aesthetic, Campbell's design firm Mint Home Decor always seeks to express the spirit of their clients in their work. From modern to vintage, bright to subtle, experienced eye can create elegant yet functional rooms in which one can really feel comfortable. Having lived everywhere from Europe to Southeast Asia, Campbell's worldwide cultural experiences make her one of the most knowledgable designers in the industry.
Barbara Hyde Evans
Having started her own firm almost 20 years ago, Evans is an advertiser-turned-designer with the education and experience to turn everything she touches from drab to dapper. Offering an eclectic range of services, including space planning and project management, Evans and her team are with their clients from concept to realization. She and her firm have won numerous awards, many from Northwest Design in kitchen, bath and bedroom.
Shirin Sarikhani
The most reviewed and one of the most highly respected design firms in Seattle, Sarikhani helped make it so by closely working with clients to accomplish whatever they need. She believes that each house has its own unique voice, and that philosophy means that she and her team design custom plans for each client. She and her team have won Houzz awards for design and customer satisfaction two years in a row.
Jennifer Gardner
Approaching each project with the goal of creating personalized design solutions that reflect her client's unique vision for their space, Gardner has a passion for a broad range of design styles. From time management to attention to detail, she emphasizes collaboration with her clients as the means to a successful project. In 2009, she was awarded the Seattle Homes & Lifestyles Bath of the Year.
Michelle Dirkse
With a keen eye for design and the ability to create solutions, Dirkse is obsessed with bringing out the best version of her clients. Her creativity and sensibility in mixing styles combine for a design that reflects her clients personal style without inflicting too much of her own. She has worked with construction companies and development companies, so she has experience on every end of a project.
Gregory Carmichael
With a resume as long and well-respected as the Space Needle, it seems Michael has the Midas touch when it comes to interior design. Clients seek him out for his singular ability to render the entire process to the highest professional standards, and make it an enjoyable experience as well. He has been featured in many local and national publications, including Luxe Interiors and Design.
Kristi Spouse
With 20 years of combined experience in retail design, new home construction and remodeling, Spouse has made quite the name for herself in the Seattle-area industry. She owned four retail stores before turning her full attention to design, but this experience only proves beneficial in her projects. From paint selection to complete design, she only works with hand-picked vendors and contractors to ensure a trustworthy job is being done.
Beth Dotolo
An award-winning designer, Dotolo aims to create designs as unique as the person for whom she is designing. Her years of hands-on experience has given her the ability to view every project and client as a fingerprint, with no two styles alike. With a team that stays updated on the latest styles and trends, she is always looking ahead for ways to improve. Although she lives in Seattle, her services are available nationwide.
Kimberlee Marie
Despite so few years in the business, Marie has already catapulted herself to the forefront of interior designers. She understands that a home or room within such is not just a place, but a solace of comfort; a way to escape the daily grind and unwind at the end of the day. Her personable touch and philosophy add warmth to your living area, and it's this attention to her client's comfort that has won her two Houzz awards for client satisfaction.
Keith Miller
Combining 20 years experience at the head of his own firm with a bright personality, Miller believes one should be able to laugh their way through what can sometimes be a frustrating process. He wants to plan results that his clients will love, be it at home or the office. His work has been diverse and numerous; he was even given a "Best Preservation Practice" Award for exterior renovation of Seattle Vineyard.
Kenna Stout
With over 10 years of experience, Stout strives to achieve a balance between functionality, beauty and imagination in her designs. She does not believe in quick fixes, and her main goal is to create a gorgeous yet practical design that is high quality and will be loved for many years to come. To achieve this, she asks a lot of questions and really takes the time to get to know her client in order to design something that fits their personality.
Terry Hunziker
When it comes to knowledge and experience, it's likely no one comes close to Hunziker; he has over 40 years of experience under his belt, 30 of those as the owner of his firm. A self-proclaimed admirer of the Japanese aesthetic, he strives to create a zen-like atmosphere for his clients. He has been on Architectural Digest's 100 Best Interior Designers list since 1994, and has been featured in many other national publications as well.
Think we missed someone? Let us know in the comments!

---
---