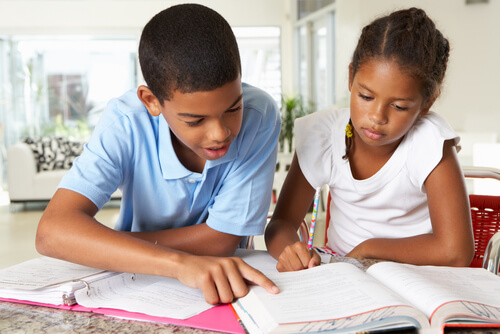 Children can benefit from dedicated study stations for doing their homework. What elements are essential? Get your plan started here.
***
As with every habitual activity, it's easier to stick to a habit if you have a consistent, dedicated space to do it. A bedroom to sleep, a kitchen to eat, an office to work. But when it comes to homework, many of us don't consider that children might also need dedicated space; personally, I was raised doing my homework on the kitchen table.
However, study stations for children are picking up steam, and many designers are coming up with children's furniture designed to promote intellectual and creative work. Want to build one for your own children? Have a look at the essential elements of an effective study station.
First things first: a desk
No work could be done without a good desk. Desks define the space where homework should be done and keep everything that would be needed near: pencils and crayons, books and paper, geometry set and art supplies.
A good study station desk is suited to your child's size. It's large enough to spread out a few books and notebooks around, but it's not too big as to become overwhelming. Basically, this is not the place for a giant mahogany desk that would otherwise belong in a CEO's corner office.
Many designers have come up with great desk designs, like an open shark mouth or the driving seat of a race car. Anything that helps connect "homework" with "fun" is definitely a plus!
For the artists, consider an adjustable desk–they exist for children's sizes!
Sit your butt down: a chair
As I grow older, I begin to understand the importance of a good office chair. Sitting hours after hours in something uncomfortable is basically the worst way to make me grumpy. (Ask me about the stools at the place I meet my writer's group…)
Children also deserve comfortable chairs. Although you want to encourage them to get off of it and play outside, it's still important that their backs are supported properly when they do homework.
Ergonomic chairs and posture-support chairs are available for children's sizes. They also come in a variety of bright colors, and sometimes even match the desk design. (Buy in sets, save money!)
Although there's no way to make homework more fun with a chair, at least they'll be comfy while they complain about it.
Watch what you're doing: a lamp
Sometimes ambient lighting isn't enough to properly light a work area. Good lighting also means less visual fatigue.
Sure, you could buy a boring old black desk lamp, but why do that when there's plenty of fun, kid-friendly designs? A dog-shaped lamp or one wrapped in a funky, fuzzy fur will make the study station look even cooler.
Make sure to use good quality LED bulbs for the best lighting, especially when it comes to fine, close-up work like forming letters, drawing a tree or solving math problems. A good lamp will also encourage your children to do homework in the winter, which might be difficult because of how early the sun sets.
Get some extra stuff: shelves and cabinets
If you have a small space, the tree things above are all you need. But if you some some space to spare, adding extra space to put books and supplies away close by is a good investment.
As a kid, I used to hog all the good books (a dictionary, right?) in my bedroom because I was tired of always having to get up to get it from the living room. (I was a heavy dictionary user, in the time before the internets…) Providing easy access to everything your child might need to effectively do his or her homework will make it less frustrating. It will also reduce the occasions for your child to procrastinate: "while I'm out here, why don't we watch an episode of something on Netflix?"
Give your children the chance to sit down, do their homework in one sitting, and then move on to dinner and play by giving them plenty of storage space. Teach them early the benefits of being clean and organized!
Encourage healthy homework habits
Having a separate and dedicated study station encourages healthy habits for doing homework. It's also good for children to have their own space to pursue intellectual and creative interests, safe from the intervention of siblings.
Do you have a study station for your children? How are they doing? Share your experiences in the comments!
---
---