The Outdoor Shed: Organized Storage for All Seasons
Reading Time:
4
minutes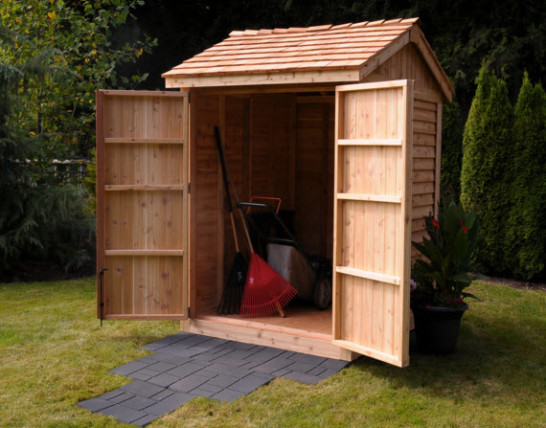 Is your outdoor shed an unsightly mess? Clean up that storage shed with the right organization. These storage, cleaning and organization tips make it easy.
***
If your shed looks anything like mine, you've got some serious work to do. The last time I opened the door to reach for the rake, the shovel fell from its precarious leaning perch and almost took off my nose! That's when I finally admitted that over the last few years, that outdoor shed had gotten out of control. It was time to make it more user-friendly. But honestly, the thought of tackling a project like that was enough to allow me to convince myself to wait another month…and then another…
But it isn't going to clean and organize itself, is it?
So it's time to tackle that scary outdoor shed. Every dusty, neglected corner.
Here's how it's done.
Clean it all out
By now you probably have no idea what's lurking in that outdoor shed. There are things that you haven't touched for years, that have gradually gotten pushed back to the corners, buried underneath newer things, and generally ignored until you have no idea what's there.
Remedy that situation by cleaning it out. That means all of it. Haul every bit of that junk out into the light, leaving a completely clean and empty shed. You have to do this in order to not only know exactly what you have in there, but to visualize the space and figure out where to put everything when you haul it back in. While you're at it, sweep out the shed — why not? Start with a truly clean slate, so to speak.
Go through it all
Now that everything is out in the light of day, get ruthless. Go through each piece. That means opening up those old boxes to see what's in there. The usual rule of thumb applies: If you put that box in there years ago and haven't opened it since, and don't even know what's in there, it can likely be thrown out or donated. The only exception is an item that you might use immediately, or something that has sentimental value. If it's sentimental, put it in more appropriate storage in the basement or attic.
Some items should be recycled appropriately, such as paints, paint thinner, used oil and other chemicals. Never dispose of these in a way that could allow them to leak into the environment — that's very, very bad. Recycling centers are set up to handle these items in a way that keeps them safe while taking them off your hands. Win-win!
Set up the storage
Now that you have figured out what stays and what goes, figure out how you will put it all back into the shed. This is where a good shelf system can make all the difference. Shelves that are at eye-level are usually just right for parking smaller items. If you put any of those smaller items in boxes, make sure they are clearly labeled and easy to open. As with any other storage, the things you rarely use should go in the toughest places to reach, such as the back corners.
But there are going to be things you use on a seasonal basis; that's where the real storage and organizational magic comes in. A good example is gardening supplies, such as extra seeds, hand spades or planters, and other small items that can be put into boxes or crates; during the autumn these can be pushed to the back, but they need to come back to the forefront during the early spring. Plan out a system that allows you to rotate these items in and out of the easy-to-reach spaces at least once a season.
Peg boards, shelving units that screw into the studs, sturdy hooks and hangers for shovels, rakes and hoes — all of these should be carefully planned out with your needs in mind. For instance, if you use your shovel to dig into the garden every year, you want it where you can grab it immediately. But if you use it only for the occasional touch-up to landscaping, you can put it a bit further back in the shed.
Work on cleaning and maintenance
Before you put anything back into the shed, make sure it is in good working order. That means tuning up that old lawnmower, changing the spark plugs on the snowblower and even sharpening and cleaning your tools. In addition, clean it all as well as you can. Though some things used outdoors are going to be dirty and dusty no matter what you do, a solid washing with a hose and mild soap can work wonders for the way everything looks. Making sure it all works properly can give you great peace of mind, which is quite valuable indeed.
Go with organization that makes sense
Once everything is back in the shed, the hard part is over — but you're not done. Now you have to make a commitment to maintain your newfound organization and storage plan. Mark on your calendar the best times to switch out those seasonal items, and dedicate an hour to it when the time comes.
Promise yourself that you will never just throw something in there, that you will take the very little time necessary to put it in its proper place. Once you get into the habit of doing this, you might find that you won't have to reorganize for years.
And as an added bonus, the shovel won't try to take your nose off when you open the door. Everybody wins!
---
---