The Renovations Dad Really Wants for Father's Day
Father's Day is just around the corner, so let's get real: You're not going to give him another tie, are you? Or another set of grill utensils? If your dad already has so many grill utensils he's giving them away, and if he has so many ties that he will never be able to wear them all, it's time to try something different.
Whether he's the kind of man who loves to do work on the house himself or if he doesn't have a clue where to even begin finding a good contractor, these home renovations are sure to be on his list of "Top Father' Day Gifts Ever."
Plant a tree
There are gifts that he will forget about in a few months, but then there are the gifts that keep on giving. One of those is a beautiful tree that will grow up strong and sturdy — just as he wishes for his children. Choose a large sapling that already has a well-established root ball, to lessen the possibility of the tree not taking root in the yard.
Look for something that you know he will love, and keep in mind the requirements of certain trees. For instance, many apple tree varieties must be planted in sets of two or more in order to ensure proper pollination and great fruit.
Light up the walkway
Maybe your Dad's getting older, and that means he might need a bit more help with the day-to-day things we so often take for granted. But he's also probably got a streak of pride, and that means he doesn't want to admit he's slowing down.
Give him a gift that truly helps him out, but doesn't injure that pride — the gift of awesome lights up and down the walkways of his home. Choose solar lights that are easy to maintain, then put them along the driveway, sidewalks, and patio.
Give him a bar
Many men adore their beer, wine, and other adult beverages. This year, go all-out for Father's Day by building your father his very own bar. Find a forgotten corner of the den, a small section of his man cave or even an area of the kitchen to create the masterpiece.
Include a sink, plenty of storage, a small refrigerator, several chairs or a bench and of course, the bar itself — preferably something that reflects Dad's tastes, like marble for the man who likes things a little upscale, or wood for the man who loves the down-home feel of a honky-tonk.
Go solar
Is your dad environmentally-minded? Solar panels are the way to go. Depending upon your budget, this could be a small project or a large-scale change. For those who want to go all-out, make sure your father's house has plenty of space for solar panels on the roof, or that there is an open field nearby in which to install a small solar farm.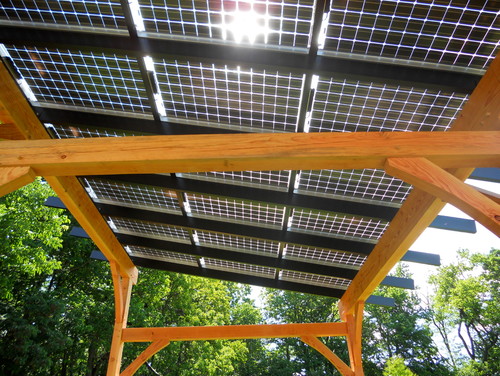 If you aren't looking at something that grand, you can still give him the solar power he likes with tiny panels that are designed to provide juice for cell phones, computers and other small devices.
Clean out the garage
Ultimately, your dad just really wants time with you. And what better way to spend that time than cleaning out the garage? It's a job that needs to be done, and it goes much faster when you have someone to talk to while you do it.
Spend the weekend with your dad, going through the things he has accumulated over the years. Listen to his great stories while you organize. It will be a simple weekend, and it might not cost you a dime — but it's something that your father will cherish for many years to come.
Your dad?
What projects do you think you and your dad would most like to take on this coming Father's Day?
Which projects should have made the list above for all Dads?
Tell us all about it in the comments section of this post.
---
---