The Shed of Your Dreams: 5 Storage Options for Your Garden
Sheds are functional and sometimes even decorative. What will use your shed for this season? In this article, we'll look at the best storage options foryour garden needs.
***
It may be still blustery outside, but the weeks when you can begin to see the sun linger a little longer, and the trees are trying their best to break out the buds, fill me with hope for those hot summer days that I know are right around the corner. I love planning for my garden, getting out those seed catalogs and imagining what it's going to be like when the sun is bright in the sky all day long, and the bees are buzzing.
The challenge is that creating a garden that works always means planning ahead. Just like the mise-en-place of the world's best chefs, it pays to have your ingredients at the ready. From potting shelves to planting tools, from lawnmowers to ladders, every garden project requires storage that works.
In this article, we'll look at the different storage options for your garden needs. Whether you're a weekend warrior or a potty putterer, we'll find the right option for the garden that you want right now.
1. The Graceful Gardener
You're obsessed with the perfect flower patch. You can mix and match colors with ease, placing pink peonies and purple lavender around your borders. You're okay with a few wildflowers taking seed because it brings butterflies into your midst every day. You not only want to win, but deserve to win the next community garden competition.
So what does your perfect shed look like? Whether it's suited to a small, medium, or larger garden, it's the kind of space that brings to mind a Wendy house, full of room for imagination and wonder. At the same time, it's practical. With shelves that make potting easy, and a durable cedar exterior, this is the kind of shed that will last you and your beautiful garden for many seasons.
2. The Machine Master
You're the kind of guy who spends hours on Craigslist looking for the ultimate tractor or lawnmower, but you still need to be able to fit it into your backyard. That doesn't mean you can't dream. You need a drive-in space where you can house all of your favorite toys for digging, chopping, and moving materials around the garden.
Try a shed made of high-tensile steel that's going to provide excellent rain cover for your mower, wheelbarrow, and even a small tractor. Or choose a smaller model if you have limited space in your backyard but still need a safe space for your garden machines.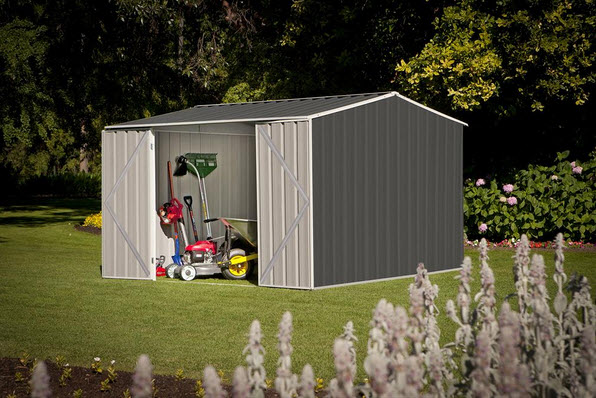 3. The Deck Designer
Having a deck garden doesn't mean that you have fewer storage needs; in fact, if your garden is adjoining your high-rise apartment, you may have even less space for storage than that of the average detached home in which you will need some storage options for your garden. You may want to be able to create a kitchen garden right outside of your sliding glass doors, or perfect those planter boxes that make your deck an oasis in summer.
Your deck garden can stay in perfect shape when you store your tools, seeds, and fertilizer in a beautiful deck box. Designed specifically with your patio or deck in mind, you can ensure that you keep the tools you need at arm's reach, never having to track gardening soil into your home.
Browse for storage, carts, and shelves. 
4. The Purposeful Planter
There are flower gardeners, and then there are true growers. Many of us prefer putting our efforts into growing plants that our families can eat all summer long, and so that we can do some canning and baking with our fruits and vegetables in the autumn. There's a lot of forward planning in developing a kitchen garden that works, so that you're not overflowing with zucchini and missing out on beautiful tomatoes in the hottest months of summer. Kitchen gardeners have to time out when to sow, when to collect the fruits of their labors, and when to store their food to their best advantage.
If you're a kitchen gardener, you'll want to keep your seeds dry and protected from the light, but you also need your shed to breathe so that you don't invite rot. Try a small cedar shed if you want easy access to seeds and pots, or a larger space if you want to add a work table and some larger tools for your garden.
5. The All-Rounder
Admittedly, there are many of us who are just getting started in our gardens. If you're one of these folks, you may not be sure what you'll eventually want, but you know you will require a bit of outdoor storage space so that you can have easy access to everything you need to keep the lawn clean and tidy every week.
Some things to consider when planning to buy a shed are whether or not you have any organic material you'll need to store, such as seedlings or seeds. If this is the case, make sure that you invest in an organic shed, such as one made of wood, and ask yourself if you need access to sunlight. If your goal is to store your tools, think of getting a shed that is extremely rainproof and easy to secure with a padlock. No matter what option you choose, make sure that you purchase something with staying power: nothing is worse than a shed that becomes rainlogged, rusty or musty.
Consider the possibilities
This spring, your imagination is the limit when it comes to storage options. When you're thinking ahead about the shed that you'd love to have in your garden, consider all of the possibilities. Whether you have a tiny but perfect deck garden or an expansive estate filled with flowers and edible delicacies, you can find the shed you need.
Get out there and make your garden extraordinary. I can't wait to do the same.
---
---