Unconventional Ways To Use Small Spaces
Reading Time:
2
minutes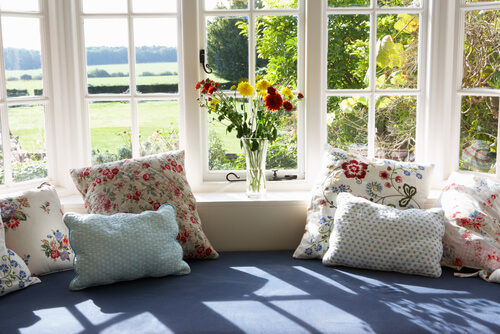 Small areas of your home can hold the potential to provide a staging ground for subtlety, elegance, and the personal touch. Here are some options to ponder.
***
It might be a blank expanse of white wall in your living room or a curious space underneath the stairs. You walk past it every day, frustrated by its lack of function but unable to assign it a practical purpose. Eliminate your decorating ennui with these four strategies for making use of small spaces.
Create unexpected seating
Turn a vacant corner of your kitchen into a dining nook with a built-in bench or add a sofa or daybed to the small, unused space in your living area. Alternatively, separate a couple of cushy armchairs with a low table to make an instant reading alcove.
Creating multiple seating areas in the home provides both residents and visitors with options when they need to take a load off. It also helps create "zones" for specific tasks, such as reading, watching television, or chatting with friends.
Showcase art or collectibles
From the paintings your kids bring home from art class to your collection of vintage plates, small, unused spaces present unique opportunities to make art the star of the show. Create an eclectic gallery wall, for example, with artwork, mirrors, tapestries, and other wall hangings.
For unused nooks and crannies, find a piece of furniture on which to arrange vignettes of favorite collectibles. A sideboard or chest of drawers not only provides a surface for displaying cherished knickknacks, but it also allows you to express your style through your choice of furnishings.
Establish a landing zone
Foyers often feature cramped or oddly shaped corners that are usually filled with innocuous decor like fake plants and charmless pottery. Transform this area of your home with a functional landing zone. This is where you drop your keys when you walk in the door, store your umbrella, sort your mail, and inspect the kids' backpacks for incomplete homework assignments.
Consider your family's specific needs before furnishing this area. You might want a table for storing mail, a series of wall hooks for coats, or a bench for pulling off snow-drenched boots.
Identify a need
You know you've said it at least once or twice: "I wish I had a place where I could . . . " The end of the sentence varies, but the longing is familiar territory. Think back on all the times you've uttered those words then determine whether an unused small space in your home could provide that lamentation with a happy ending.
For example, buy or build a work desk to create a home office nook if you frequently find yourself setting up shop at the kitchen table. For families with four-legged members, add a dog bed and a few stylish baskets to wrangle canine toys and treats. This area might become a play area for the kids, an artist's haven with an easel, a window seat for the avid knitter, or even a brand new laundry room. Let your imagination take over for a few minutes to brainstorm ways to make your life easier, better, or more organized.
Small, awkward spaces often inspire frustration, but they offer an opportunity for creativity. Don't think about how you should use the space; instead, consider solutions that reflect your personal style and needs.
---
---