Upstate Style! Architecture and Design From Upstate New York
Beautiful in all four seasons, upstate New York attracts tourists who want a taste of New England but don't want to travel all the way to Maine or Massachusetts. One of the distinguishing characteristics of Upstate New York is its architecture (and Stewart's ice cream, but we'll save that for another day). Take a tour now and consider the different flavors, architecturally speaking, that pervade this stunning landscape.
Having a Greek Revival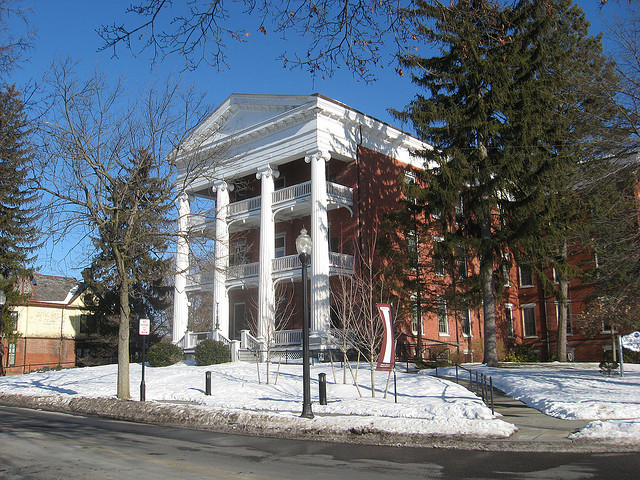 Image via Flickr by joseph a
The Greek Revival architecture seen in this part of the United States shows the Neoclassicism influences that result in broad fronts of homes boasting columns and the notable triangle-shaped front face of the roof or upper level. This style tends to turn a home into an imposing edifice.
One of the trends in Upstate New York involves retaining the characteristics of Greek Revival but blending them with contemporary sensibilities. Results may include larger and more open living spaces, vaulted ceilings, and vertical wainscoting.
Revamping the Colonial Saltbox
Image via Flickr by InAweofGod'sCreation
The classic appearance of a home designed in the saltbox style integrates a two-story design in the front and a single story in the back. This somewhat lop-sided layout results in a roof with a steep slope at the back of the house. In addition, most saltbox homes have a central chimney. This Colonial style shows up across rural Upstate New York.
The trend toward modernizing these homes requires the exterior to retain its traditional appearance while the inside becomes truly contemporary. The past and present coexist in these reimagined homes where there may be a media room with the latest technology, but its walls are a neutral color appropriate to the Colonial era in which the home was built.
Embracing the Federal Style
Image via Flickr by massmatt
This architectural movement was en vogue from the late 1700's to early 1800's. See examples of these designs throughout Upstate New York and much of New England. Expect these homes, commercial structures, and municipal buildings to have surfaces with only isolated decorations and flourishes.
Buildings in this style tend to have a flat front. Because this is an older style, it's common to see homes that began in the Federal Style tweaked and transformed to incorporate features of other architectural styles including Colonial Revival (with the implementation of porticos, for example) and Gothic Revival (with its ornamented flourishes).
Finding the Shaker Approach
Image via Flickr by Dougtone
Shaker architecture is evident in certain pockets of Upstate New York, particularly near Colonie where there is a Shaker historic district. Known for clean lines, rectangular-shaped buildings, and little adornment, these homes, barns, and meeting houses are highly utilitarian and spare. Evidence of this plain style of architecture is visible in some farmhouses in the region. If not done entirely in the Shaker tradition, some homes merely incorporate details such as a Shaker-style staircase.
Plenty to offer
Whether you're interested in strictly historical structures or want to see how architects blend the comforts of contemporary style with the distinct characteristics of historical designs, Upstate New York has plenty to offer. Of the many different schools of architecture represented in this part of the United States, what's your favorite and why?
***
BuildDirect loves New York!
---
---