What are Barn Plank Floors?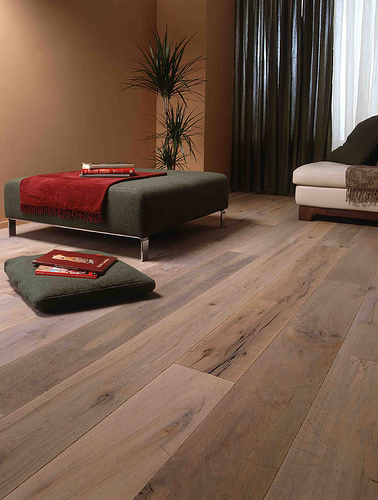 One of the great things about wood floors is that they fit in with a number of interior design styles and approaches.
If you're looking to get a pristine, relatively uniform, and refined effect, then a clear grade hardwood is there for you. And if you're looking for a floor with "character" – either for contrast, or to match other rustic furnishings – then, wood floors can be a solution for you in that case as well.
In terms of 21st century design trends, one of the big ones that have emerged in the last few years has been barn plank flooring. Some options out there are very literal when it comes to the name "barn plank". Boutique vendors have cropped up in regional markets that actually use reclaimed wood from real barns (or is that ex-barns?) to create their products.
Barn plank flooring: a 21st Century trend in wood floors
Barn plank floors have been popular in Europe for many years, and are just beginning to catch on here in North America. The advantage with a real barn plank floor is that you've got a piece of history in your room, or at least you have a surface that tells a story about where it came from. You get the marks of nails, where the wood once served as a wall plank for an actual barn. And you get a surface that reveals some authentic seasoning – and when I say seasoning, I mean the seasons with all of the ravages of sun, wind, and weather that apply. These types of products are often best available regionally, and aren't (for obvious reasons) mass produced and priced accordingly.
But luckily, the term "barn plank flooring" has entered into wider usage as a style of floor, rather than simply as a description of how it's made, or where the materials come from.
The look of barn plank floors without the barn
If you're seeking out a more accessible means of getting the look of the barn plank style, the flooring industry has risen to the occasion. As a result, the look of a flooring surface like this has become a trend in solid wood, engineered, and laminate products.
Generally with real wood in solid or engineered hardwood, this is done by wire brushing surfaces before the finishing process, or hand-scraping them to replicate that look of an aged, weathered wood surface. For laminates, the effect is done through laminate flooring extrusion technology, an area where the flooring industry is developing more and more.
Barn plank flooring adds character
Regardless of whether or not the floor has been treated by time and weather, or "hand aged" from the work of a wire brush, a barn plank floor adds a warm, and lived-in surface for all kinds of room designs. In living rooms, halls, bedrooms, these options of floor surfacing can accentuate a down-home approach, or contrast a starker and minimalist space.
As such, the potential of a wood flooring surface continues to expand in all kinds of stylish design contexts.
---
---